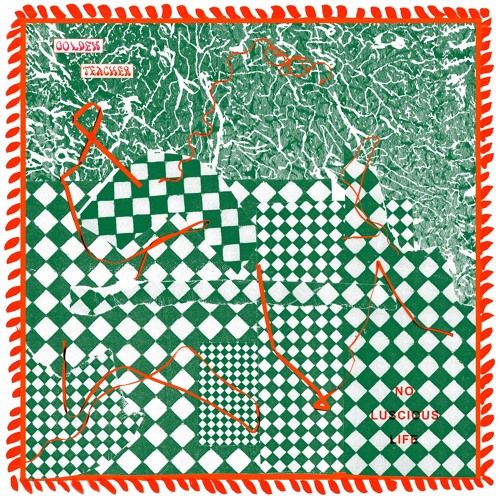 Golden Teacher - No Luscious Life
The band known as Golden Teacher are proud to release their debut longplayer No Luscious Life. The seven proximate cuts are lovingly collected from the groups' work at the notorious Green Door Studio in Glasgow.
No Luscious Life is the band's longest offering of new tracks to date, and it's about time: a pop funk essay against wage labour and its lassitudes; a drum-driven homage to Senegal's legendary poet Aby Ngana Diop; a propulsive ballad about two star-crossed lovers stuck downtown in the middle of an interstellar journey; a sweet and low last dance upon the stage of Liverpool's late, great Kazimier club; a disorienting dive backwards into early terror of the animate shadows of childhood; a harvest song sung by machines in the autumn sun of a fully automated society; and the impressionist clamour of the eponymous grand finale's tentative chamber music.
Golden Teacher hopes the seven sections of this catalogued effort – coincidentally comprising their seventh original release on vinyl – serve as seven more essential, non-sequential parts of a long-legged body of work that remains rangy in its nature and still unknown to itself. All elements were performed and recorded by Golden Teacher, engineered with the invaluable assistance of Emily McLaren and Stuart Evans, edited by the band, and mastered by James Savage. The original album artwork is by Oliver Pitt. This is a genuine Golden Teacher product: accept no substitutes.
Mixing raw-edged house, leftfield disco, syncopated percussion, and odd-ball experimentalism with a serious party attitude, Golden Teacher have made their mark over the last four years as one of the most exciting groups to emerge from the Scottish underground. The group formed at Green Door Studio on a training course for unemployed musicians, and the sprawling six-piece have since released acclaimed records on Sounds Of The Universe, Rough Trade and Optimo Music (including a collaboration with UK dub hero Dennis Bovell). Their loose, improvisational approach to performance and recording melds together the many worlds of dance and electronic music, in service to a mind-bending, floor-filling, singular pleasure.