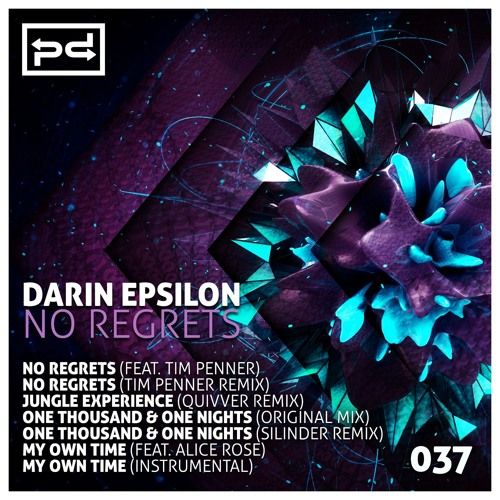 Darin Epsilon - No Regrets
Label owner Darin Epsilon presents his first ever mini-album for the 37th release on Perspectives. 'No Regrets' is an exciting collection of new original tracks, remixes, and collaborations with an all-star cast that includes John Graham aka Quivver, Silinder, Tim Penner, and Alice Rose.
Widely regarded as one of the most influential and prolific figures within his genre in North America, Darin still manages to raise the bar for himself year after year. 2015 will go down as one of his biggest, after a series of chart-topping releases on Sudbeat, Perfecto, and Selador. Over the summer he signed with the prestigious Nightlaw Agency and even launched an official Beatport Play remix contest. He had several important tour stops along the way, such as Ministry of Sound London, Amsterdam Dance Event, Exchange LA, and South by Southwest in Texas.
Canadian born Tim Penner's decade-long experience working in the electronic music industry has given him his own unique perspective, with a style that blends influences from Techno, House, and Trance. Genre-defying in its classification, his work has been championed by Hernan Cattaneo, Nick Warren, Above & Beyond, and Guy J, among many others. Recently he's also been turning heads with his outstanding remixes of Max Graham and John 00 Fleming. His collaboration with Darin Epsilon here 'No Regrets' is a meeting of super-creative musical minds.
Legendary UK producer John Graham aka Quivver needs no introduction. He started his career in the early 1990s and has been a household name within the electronic music scene ever since. John has always gained consistent support from DJ giants and close friends such as Sasha, John Digweed, Pete Tong, and Paul Oakenfold. He makes his Perspectives debut with a remix of Darin Epsilon's 'Jungle Experience'.
Dublin based Silinder aka Gavin Mulhall has been producing electronic music for over 14 years now. His discography includes releases on highly respected labels such as Sudbeat, Balance, and Renaissance. He makes his fourth appearance on Perspectives with a deep, dark, and hypnotic remix of Darin Epsilon's 'One Thousand & One Nights'.
Hailing from Denmark, Alice Rose is a multi-talented vocalist and instrumentalist who has intrigued audiences with her distinct live performances. Her electro-acoustic shows include everything from drum computers to casios to effect machines spread out across the table. Alice also plays the viola with her own bowing style and sings her intriguing lyrics with a voice that spans a wide register, from the sweet angelic to the hard and wild. The Danish singer makes her label debut here on 'My Own Time'.
Darin Epsilon
No Regrets (Mini-Album)
1. No Regrets (featuring Tim Penner)
2. No Regrets (Tim Penner Remix)
3. Jungle Experience (Quivver Remix)
4. One Thousand & One Nights (Original Mix)
5. One Thousand & One Nights (Silinder Remix)
6. My Own Time (featuring Alice Rose)
7. My Own Time (Instrumental)
(Perspectives Digital) PSDI 037