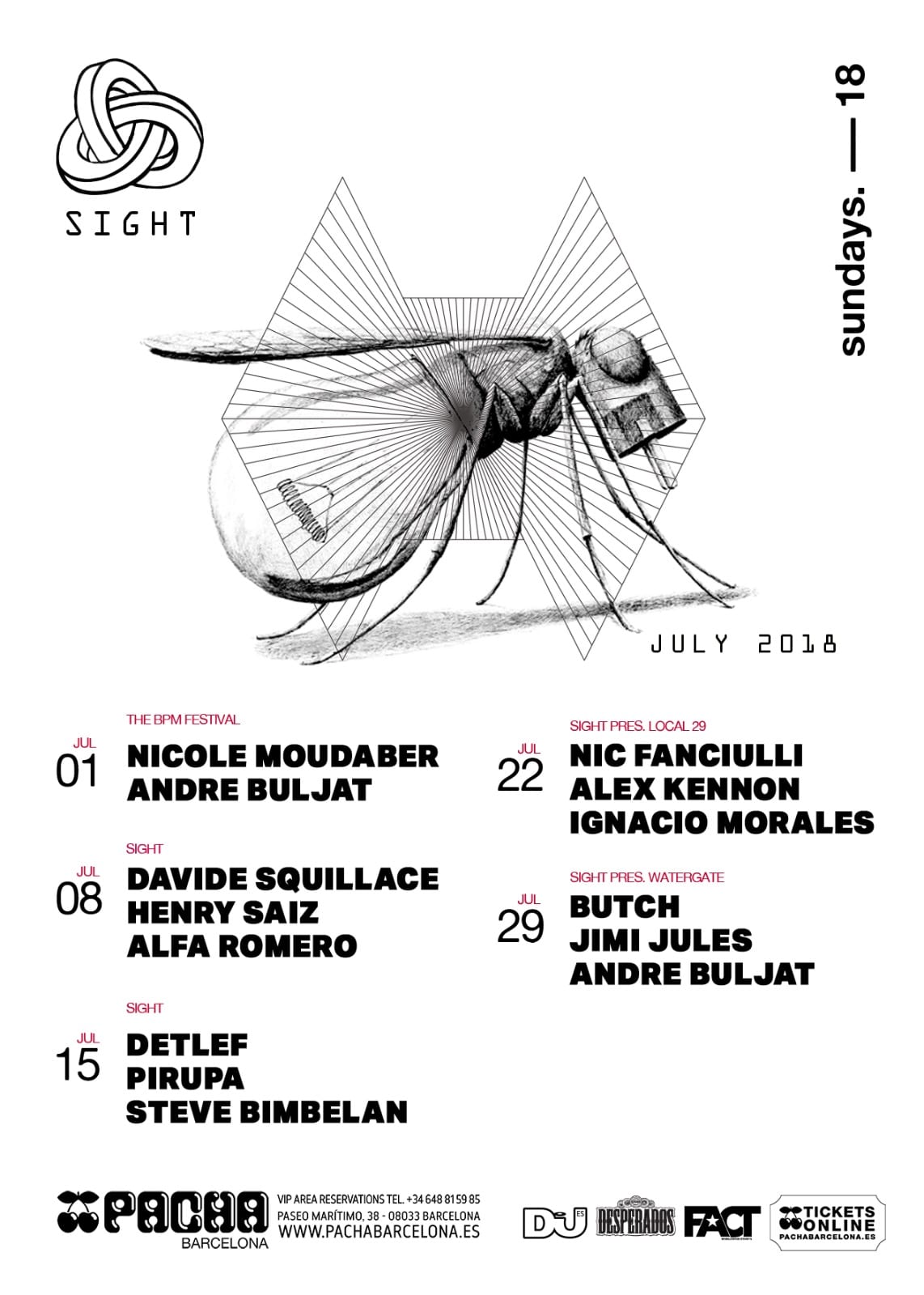 No rest for SIGHT in July…
After an Off Week to remember, SIGHT keeps the strength in its proposal for the techno Sundays in Barcelona
After this June, in which SIGHT has placed itself as one of the reference nights in Barcelona's electronic music circuit – and Pacha has strengthened its position as one of the most in-demand clubs in the city – the life goes on and the aim is locked in the future. After a well-deserved break fromOff Week's hangover, SIGHT keeps the bar high and from this very weekend, July 1st, is preparing a true feast of electronic sounds for the fine ears of SIGHT's most faithful attendees…
July 1st: Nicole Moudaber
SIGHT is starting its July program this very Sunday, with an artist whose trajectory speaks for itself.Nicole Moudaber has managed to stay in the highest places of the scene, diversifying her proposals and becoming a true patron of the most talented up-and-coming artists. With both her Mood Records imprint, or her weekly radio shows – In The Mood Radio – the African born, British artist has become one of the most wild forces inside the techno realm over the years. After performing in every major festival and just before taking her critically acclaimed b3b along Dubfire & Paco Osuna to Ibiza, she will come to SIGHT, joined by the session's resident, Andre Buljat.
July 8th: Davide Squillace, Henry Saiz
In July's second weekend, SIGHT will bring another artists who's been doing the rounds this year. Italian-born, Barcelona based Davide Squillace will come to Pacha Barcelona's Sunday session with his unique style and know-how behind the decks. Being one of the most beloved characters by the techno-loving crowds, Squillace has just released his LP, 'Once Upon A Time In Napoli' in Damian Lazarus' Crosstown Rebels imprint, beside continuing with his Ibiza dates and managing his lablel, This And That Lab. But Squillace won't be alone, as he will be joined by one of the Spain's most important artists: Henry Saiz, that has just released his impressive album, 'Human', along his live band, creating a true journey of influences. Both will be joined by Italian duo, Alfa Romero.
July 15th: Detlef, Pirupa
With a radical change of play, SIGHT has decided to bring two of the most fast-rising artists in the tech-house scene worldwide. We're talking about the Greek-born, British based artist Detlef, and Italy's best, Pirupa. Each creating their own paths in music, solidifying their careers with a strong proposal and headlining many events around the international circuit, this summer they've become a force to be reckoned, each with very unique projects and proposals, as true titans behind the decks. Now it's the turn of Pacha Barcelona's Sunday session to host them, so they can make the crowd dance to their unique take on the genre. They will be joined by SIGHT's resident, Steve Bimbelan.
July 22nd: Nic Fanciulli
In July's fourth installment, SIGHT is bringing one of the biggest characters in the game. Britain's best, Nic Fanciulli, will come to SIGHT to deploy his experience, know-how and charisma with the crowds. In one of the most intense years of his long-running career, Fanciulli is still doing the rounds with his debut album, 'My Heart', released late last year, after more than 20 years of being an active member of the circuit. Prolific producer, he recently presented some remixes of his album, including'After Time', by Adana Twins; or his Lee Cabrera & Thomas Gold's 'Shake It' edit. He's also taking part in the world of fashion, presenting a collection along Italian brand Numero 00. He will be joined by SIGHT's resident, Alex Kennon, and one of the highest rising values of the Spanish scene, Malaga's Local29 resident, Ignacio Morales.
July 29th: Butch
Closing July, in what will be a very special night for SIGHT, in close collaboration with iconic Berlin's club, Watergate… It's Butch time! The German is one of the most charismatic DJs and producers hailing from Mainz – although being influenced by Frankfurt's minimal techno scene – with his danceable and dreamy selection. Being a true character, if there is something he infuses in each of his sessions is the quality and deepness that you only find in the big names. He's also co-founder of Otherside Music, a label that has become a stronghold of the most trippy, dreamy and hypnotic music, having featured stablished names like Ricardo Villalobos, or the likes of the most interesting up-and-coming artists. He will be joined by Jimi Jules and SIGHT's resident, Andre Buljat.