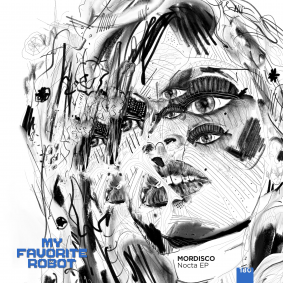 Mordisco - Nocta EP
The Mordisco DJ and production duo return to Canadian label My Favorite Robot for a stellar new single, while quality remixes come from Sascha Funke and Javi Redondo.
Angel and Hugo hail from Granada in the south of Spain and first came together in 2011. They craft mid-tempo house, disco and techno that makes a lasting impression thanks to its opulent bass sounds, synth melodies and hypnotic percussion. They also run and are residents at their own Mordisco party as well as playing around the rest of Europe and releasing on labels like My Favorite Robot's MFR Red Series, Paper Recordings and Midnight Riot Records.
Superb opener 'Nocta' is a scintillating track that has dub disco flavours embellished with slick synth work and a real sense of cosmic serenity. It's an elongated cut that really takes you on an adventure. Sascha Funke is a master of warm, deep sounds and regularly serves them up on the likes of Kompakt and BPitch Control. Here he is in fine form as he flips the original into a mellifluous and glowing, retro tinged disco house track with plenty of rich synth layers.
Then comes the bouncy 'Hypnos' which is built on punchy, lively drum programming that gets you moving while the stiff synth arps and chattery claps bring plenty of raw energy. This is a timeless bit of space-age disco that will take you to the stars. Spaniard and Correspondent Music man Javi Redondo then remixes it into a dark, grinding number that traps you in endless loops of glowing synths that evoke some future cyber planet.
This is a fantastic package that brims with fresh new takes on disco.
Tracklist:
1. Nocta
2. Nocta (Sascha Funke Remix)
3. Hypnos
4. Hypnos (Javi Redondo Remix)