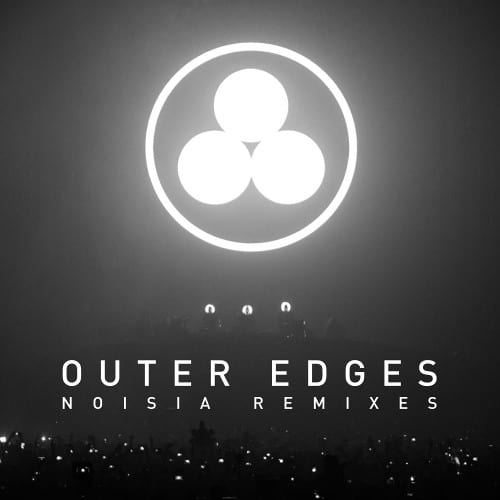 Noisia Reveal Their Own 'Outer Edges Remixes' & Announce Summer Shows
Noisia have dropped the much-anticipated 'Outer Edges Noisia Remixes' EP. Out now, the 5 track release features their new remixes of 'Voodoo', 'Tommy's Theme', 'Dead Limit' (their collaboration with The Upbeats), 'Diplodocus', and 'Surfaceless'; each of the tracks having been a major highlight of their recent Outer Edges audio visual shows.
With summer dates now fully announced, the Dutch electronic music trio will next be taking their Outer Edges show – featuring their biggest production set-up yet – to 'We Are Electric Weekender (17/6), Glastonbury, where they'll also play 2 DJ sets (21-25/6) Roskilde (1/7), Nass Festival (7/7), Exit (8/7), Dour (14/7), Dreambeach (12/8), and Frequency (15/8). Full forthcoming Outer Edges and DJ dates are listed below.
Unveiled last year, Noisia's Outer Edges show raised the bar for electronic music performances. After the launch at Czech Republic's Let It Roll festival, the band headlined the likes of Sziget, Pukkelpop, Lowlands, and SW4. Tour highlights include selling out their 'Outer Edges' shows in London (Electric Brixton) and Amsterdam (Melkweg) months in advance, and a recent headline show at Rampage, the biggest indoor bass music event in the world (capacity 15,000).
2016's 'Outer Edges' album became one of the standout artist releases of the year, earning Noisia 3 awards at the Drum and Bass Arena Awards (Best Producer, Best Album with 'Outer Edges' & best video with 'Mantra'), 'Best Album' at the UK Drum And Bass Awards, and contributed towards them receiving the Beatport award for 'Best-Selling Drum & Bass Artist'. Their recent 'Outer Edges Remixes' album brings together remixes of last summer's studio album from the likes of Bassnectar, Ivy Lab, Machinedrum, Amon Tobin, Camo & Krooked, Mat Zo, Dyro, The Upbeats, Mefjus, and more.
With one of the largest and most committed fanbases in electronic music, Noisia have transcended their genre and grown into a phenomenon in their own right. While drum & bass is at the core of Noisia's sound, their visceral brand of electronic music has always ventured further, and the trio has continuously pushed boundaries through their own music and via collaborations with artists like Amon Tobin. This attitude extends outside of the studio and into the curation of the Noisia Invites events and their DJ shows, where they share stages with the likes of Skrillex, Andy C, Gaslamp Killer and Chase & Status.
"We've recently been playing some of our own new remixes during the 'Outer Edges' audiovisual shows and decided to make them release worthy. We treated 'Voodoo' (our personal favorite at the moment), 'Dead Limit', 'Diplodocus', 'Tommy's Theme' and 'Surfaceless'. Hope you enjoy!" – Noisia
TOUR DATES ON PAGE 2
| | | | | |
| --- | --- | --- | --- | --- |
| 2017-06-17 | We Are Electric Weekender | Outer Edges | NL | Eersel |
| 2017-06-22 | The Temple | DJ | GB | Glastonbury |
| 2017-06-24 | Sonic Stage | Outer Edges | GB | Glastonbury |
| 2017-06-24 | Arcadia | DJ | GB | Glastonbury |
| 2017-07-01 | Roskilde | Outer Edges | DK | Roskilde |
| 2017-07-07 | NASS Festival | Outer Edges | GB | Shepton Mallet |
| 2017-07-08 | Exit | Outer Edges | RS | Novi Sad |
| 2017-07-09 | Balaton Sound Festival | DJ | HU | Zamardi |
| 2017-07-14 | Dour Festival | Outer Edges | BE | Dour |
| 2017-07-16 | Electric Castle Festival | Outer Edges | RO | Bontida |
| 2017-08-12 | Dreambeach Festival | Outer Edges | ES | Villaricos |
| 2017-08-15 | Frequency Festival | Outer Edges | AT | St. Polten |
| 2017-08-18 | Sound-Bar | DJ | US | Chicago |
| 2017-08-19 | Down To Earth Festival | DJ | US | Saugerties |
| 2017-08-26 | Reading Festivals | Outer Edges | GB | Reading |
| 2017-08-27 | Leeds Festival | Outer Edges | GB | Leeds |
| 2017-09-02 | Sundown Festival | DJ | GB | Norwich |
FURTHER INFO:
https://outer-edges.noisia.nl
https://fanlink.to/OuterEdgesRemixes
Noisia Tour Dates: https://noisia.nl/shows
Spotify:http://bit.ly/NoisiaSpotify
Soundcloud: http://soundcloud.com/noisia
Instagram: http://instagram.com/noisia_official
Youtube: https://www.youtube.com/user/NoisiaTV
Newsletter: http://noisia.nl/newsletter