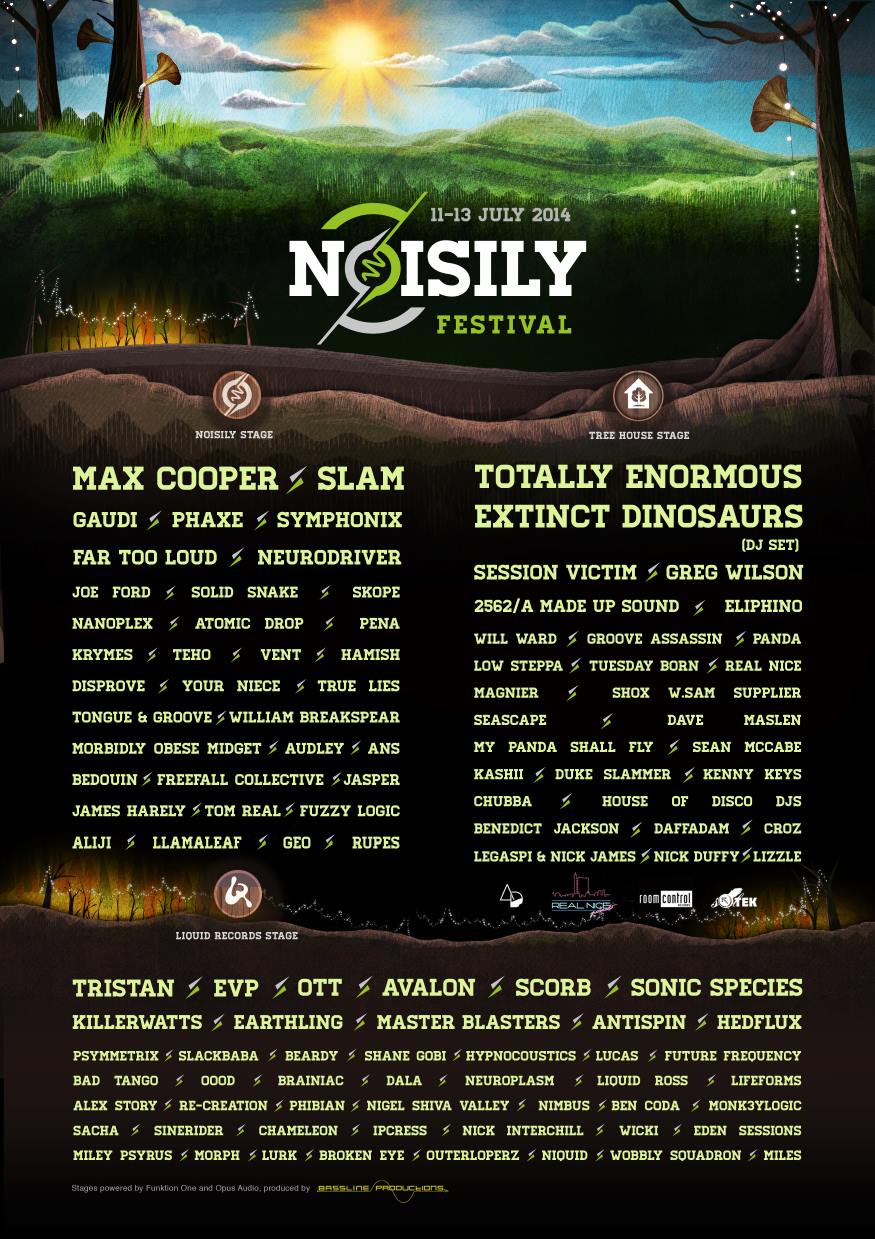 Noisily Festival of Music and Arts 2014
Set deep in the rolling hills of Leicestershire at the heart of rural England, Noisily Festival of Electronic Music and Arts lies in one of the most beautiful wooded valleys in the country. Totally contained amongst the trees creating a safe haven where hedonism and escapism can flourish and thrive, Noisily Festival 2014 will play host to some of the most exciting musical talent from the UK and abroad, along with a plethora of performance, innovative installations and mind bending visual arts.
You can expect to hear an extremely diverse collection of music; ranging from Electro, Glitch and Breaks, through House and Disco, via the Noisily mainstay of Progressive Techno, to the considerably beefed up Psychedelic line up with the traditional Psychedelic Sunday now including Friday and Saturday as well.
2014 sees the expansion of the site and arrival of the infamous Liquid Stage; after a decade at the sorely missed Glade Festival, Liquid Records has found a new spiritual home amongst the kindred spirits and like-minded ravers in sunny Leicestershire.
Noisily Stage
Max Cooper / Slam / Gaudi
Phaxe / Symphonix / Far Too Loud
Neurodriver / Joe Ford / Solid Snake
Skope / Nanoplex / Atomic Drop
Kursa / Pena / Krymes / Vent
Hamish / Disprove / Your Niece / True Lies
Tongue & Groove / Teho / William Breakspear
Morbidly Obese Midget / Audley / Ans / Bedouin
Freefall Collective / Jasper / James Harely / Fuzzy logic
Aliji / Llamaleaf / Geo / Rupes
Liquid Stage
Tristan / Masterblasters / EVP / Ott.
Avalon / Scorb / Sonic Species / Lucas
Antispin / Hedflux / Psymmetrix / Slackbaba
Beardy / Shane Gobi / Hypnocoustics / Neuroplasm
Bad Tango / OOOD / Brainiac / Dala / Killerwatts
Liquid Ross / Lifeforms / Alex Story / Future Frequencies
Re-Creation / pHibian / Nigel Shiva Valley / Nimbus / Ben Coda
Monk3ylogic / Sacha / Sinerider / Chameleon / Ipcress
Nick Interchill / Wicki / Eden Sessions / Miley Psyrus
Morph / Lurk / Broken Eye / Outerloperz
Niquid / Wobbly Squadron / Miles
The Tree House Stage
Totally Enormous Extinct Dinosaurs (DJ Set)
Session Victim / Greg Wilson / 2562/A Made Up Sound
Real Nice / Groove Assassin / Panda / Low Steppa
Magnier / Seascape / Dave Maslen / Eliphino
Sean McCabe / Croz / Kenny Keys
Benedict Jackson / House of Disco Djs / Daffadam
Nick Duffy / Lizzle
Website: http://www.noisilyfestival.com/
Facebook event page: https://www.facebook.com/events/626409414090631/
Facebook page: https://www.facebook.com/noisilyfestival
RA event page: http://www.residentadvisor.net/event.aspx?547997
Twitter: https://twitter.com/NoisilyFestival
Official video: https://www.youtube.com/watch?v=bJE1Rw5hpQs