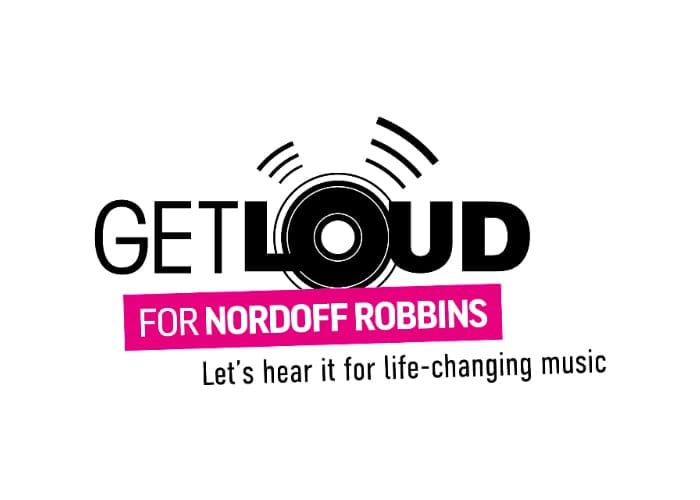 Nordoff Robbins Announce Get Loud 2018 – A Nationwide Evening Of Special Intimate Shows
Nordoff Robbins, the UK's largest independent music therapy charity, is proud to announce the return of their ground-breaking Get Loud campaign which is supported by founding sponsors, SSE.
Taking place on Wednesday 26th September Get Loud will present ten celebrated UK artists performing at the same time in ten intimate locations around the UK. The eclectic range of artists performing this year are helping Nordoff Robbins celebrate the incredible diversity of their charity, as they reach out to anyone and everyone who can be helped by music therapy.
Tickets for the individual shows will cost £10 and go on sale via GetLoud.org.uk with all the proceeds going to raise awareness of the incredible work Nordoff Robbins does in their own centres and in their wide spanning partner organisations.
Taking over the London for the evening will be record-breaking songstress Katie Melua, ska-punk pioneers The Skints, the incredible Everything Everything and pop sensation Nina Nesbitt. All four acts will be playing remarkably intimate shows in venues in all corners of the capital, including The Garage, Omeara, Borderline and Birthdays.
Everything Everything say;
"We are excited to be part of the Get Loud line up this year for Nordoff Robbins. The charity are helping so many people through music therapy and it feels good to know that our music will help to spread the message of their vital work across the country and help raise awareness"
Nina Nesbitt says;
"I am thrilled to be supporting Nordoff Robbins' 2018 Get Loud campaign. Putting on this Get Loud show gives me the opportunity to bring my fans together to celebrate music, and the work this charity is doing to help people with so many different challenges in life, through music therapy"
Katie Melua says;
"Being part of Get Loud 2018 for Nordoff Robbins really excites me. Not only because I get to share an intimate gigging experience with fans of my music, but it also gives me a chance to champion a charity I have supported for many years, their musical therapy work across the UK is life changing"
The Skints say;
"Music is the healing and the feeling of the soul and the world, and for that we are extremely excited and humbled to be hosting a session for Nordoff Robbins' Get Loud campaign. Nordoff Robbins is a charity who are using music to change people's lives for the better and we're very proud to use our music to make some noise about the amazing work they are doing"
Brighton will embrace a night of sophisticated and stylish pop from the ever classy All Saints and an explosive set from arena headliners Enter Shikariwhose incendiary performances mark them out as one of the best live bands in the UK. Ska icons The Beat, and the one of a kind party starter Hot Dub Time Machine, the phenomena who is taking over clubland worldwide will perform in Southampton.
All Saints say;
"We are thrilled to be doing this Get Loud show for Nordoff Robbins. This is such a worthy campaign, highlighting the power of music and raising awareness for a charity which uses it to change lives. We can't wait to Get Loud with our fans in Brighton!"
Enter Shikari says;
"We're proud to be able to work with Nordoff Robbins' on their Get Loud campaign. It's been a while since we last played the Concorde 2 in Brighton, but to be able to return there in support of a charity that do amazing things with music to improve people's lives seems like a great excuse"
Tom Loud (Hot Dub Time Machine) says:
"I am super excited to be joining Nordoff Robbins in their 2018 Get Loud campaign. I am all about bringing joy to people through music and Nordoff Robbins is all about changing people's lives through music, and I just can't wait to be involved and be on September 26th – it's going to be the best party ever!"
Elsewhere, Grammy nominated Gilbert O'Sullivan will be treating fans to 70's classics such as 'Alone Again', Bristol's Fleece will host a night of glam grandeur with rock royalty The Darkness, and soul sovereign Lisa Stansfield will be bringing hits such as 'There Goes My Heart' and 'All Around The World' to Matt & Phreds prolific venue in Manchester.
The Darkness say;
"As any fool will tell you, loud and The Darkness go together like a beautiful hand and a black leather glove with diamante studs and shiny silver pirate buckles all over it. The Darkness resolutely support mighty Nordoff Robbins and their music therapy – what better way to display this than a Get Loud Session rock show at renowned Bristol hostelry The Fleece & Firkin? Come one, come all, and help us to improve the world via the medium of stupidly loud musical endeavour!"
As the UK's leading independent music therapy charity, Nordoff Robbins celebrate the connection and joy music can bring to those with life-limiting illnesses, physical disabilities or emotional challenges. Working across the country they offer vital support through their dedicated open access centres and alongside over 150 partner organisations, where they have welcomed the likes of Chic's Nile Rogers, Dame Shirley Bassey, Ellie Goulding, The Script, Iron Maiden's Bruce Dickinson, Rudimental and many more over the years to experience their work first-hand.
Their music therapists are trained to the highest of standards on their Master of Music Therapy (MMT) programme and work in schools, nurseries, hospitals, care homes, prisons and community centres, to make sure that they are reaching and supporting the UK's most vulnerable and isolated people, when and where they need help most.
Since the campaigns inception in 2016, the charity have celebrated the power of music with some of the most influential names in music, raising an incredible £280,000 to date, funding the delivery of music therapy to thousands of vulnerable people across the UK.
Julie Whelan, Chief Executive of Nordoff Robbins says;
"Campaigns like Get Loud are hugely important in helping us raise awareness of our work and ensuring that we can reach all those who need our support. We know how powerful our music therapy can be – offering communication, connection and in some cases, a vital lifeline to many people. So we thank all of the wonderful artists taking part in Get Loud this year, because they are helping to spread the message of our work not only in the places where people need us most, but all over the UK"
Colin Banks, Head of Sponsorship & Reward at SSE, said:
"We are thrilled to be supporting Get Loud for what is now our third year. We know the amazing impact Nordoff Robbins' music therapy is having on so many lives and that is why we are proud to have supported the campaign since its inception. Get Loud will help to raise awareness of the charities work around the UK and help them meet their goal to deliver as much life-changing music therapy to as many people as possible. And of course, the #GetLoud Sessions offer a great chance for our SSE Reward members to get access to some great tickets!"