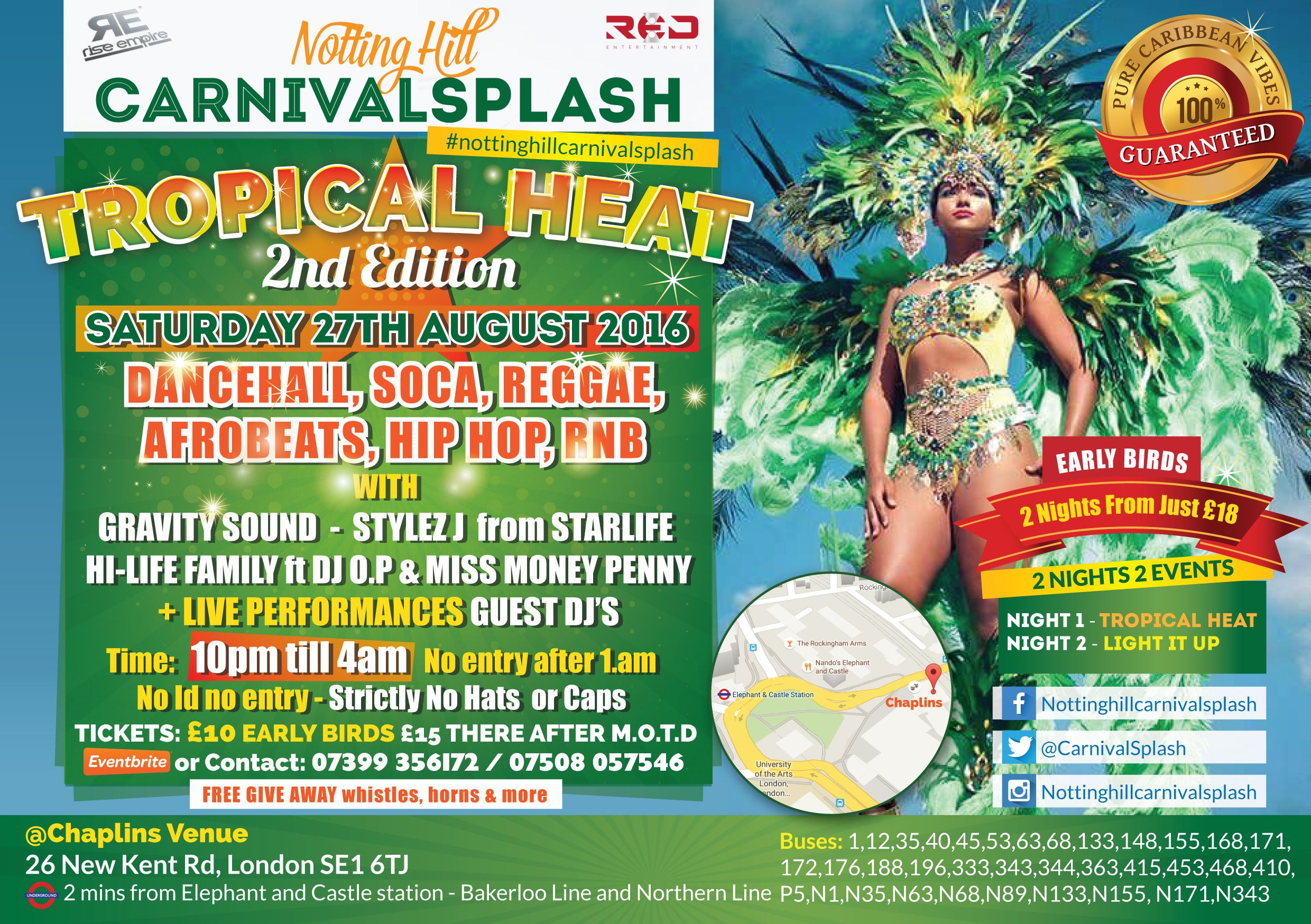 Notting Hill Carnival Splash 2016- Tropical Heat 2nd Edition
Rise empire and red entertainment present:
NOTTINGHILL CARNIVAL SPLASH 2016
2 nights; 2 events.
TROPICAL HEAT 2ND EDITION & LIGHT IT UP
Pure Caribbean vibes guaranteed
TROPICAL HEAT 2ND EDITION; SATURDAY 27TH OF AUGUST 2016
The tropical heat carnival party is back!!!!
If you were at last years' event, then you KNOW – if not, then make plans to attend this years' event! Get your ticket early to avoid disappointment. This year it gets bigger and better! This event features the hottest djs and lots of great surprises including free entry tickets for LIGHT IT UP!
To show gratitude to all of our supporters we are now offering the
NOTTING HILL CARNIVAL SPLASH PASS!
2 nights from £18 early birds, £25 thereafter.
Purchase your Notting Hill Carnival Pass now before it's too late!
www.eventbrite.com/e/notting-hill-carnival-splash-tropical-heat-2nd-edition-tickets-2650526195
MUSIC: ♫ ♪♫ ♪♫ ♪♫ ♪♫ ♪♫ ♪♫ ♪♫ ♪♫ ♪♫ ♪♫
Dancehall, Soca, Reggae, Afrobeats, Hip Hop, RNB
We hired Carnival Veteran DJs who will be your musical guides to Carnival's musical legacy.
GRAVITY SOUND , STYLEZ J (Mystic FM), Dj O.P and Miss Money Penny (Unique Fm) will be your pilots taking off from Jamaica, stopping in Trinidad and Tobago then strapping you in for a long haul flight to the Afrobeat nation of Africa.
VENUE: The Chaplin Venue, 26 New Kent Road, SE1 6TJ
The Chaplin Venue is an exclusive venue located in central London , with affordable drinks , an infectious and approachable crowd.
★☆★Dress Code Smart Casual women bring a spare pair of flats ★☆★
★☆★Time 10 – 4 am (last entry 1:00am) ★☆★
★☆★Tkts £10 early bird, £15 standard, more @ the door ★☆★
Get your ticket now:
www.eventbrite.com/e/notting-hill-carnival-splash-tropical-heat-2nd-edition-tickets-26505261952
It is for over 18 years old only. NO PHOTO ID NO ENTRY.
IF YOU ARE CELEBRATING YOUR BIRTHDAY GIVE US A CALL TO GET ONE OF OUR FANTASTIC BIRTHDAY PACKAGES: 07399 356172 or 07508 057546