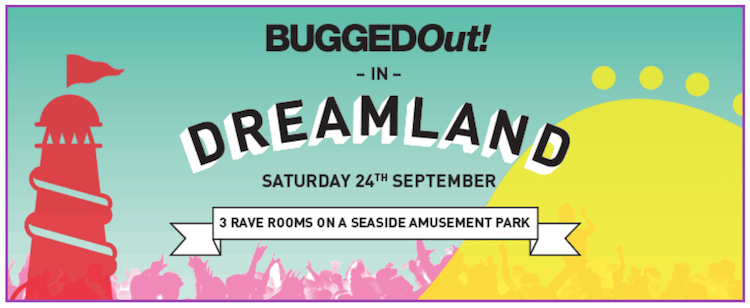 Novelist, Monki, Zed Bias, Wookie and Solardo announced for BuggedOut!
This September 24th will see BuggedOut! take over Margate's newly-renovated theme park, Dreamland for what promises to be an epic closing to the summer season. The one day extravaganza will see some of the biggest names from the electronic world play, and now Novelist, Monki, Zed Bias, Wookie and Solardo have all been added to the huge line-up, joining The Martinez Brothers, Skream, Artwork and more. Day ticket for Dreamland include unlimited fairground rides all day long, making Dreamland a dreamlike setting for a packed-out party filled with BuggedOut! personality.
New additions for the Dreamland line-up add a touch of garage, grime and UK bass to the agenda, first up, grime's wonder kid Novelist will be blessing Margate's sandy beaches with his lyrical finesse, whilst Radio 1's young gun Monki will be championing the bassier side of things through her electric selections. UK garage gods Zed Bias and Wookie both play a part in soundtracking the Dreamland experience, show the new school has it's done. Final new addition comes in the form of hotly-tipped duo Solardo are set to bring their unique, high-energy take on house to the park, completing an all star line up that already includes The Martinez Brothers, Richy Ahmed, Ben UFO, Joy Orbison, Artwork, Jackmaster and Groove Armada.
Using Dreamland's epic rides, arcades, emporiums as usual spaces for shows, Bugged-Out! In Dreamland promises to be an adventure for attendees unlike ever seen before. Each ticket (starting from £45.00) include unlimited access to fairground rides with tickets, festival goers are free to dip in and out of roller coaster fun between their favourite DJs and explore the amusement park. Raving on the the rollercoasters, dancing in the dodgems and gambling all your 2p's away in the arcades – it's all the fun of the fair for any revellers at Dreamland. And, for those who want to continue the party into the small hours, Skream and Artwork will be hosting an after-party – tickets are £10 from the website.
The Dreamland itself is a vision of design pioneer Wayne Hemingway MBE, who's creation has helped the seaside retreat become increasingly seen as one of the most exciting new creative hubs. On-the-rise Margate is easily accessible by train from London or any major UK city, and has plenty to offer in terms of location with a host of hotels, B&B's, restaurants and bars to enjoy. For those wanting to make a weekend out of it, there are plenty of accommodation options in the local area. Full information can be found at www.buggedoutindreamland.com
2nd release tickets are currently on sale from £45 for those who want to attend should move fast to secure their place at the first BuggedOut! in Dreamland. See you at the funfair!
BUGGEDOUT! IN DREAMLAND LINE-UP
NEW NAMES : Novelist * Monki * Zed Bias * Wookie * Solardo
* The Martinez Brothers * Groove Armada (DJ Set) * Jackmaster * Richy Ahmed * Ben UFO * Joy Orbison * Artwork * Skream * Lemmy Ashton * Harry James *