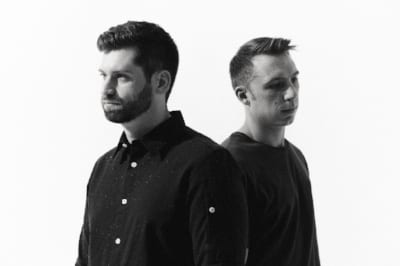 ODESZA – New Album 'A Moment Apart' Out Now
ODESZA are proud to release their highly anticipated third album, and second on Ninja Tune imprint Counter Records – 'A Moment Apart' – an ambitious body of work filled with longing, nostalgia, hope and unity. Five previously released tracks from 'A Moment Apart' have already been streamed over 55 million times, testament to ODESZA's loyal and ever growing online fan base.
'A Moment Apart' further separates ODESZA from their faceless peers, showing a more human side of the Seattle based duo of Harrison Mills and Clayton Knight. The record begins with the resplendent "Intro/A Moment Apart" and ends with the more pensive, yet rich and deeply moving "Corners Of The Earth (feat. RY X)". These two tracks – the first to be recorded – provide the cornerstone for the album, as Knight explains "Those songs embodied what we were hoping the album would turn out to be".
Stream and download the album here: http://odesza.co/a-moment-apart
Watch the just released album trailer here: http://odesza.co/ama-trailer
Mills and Knight have always been leaders in the revolution of indie electronic music, encompassing a wider, more melodic musical palette than many of their contemporaries. On 'A Moment Apart' ODESZA has also created some of their most interesting and inventive music, from the euphoric pitched hooks of "Meridian" through to the more reflective "Line Of Sight (feat. WYNNE & Mansionair)" the scope of the record is clear. On album standout "Just A Memory (feat. Regina Spektor)" they pull out one of the most startlingly beautiful tracks they have ever recorded.
Another highlight of the record is "Across The Room (feat. Leon Bridges)" which sees ODESZA seamlessly blend the soulful sound of Leon Bridges to their sonic palette. He recently joined the duo onstage to perform the track live for the first time at their headline slot closing Seattle's Bumbershoot Festival, which was also the first official show of their A Moment Apart World Tour. ODESZA are set to play their biggest venues to date on the tour, including the STAPLES Center, Barclays Center and London's O2 Forum Kentish Town, with 14 dates already SOLD OUT and many more close to selling out.
Manning dual drum kits and featuring a five piece band, ODESZA's electrifying live show is breathtaking, with a knack for combining arena-ready indie-electronic with organic instrumentation and classic songwriting they have established themselves as a must-see act.
"I think our greatest strength is in blending genres," says Mills, "I like taking a voice or maybe an instrument, chopping them up into small pieces until they're almost unrecognizable, and mostly incoherent, and then layering them over each other to create a unique tone and sound. It allows us to take pieces from many different styles of music and meld them together to create something that is our own."
But it's not just the duo's uncanny technical acumen at manipulating sounds that has landed ODESZA in the upper stratum of electronic music. Their immense impact stems from the emotions they elicit from their performed and constructed sounds: the powerful synths, the dynamic chord progressions that open into sweeping cinematic soundscapes and shimmering sonics, punctuated by ecstatic, thumping percussion.
The duo first shot to fame in 2012 with the release of their debut album 'Summer's Gone', a record they finished whilst studying at Western Washington University. It was followed up in 2014 by 'In Return' an album that saw the band rise even further, going to the top of the Billboard Dance/Electronic charts, featuring Gold single and GRAMMY® nominated "Say My Name", being nominated for Billboard Music Awards and headlining festivals and selling out venues around the globe whilst flying under the radar of mainstream media.
The band are performing a special intimate live performance on Seattle's famed radio station, KEXP, which will be streamed live over at KEXP's Facebook page on 8th September at 8pm. [KEXP Facebook Page]
ODESZA – A Moment Apart
1. Intro
2. A Moment Apart
3. Higher Ground (feat. Naomi Wild)
4. Boy
5. Line Of Sight (feat. WYNNE & Mansionair)
6. Late Night
7. Across The Room (feat. Leon Bridges)
8. Meridian
9. Everything At Your Feet (feat. The Chamanas)
10. Just A Memory (feat. Regina Spektor)
11. Divide (feat. Kelsey Bulkin)
12. Thin Floors And Tall Ceilings
13. La Ciudad
14. Falls (feat. Sasha Sloan)
15. Show Me
16. Corners Of The Earth (feat. RY X)