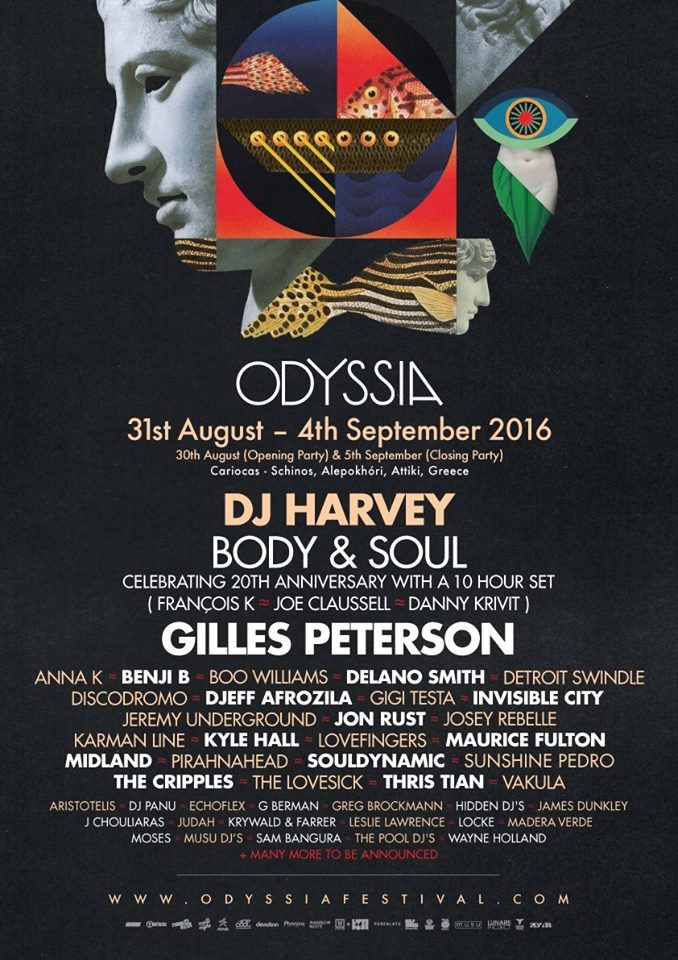 Odyssia Festival 2016
Upon the bay of the idyllic fisherman's village Schinos lies a secluded, hand-crafted beach bar with an 18 year legacy as stunning as it's surroundings.
Across 7 days and nights we will present to you an array of artists, DJs, producers, selectors and influencers on both land and sea. Crafted by the minds behind Need2Soul, N.E.U.H.M and Cariocas' House On The Beach, the first Odyssia promises to intimately piece together their favourite electronic collectives in an alluring location only fit for the best. With beach sessions and boat parties which stretch beyond the sunset each day, this will be the perfect place to lose yourself to a soundtrack of house, techno, disco, world music and other underground sounds.
DJ Harvey
Body & Soul
Celebrating their 20th Anniversary • 10 hour set
(Francois K • Joe Claussell • Danny Krivit)
Gilles Peterson
Anna K • Benji B • Boo Williams • Delano Smith • Detroit Swindle • Discodromo • DJEFF Afrozila • Gigi Testa • Invisible City • Jeremy Underground • Jon Rust • Josey Rebelle • Karman Line • Kyle Hall • Lovefingers • Maurice Fulton • Midland • Pirahnahead • Souldynamic • Sunshine Pedro • The Cripples • The Lovesick • Thris Tian • Vakula
Aristotelis • DJ Panu • Echoflex • G Berman • Greg Brockman • Hidden DJs & Love Dose DJs • James Dunkley • J Chouliaras • Judas • Krywald & Farrer • Leslie Lawrence • Locke • Madera Verde • Moses • Musu DJs • Sam Bangura • The Pool DJs • Wayne Holland
+ many more to be announced…
7 day pass to access all stages from 11am – 6am at Odyssia Festival (excluding boat party access)
1st release tickets – €75 + bf
2nd release tickets – €90 + bf
3rd release tickets – €110 + bf
4th release tickets – €140 + bf