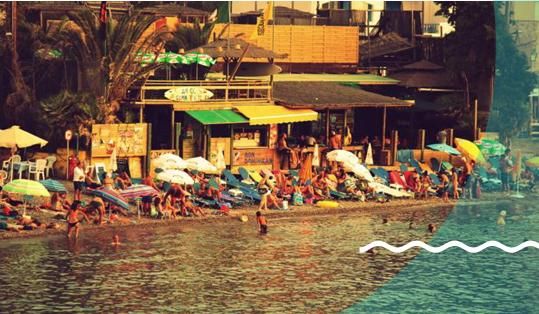 Odyssia Festival announces first acts…
Inaugural Greek Festival Just An Hour From Athens Launches In Idyllic Fisherman's Village. With… DJ Harvey, Gilles Peterson, Body & Soul, Benji B, Jeremy Underground, Delano Smith, Midland, Marcellus Pittman & Many More
30th August – 5th September 2016
Cariocas Beach, Greece
Need2Soul, NEUHM and Cariocas Beach Bar come together to craft the first Odyssia Festival on the shores of the idyllic bay of the Greek fisherman's village Schinos. Piecing together some of the world's most highly revered artists including DJ HARVEY, GILLES PETERSON, BODY & SOUL, BENJI B, JEREMY UNDERGROUND, DELANO SMITH, MIDLAND and new addition MARCELLUS PITTMAN to name but a few, alongside their favourite electronic collectives across seven days and nights, Odyssia will showcase an array of artists, DJs, producers, selectors and influencers on both land and sea against a stunning backdrop.
The legendary handcrafted beach bar of Cariocas, set in a secluded location just one hour south of Athens, anchors proceedings from the 30th August – 5th September 2016. Steeped in an 18-year legacy, it's been referred to as both a paradise and a musical haven, which has played host to the likes of Frankie Knuckles, Joe Claussell, David Morales, Ron Trent, Osunlade behind it's hallowed decks.
Cariocas Beach Bar is a hand built structure created from Swedish wood, that has been transformed from it's original incarnation as the local village grocery store. Eighteen years old, the club was built by hand by the owner's grandfather, a 4 month project of intensive designing and carpentry labouring twenty-four hours, seven days a week.
The custom design of the club goes all the way down to the speakers, which are as stunning as they are effective. They were built by Bill Pal, who owned a local record shop in Athens named '360'. He joined the project to help build not only the speakers but also the dance-floor's and the outdoors satellite speakers. Unfortunately Bill Pal passed away before the completion of the project. The Cariocas sound system keeps evolving even today, but the Bill Pal speakers have always been the heart and the distinguishing sound.
With an intimate capacity of just 2000, Cariocas Beach Bar stretches out onto the unspoiled shores. The beach sessions and boat parties extend beyond the sunset, promising the perfect place to lose yourself to the finest selections of house, techno and disco. With the nearby town of Loutraki just 20 minutes away boasting thermal boutique spa, beachside bars and restaurants, Odyssia presents the perfect hybrid of an intimate music festival and a holiday.
ODYSSIA EVENT PROGRAMME
WITH MORE NAMES TBC
TUESDAY 30TH AUGUST
– ODYSSIA OPENING PARTY –
Spellband | Anna K | Pirahnahead | John Gorbera | Andy S | Elena Linenwood
Methi Blonde | Costa Vagai | G Berman | Locke | Aristotelis | Echoflex | Moses
+++
WEDNESDAY 31ST AUGUST
DAYTIME – HOSTED BY WORLDWIDEFM
Gilles Peterson | Thrist Tian | Jon Rust
NIGHTIME – HOSTED BY DEVIATION
Benji B | Midland | Marcellus Pittman | Josey Rebelle
+++
THURSDAY 1ST SEPTEMBER
ALL DAY LONG – THE POOL AGENCY & DJ HARVEY PRESENT
DJ Harvey | Lovefingers | Maurice Fulton | Discodromo
Invisible City | The Pool DJs
+++
FRIDAY 2ND SEPTEMBER
DAYTIME – HOSTED BY NEED2SOUL
Boo Williams | James Dunkley | Leslie Lawrence | Wayne Holland
NIGHTTIME – HOSTED BY HALF BAKED
Jeremy Underground | Detroit Swindle | Kyle Hall
Sam Bangura | Greg Brockmann
+++
SATURDAY 3RD SEPTEMBER
DAYTIME – HOSTED BY CARIOCAS
Vakula & More TBA | Anthropous Anonymous
NIGHTTIME – HOSTED BY WALK THE NIGHT
The Cripples | More TBA | Delano Smith
+++
SUNDAY 4TH SEPTEMBER
DAYTIME – HOSTED BY NEUHM
Souldynamic | Gigi Testa | More TBA
NIGHTTIME – BODY & SOUL
Celebrating 20th Anniversary With A 10 Hour Set
(François K / Joe Claussell / Danny Krivit)
+++
MONDAY 5TH SEPTEMBER
DAYTIME – ODYSSIA CLOSING PARTY
Junior B | Jimmy K | Madeira Verde | Andreas Runner | Black Athena
Dimitri Avgeros | Bill Duke | Thomas Numan
NIGHTTIME
Christo Z | Secret Guests | J Chouliaras | DJ Panu