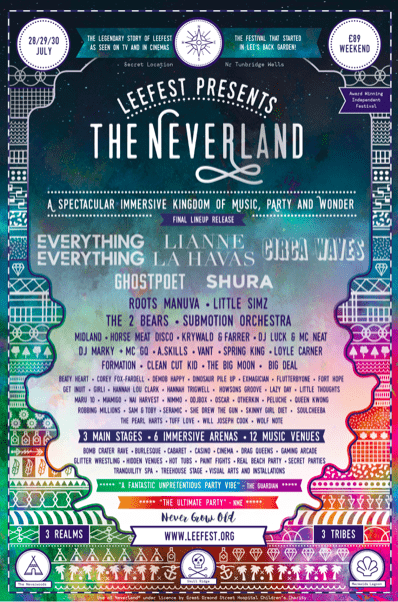 Secret Location Revealed And Launch Party Announced For LeeFest
The secret is out as one of the most exciting festival experiences of the summer, LeeFest Presents The Neverland reveals the co-ordinates for this year's event, taking place at John Darlings Farm near Edenbridge in Kent (TN8 5NP).
Nestled within the picturesque landscapes of the Kent countryside, The Neverland will be teaming up with one of the most acclaimed small venues in the country, with the Tunbridge Wells Forum to bring an array of local artist to the festival. Local acts appearing at LeeFest include Beaty Heart, Get Inuit and Corey Fox Fardell with many more exciting names in Kent music transporting to The Neverland over the next few weeks.
To celebrate, The Neverland will be taking over the Tunbridge Wells Forum on Friday 3rd June for The Neverland Launch Party, whisking you into the world of Mermaids Lagoon, with sunshine, cocktails and tropical vibes. With exceptional live music from local favourites throughout the day, sun-drenched neon beats from a range of DJs into the late evening and enough BBQ food to fill you many times over, celebrate the start of the summer with The Neverland's unmissable warm-up party.
Entry to The Neverland Launch Party is free before 8pm and £5 thereafter and tickets for the The Neverland Lagoon Launch Party are available from leefest.org/tickets.
LeeFest Presents: The Neverland takes place across three distinct realms (The Neverwoods, Mermaids Lagoon and Skull Ridge) , The Neverland is set to host a phenomenal new music line-up including Lianne La Havas, Circa Waves, Ghostpoet, Everything Everything, Shura, Roots Manuva, Little Simz, The 2 Bears, Spring King, Loyle Carner, Formation and many more. With a spell-binding array of activities and immersive experiences, The Neverland is the place to be to live your dreams and never grow old.
Earlybird tickets are now sold out and weekend tickets for The Neverland are flying out fast, with prices starting from £99. For full ticket information, head to leefest.org/tickets/
LEEFEST PRESENTS: THE NEVERLAND
THE NEVERWOODS // SKULL RIDGE // MERMAIDS LAGOON
12 MUSIC VENUES // 3 MAIN STAGES // 6 IMMERSIVE STAGES
LIANNE LA HAVAS // CIRCA WAVES // GHOSTPOET
EVERYTHING EVERYTHING // SHURA // ROOTS MANUVA // LITTLE SIMZ //
THE 2 BEARS // SUBMOTION ORCHESTRA // LOYLE CARNER // DJ LUCK & MC NEAT // SPRING KING // FORMATION // CLEAN CUT KID // THE BIG MOON // BEATY HEART // BIG DEAL // COREY FOX-FARDELL // DEMOB HAPPY // DINOSAUR PILE-UP // FORT HOPE // QUEEN KWONG // GIRLI // NIMMO // OSCAR // SKINNY GIRL DIET // WILL JOSEPH COOK // TUFF LOVE // GET INUIT // HANNAH LOU CLARK // MIAMIGO // OTHERKIN // PELUCHE // EXMAGICIAN // SHE DREW THE GUN // HANNAH TRIDWELL // LAZY DAY // ROBBING MILLIONS // SERAMIC // THE PEARL HEARTS // WOLF NOTE
ADULT CINEMA // BURLESQUE // CABARET // CASINO // CAMPFIRES // CIRCUS // COCKTAIL BARS // COMEDY // CRAFT MARKETS // CRAFT WORKSHOPS //
DANCE CLASSES // DRAG QUEENS // FOOD FIGHTS // GAMES & SPORTS //
GAMING ARCADES // GLITTER WRESTLING // HIDDEN VENUES // HOT TUBS //
INSTALLATIONS & GALLERIES // KIDS AREA // LOCAL ALES // MAGIC //
MASSAGES // PAINT FIGHTS // SECRET PARTIES //SPOKEN WORD // STREET FOOD // TALKS & DEBATES // THEATRE // THERAPIES // TRANQUILITY SPA //
WIDE GAMES // YOGA