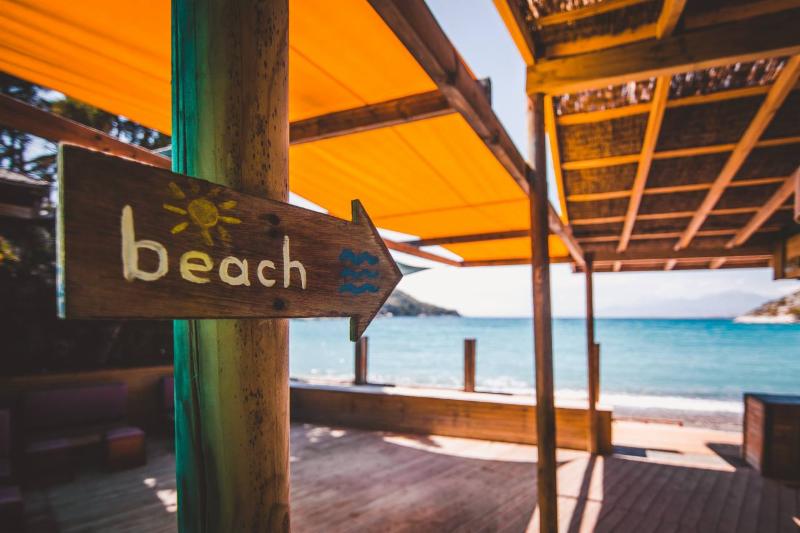 Odyssia Festival Reveals Details on Secret Beach Parties + more!
With it's opening party of the season taking place at the end of this week, the musical minds behind Cariocas Beach Bar on in Loutraki, Greece, have brought together a programme to cover all bases for those wanting to escape this summer to sunny shores with stunning surroundings, all soundtracked by a phenomenal line-up including DJ Harvey, Gilles Peterson, Francois K, Joe Claussell, Danny Krivit, Marcellus Pittman, Boo Williams, Maurice Faulton, Benji B, Midland, Jeremy Underground, Detroit Swindle plus many more.
Boasting a completely local experience Odyssia Festival, based at the Cariocas Beach Bar, is set in an idyllic fishing village flanked by calm blue waters to the front and rolling mountains at the back. In true Greek fashion, the whole local community will come together to bring an array of activities and food options allowing festival goers to step into a slice of heavenly Greek life for one week.
Secret Beach & Boat Parties
Happening everyday throughout the festival, secret beach parties will be hosted on a remote beach, just a short boat ride away. Providing simplistic charm complete with soundsytem, wooden bar, a food stall and shade, revellers will be able to dance away for hours in the open air on their own private beach.
SECRET BEACH & BOAT PARTY LINEUP'S
WEDNESDAY 31ST AUGUST
NIGHTTIME: HOSTED BY HIDDEN / LOVE DOSE
16:00 – 21:00
MIDLAND
HIDDEN DJ'S
LOVE DOSE DJ'S
THURSDAY 1ST SEPTEMBER
DAYTIME: HOSTED BY PERCOLATE
12:00 – 16:00
BOO WILLIAMS
KRYWALD & FARRER
NIGHTTIME: HOSTED BY DEVIATION
16:00 – 21:00
BENJI B & JUDAH
GUESTS TBA
FRIDAY 2ND SEPTEMBER
DAYTIME: HOSTED BY RANSOME NOTE
12:00 – 16:00
MARCELLUS PITTMAN
ALLY TROPICAL
NIGHTTIME: HOSTED BY FAITH / JOCKS AND NERDS
16:00 – 21:00
MIKE HUCKABY
TERRY FARLEY
STUART PATTERSON
DAVE JARVIS
SATURDAY 3RD SEPTEMBER
DAYTIME: HOSTED BY HALF BAKED
12:00 – 16:00
GLENN UNDERGROUND
SAM BAGURA
GREG BROCKMAN
SUNDAY 4TH SEPTEMBER
EVENING: HOSTED BY PHONICA
17:00 – 21:00
DELANO SMITH
PHONICA DJ'S
Route to secret beach
Sardine Fiesta & Beach BBQ's
Taking place across three evenings of the festival week, the sardine fiesta will take place on the same beach as Cariocas, with the day's catch brought directly to the shore where it goes straight from the fishing boats, onto the barbecue. Grilled by chefs from the village, the sardines will be served up with fresh salads, tomatoes and olives, local cheeses, fresh homemade bread along with local beers and sparkling wines.
Sardine Fiesta
Water Sports – Group Fishing, Sun-Set kayaking, Snorkelling
Taking advantage of proximity to the beach and calm blue waters, there will be a range of water based activities to undertake during the festival week. 'Sunset kayaking', gently paddling into setting sun, with the dulcet tones of the festival in the background is a must. Local fishermen await you, to take out small private fishing groups twice a day to catch your dinner fresh out of the mediterranean.
Sunset Kayaking
Yoga On The Beach
FitBeats presents Om2theBeat, a unique experience which gives us the opportunity to enjoy music whilst performing the physical and mediative practice of Hatha Yoga. Experienced instructors will take you through a series of Hatha yoga poses for 60 min on the beach before the festival kicks off each day, with a bespoke music programme.
+++
FULL ODYSSIA EVENT PROGRAMME
TUESDAY 30TH AUGUST
ODYSSIA OPENING PARTY
ANNA K – PIRAHNAHEAD – SPELLBAND
ANDY S – ARISTOTELIS – COSTA VAYA – ECHOFLEX – G BERMAN –
JOHN GORBERA – LOCKE – METHI BLONDE – MISS LINENWOOD – MOSES
+++
WEDNESDAY 31ST AUGUST
DAYTIME: HOSTED BY WORLDWIDE FM
GILLES PETERSON
JON RUST – THIRST TIAN
NIGHTTIME: HOSTED BY DEVIATION
MARCELLUS PITTMAN
BENJI B – MIDLAND
JOSEY REBELLE
+++
THURSDAY 1ST SEPTEMBER
ALL DAY : THE POOL AGENCY AND DJ HARVEY PRESENT
DJ HARVEY
DISCODROMO – INVISIBLE CITY –
LOVEFINGERS – MAURICE FULTON
THE POOL DJ'S
+++
FRIDAY 2ND SEPTEMBER
DAYTIME: HOSTED BY NEED2SOUL
BOO WILLIAMS
JAMES DUNKLEY – LESLIE LAWRENCE – WAYNE HOLLAND
NIGHTTIME: HOSTED BY HALF BAKED
JEREMY UNDERGROUND –
DETROIT SWINDLE – KYLE HALL
GREG BROCKMANN – SAM BANGURA
+++
SATURDAY 3RD SEPTEMBER
DAYTIME: HOSTED BY MOVE PROJECT
ANTHROPOUS ANONYMOUS
VAKULA
FRANÇOIS KEVORKIAN Presents: Deep Space
NIGHTTIME: HOSTED BY WALK THE NIGHT
DELANO SMITH
MIKE HUCKABY
THE CRIPPLES
+++
SUNDAY 4TH SEPTEMBER
DAYTIME: HOSTED BY NEUHM
GLENN UNDERGROUND
GIGI TESTA – SOULDYNAMIC
NIGHTTIME: HOSTED BY CARIOCAS – HOUSE ON THE BEACH
BODY & SOUL
CELEBRATING 20TH ANNIVERSARY WITH 10 HOUR SET
(FRANÇOIS K – JOE CLAUSSELL – DANNY KRIVIT)
+++
MONDAY 5TH SEPTEMBER
ODYSSIA CLOSING PARTY
DAYTIME
ANDREAS RUNNER – BILL DUKE – BLACK ATHENA – DIMITRIS AVGEROS – JIMMY K –
JUNIOR B – MADEIRA VERDE – THOMAS NUMAN
NIGHTTIME
CHRISTO Z – DJ PANU – J CHOULIARAS –
SUNSHINE PEDRO – SECRET GUESTS
+++
BRAND PARTNERS
Cariocas | Need2Soul | Phonica Records | World Wide FM |
Ransom Note | Half Baked | House On The Beach | Deviation | Pool Agency | Percolate
Walk The Night | Hidden (Manchester) / Move / NEUHM (ITALY)