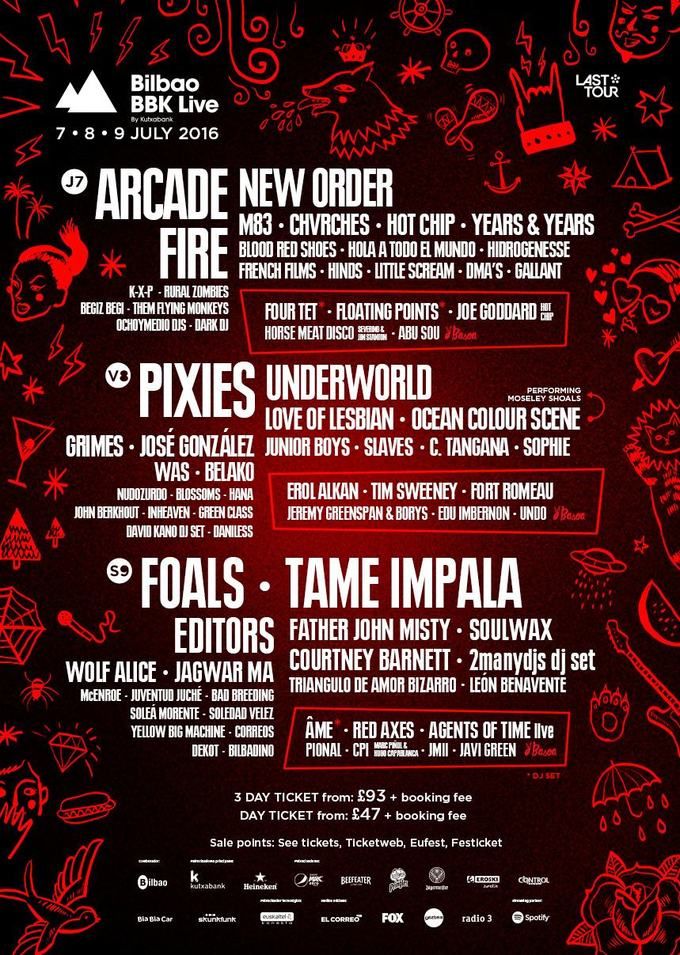 Bilbao BBK Live announce the full lineup and stages…
With just 3 weeks to go until Bilbao BBK Live takes over the Kobetamendi Hill, the festival reveals the full lineup and stage times for this year's edition! The final additions to the lineup include Soleá Morente, K-X-P, Edu Imbernon and Soledad Vélez. These new acts join a huge musical lineup for 2016 that also boasts Arcade Fire, Pixies, Foals, Tame Impala, New Order, Underworld, Editors, Grimes, M83, Years & Years, 2manydjs, Father John Misty, Wolf Alice and many more.
Soleá Morente has managed to create bridges between traditional flamenco and contemporary pop rock and has now finally released her debut solo album. Hailing from Helsinki, K-X-P's polyrhythmic electronic rock is born from an exciting mix of space rock, kraut, noise, dark techno and pop melodies and if their reputation is anything to go by, their intense live show shouldn't be missed at this year's festival! Soledad Vélez, a Chilean artist living in Spain, has surprised everyone with her third album, where she wanders far from the archetypal acoustic singer songwriter she started out as. Rhythms' and synthesizers now accompany the artist's' powerful and hypnotic vocals.
Guipúzcoa born quintet John Berkhout will visit Bilbao BBK Live after having reaffirmed their need to experiment and evolve. This time round their new and recent album 'Bloo mind' takes us to a new world of futuristic psychedelia. Correos first started to perform after winning a band competition in their home country, since then they have released three albums and continue to rely on their unreserved Spanish pop. Without doubt, Them Flying Monkeys are one of the most solid new and upcoming bands in Portugal and will be visiting Kobetas, by the hand of NOS Alive, to present their debut album, which blends British neo-psychedelia and alternative rock. Dekot are winners of this year's Gaztea demo contest which has seen the likes of Belako, Delorean, Berri Txarrak or El Columpio Asesino rise to what they are today.
Two new artists will also join the Basoa line up, a new area dedicated solely to dance music. Multifaceted artist Edu Imbernon has already travelled around the five continents with his mix of electro, house and indie music (from Space Ibiza to Coachella) and now joins us at Bilbao BBK Live. Ibiza resident and electronic music connoisseur since the age of 14 years old, DJ and producer Javi Green will also take to the decks at Basoa.
Set high upon the Kobetamendi Hill with views overlooking the beautiful city of Bilbao and inviting golden, sandy beaches, Bilbao BBK Live offers the perfect fusion of holiday and festival. This years edition takes place from 7-9 July. Tickets, priced at £93.00 + bf are available now at http://bilbaobbklive.com/en-us/home.
Full lineup and stage times
Thursday 7
Stage 1
17:45 Little Scream
19:15 Years & Years
21:30 M83
00:20 Arcade Fire
Stage 2
18:25 Gallant
20:20 Chvrches
22: 55 New Order
02:00 Hot chip
Stage 3- Carpa (tent)
17:30 Begiz Begi
18:30 Rural Zombies
20:25 DMA's
23:05 K-X-P
02:30 Blood Red Shoes
03:30 Dark DJ
05:15 Ochoymedio DJs
Stage 4
19:30 Them Flying Monkeys
21:00 Hidrogenesse
22:30 Hinds
00:00 Hola A Todo El Mundo
01:45 French Films
Basoa
17:00 Abu Sou
20:00 Horse Meat Disco
23:00 Joe Goddard
01:00 Floating Points
04:00 Four Tet
Friday 8
Stage 1
17:45 Inheaven
19:00 José González
21:30 Love Of Lesbian
00:05 Pixies
Stage 2
18:20 John Berkhout
20:05 Ocean Colour Scene
22:55 Grimes
01:45 Underworld
Stage 3- Carpa (tent)
17:30 Green Class
18:30 Hana
20:25 Junior Boys
23:10 Blossoms
02:00 Slaves
03:00 Dani Less DJ
05:00 David Kano Dj Set
Stage 4
19:30 C Tangana
21:00 Nudozurdo
22:30 Belako
00:15 WAS
02:00 Sophie
Basoa
17:00 Undo
19:00 Edu Imbernon
21:00 Fort Romeau
23:00 Jeremy Greenspan & Borys
01:00 Tim Sweeney
04:00 Erol Alkan
Saturday 9
Stage 1
17:45 Dekot
19:15 Courtney Barnett
21:30 Tame Impala
00:20 Foals
Stage 2
18:25 Soleá Morente
20:20 Father John Misty
22:55 Editors
02:00 Soulwax
Stage 3- Carpa (tent)
17:30 Correos
18:30 Yellow Big Machine
20:25 Juventud Juché
23:10 Jagwar Ma
02:30 Wolf Alice
03:30 Bilbadino
05:15 2manydjs
Stage 4
19:30 Soledad Vélez
21:00 Bad Breeding
22:30 McEnroe
00:00 León Benavente
01:45 Triángulo de Amor Bizarro
Basoa
17:00 Javi Green
18:30 JMII
20:30 Pional
22:45 CPI (Marc Piñol & Hugo Capablanca)
01:00 Agents of Time Live
02:00 Red Axes
04:30 me
TICKETS
General Admission 3-Day Ticket from £93.00 GBP +BF
General Admission 3-Day Ticket + Camping from £100.50 GBP +BF
Book now at www.bilbaobbklive.com/en-us/tickets
CONNECT
Website www.bilbaobbklive.com
Facebook www.facebook.com/bilbaobbklive
Twitter www.twitter.com/bilbaobbklive
Spotify http://spotify.com/user/bilbaobbklive
Instagram www.instagram.com/bilbaobbklive