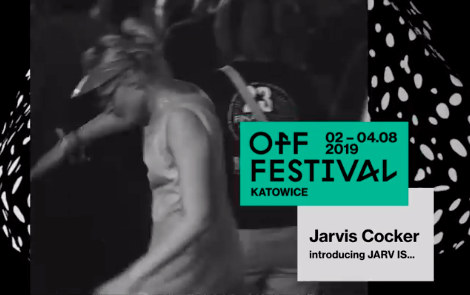 OFF Festival Katowice 2019: Jarvis Cocker and Distant Journeys
From Chicago's clubs to the Icelandic wilderness and Polish roads: get ready for a trip around the world, all without leaving Katowice. Joining us will be Pablopavo i Ludziki, EABS feat. Tenderlonious, Hania Rani, Honey Dijon, Soccer Mommy, and P.Unity. What's more, we'll welcome one of Britain's most important alternative artists, Jarvis Cocker
Jarvis Cocker introducing JARV IS…
This is going to be insane! Jarvis is finally coming to the OFF Festival! The artist is best known and loved as the leader of Pulp, one of the bands that defined the 90s guitar band sound. We've listened to his solo albums (and the one with Chilly Gonzales) over and over, awing over his musical versatility and brilliant lyrics. We kept in touch through his BBC 6 shows (who cares if it was a one-way channel?). All the more reason for us to await the artist's latest incarnation, JARV IS, with great hope and impatience, especially after the enthusiastic reviews of his first performances in the UK.
Pablopavo i Ludziki z Naprawdę Dużym Zespołem
Pablopavo became a regular fixture at literary festivals following the 2017 release of his critically acclaimed short story collection Mikrotyki (congratulations!). But Pablo isn't one to snub his nose at the music scene: he's constantly laying down and releasing new tracks with ever-evolving configurations and lineups of artists and genres, not to mention his myriad guest appearances (numbering around fifty records, at last count). In 2018 he released his fifth album—and first venture into the realm of disco—with Ludziki. This is no Saturday Night Fever, but more of a contemplative, shoe-gazing dance—somewhat euphoric at the prospect of no tomorrow, but also sad, because today isn't much better. Prepare to hear some old and new material featuring the whole cast of characters Pablopavo fans have come to love. He might even play the one about Krzysiek.
EABS feat. Tenderlonious
Electro Acoustic Beat Sessions brings together a range of artists, from jazz musicians to rappers. Any musical act would be lucky to have this much talent in one place. Led by Marek Pędziwiatr, the Wrocław-based ensemble oscillates between genres, blending musical haute culture with swashbuckling artistic bravado. Their 2017 album Repetitions (Letters to Krzysztof Komeda), a top-notch effort to grapple with the eminent Polish jazzman's musical legacy, landed EABS the very first GaMa Award and a Fryderyk nomination. Their latest release, Slavic Spirits, delves much deeper into our shared heritage, attempting to convey the titular Slavic soul through a completely un-Slavic genre of music. Aiding the band
in this effort is the London-based multi-instrumentalist Tenderlonious, who takes the stage armed with a flute and soprano sax.
Hania Rani
The pianist, composer, arranger and vocalist Hanna Raniszewska didn't just wait around for a stroke of fortune—she worked hard to make it happen. There's no challenge too great for her, no musical aesthetic too unfamiliar. Hania Rani has reimagined the centuries-old hymns of Henry Purcell and John Dowland, performed songs by the Polish rocker Grzegorz Ciechowski (in a duo with Dobrawa Chocher), composed theater scores, collaborated with Misia Furtak, and formed one half of the duo Tęskno (with Joanna Longić), which released the excellent album Mi last year. But the time has finally come for her to launch a solo project. Her first release as Hania Rani, the outstanding LP Esja, was recorded partially in Warsaw and in Reykjavik (at the studio of Bergur Þórisson, best known for his work with Björk and Ólafur Arnalds), and sounds as beautiful as Iceland and Poland combined.
Honey Dijon
The Chicago-born DJ, trans-rights activist and fashion icon Honey Dijon splits her time between New York and Berlin. Her sound reveals a musical taste shaped in the home (her parents had an impressive collection of soul and R'n'B records) and in Chicago's club scene. Her original style is built on a foundation of eclecticism and boldness.
Soccer Mommy
Sophie Allison cites Taylor Swift and Avril Lavigne as her idols, but don't expect an explosive cocktail of country and radio-friendly pop from this Nashville native. Soccer Mommy's original compositions are touching in their fragile beauty and disarming frankness. Her self-produced albums For Young Hearts and Collection are definitely worth a listen, but last year's Clean is practically obligatory. "I wanna be that cool," Sophie sings in one song. Which is a bit weird, because she already is.
P.Unity
If P.Unity was nominated for a Fryderyk award for best blues album, it's only because it's really hard to pinpoint the exact genre played by this Warsaw band. It's definitely funk, but it's also soul, jazz and rap, all simmered in a trippy, psychedelic sauce. There's echoes of Parliament/Funkadelic and a hint of Prince—but the songs that never made it into the top 40. If you like P.Unity's debut album Pulp, or their collaboration with Michał Urbaniak, then rest assured that that's merely an overture to their live performance in Katowice…
This year's OFF Festival also features the previously announced acts: Foals, Suede, Stereolab, Neneh Cherry, Aldous Harding, Superorganism, Perfect Son, Electric Wizard, The Gaslamp Killer, The Comet is Coming, IC3PEAK, Daughters, Lotic: Endless Power, The Body, Dezerter performs Underground Out of Poland, slowthai, Black Midi, Masecki Jazz Trio, OM, SAMA', Jakuzi, Phum Viphurit, Durand Jones & The Indications, Lebanon Hanover, Loyle Carner, Emerald, Octavian, Ammar 808, Tirzah, Wczasy, Entropia, and Boogarins, as well as Bamba Pana & Makaveli, and the Śląsk Song and Dance Ensemble.
The 2019 OFF Festival Katowice will take place August 2–4 at Three Pond Valley, its regular venue. Three-day passes are now available at the OFF Shop for 330 PLN. This price lasts until April 7 or until the second round of tickets is sold out! Campground tickets are also available for 80 PLN. Buy tickets here:
About OFF
A truly unique boutique music festival, OFF Festival takes place in 'Three Lake Valley', Katowice – a beautiful green oasis in the heart of industrial Silesia. OFF Festival is a way of life, one that flies in the face of current trends and stays true to itself, and the ethos of organiser Artur Rojek is firmly aimed at supporting art and music with the festival bringing many acts to Poland for the first time. OFF Festival is growing in prominence year on year driven by the festivals forward–thinking, eclectic music policy. From the greatest alternative music stars from around the world to the increasingly strong Polish scene, OFF festival has inspiring music in abundance.