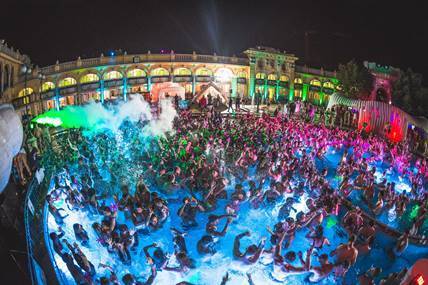 More Essential Names Added To Budafest 2019
The third edition of Budafest just got even bigger with the addition of world-renowned DJs, Eats Everything, Melé, Pawsa, Hott Like Detroit, Ben Sterling and Apexape all set to play at a brand new festival site in Budapest, Hungary, from 1st – 3rd September 2019. They'll join the previously announced, Fisher, Max Chapman, Mason Maynard, Franky Wah, Fleur Shore and My Friend at the hugely impressive open-air venue, Rio XXL, now the central partying spot at Budafest 2019. 7,000 clubbers will gather here for its private beach, outdoor partying by day and underground clubbing vibes by night. But that's not the only special party location as the much-talked about thermal spa parties and boat parties also make up this unique metro-festival. Fulltravel and accommodation packages are available, with a festival-only ticket costing just £99 from www.budafest.com.
Budafest is an unforgettable getaway that will stage 50 world class DJs alongside the chance to explore the historic city of Budapest at leisure. Crowds flock to the festival for its 1,000 capacity, open-deck miniature ferry that offers a different view of the city, plus the opportunity to relax in the thermal baths, sauna and steam room of the famous Szechenyi Spa, plus various day trips, museum excursions and food and drink stop offs. However, for most, it's about the draw of quality house music.
The latest names include the Edible label boss, Ibiza king pin and in demand DJ, Eats Everything who always pumps the party with his big, bass heavy sounds. Then comes the innovative DJ and producer Melé, a house champion associated with legendary label Defected and someone who headlines the finest clubs and festivals in the world, all while turning out his club ready dynamite.
Pawsa is a new school hero who always makes his mark with his tough and energetic tech. It comes on labels like Solid Grooves—an essential underground party he also represents in Ibiza—and he will be joined by Manchester duo Hott Like Detroit, who run their own Abyss Records and have taken their brand on the road round the world. Add in 2019's fastest rising star Ben Sterling, whose been releasing on Hot creations and Edible, plus Budafest resident Apexape and you have some sensational new additions to the already fantastic line-up.
They will play the all new venue for 2019 that is Rio XXL. Open by day and by night and located next to the Danube, it will come alive with two stages, a private beach, and immersive production. Of course, there is also the thermal spa parties to look forward to from Sunday 1st September until Tuesday 3rd September at The Szechenyi Spa. This visually stunning space will be transformed into an adult playground with lights, lasers and visuals plus a bonus pre-festival event on Saturday 31st Augusthosted by SPArty who have more than 20 years of experience of throwing parties in the Hungarian capital.
Tickets for Budafest 2019 come in a variety of packages to suit varying budgets and requirements. The festival only ticket costs £99 which grants entry to each club event over the three days. Optional extras include the Spa Party (£44), Pub Crawl (£15), Boat Party (£29), and VIP Ticket (£39), which includes pub crawl, t-shirt, queue jumps, bar and booth access and VIP toilets.  Accommodation starts at £23 per night and goes up to £39 for more premium options.
Check out the 2018 after movie to get in the mood http://bit.ly/Buda-AfterMovie and then get booking this ultimate music holiday experience.