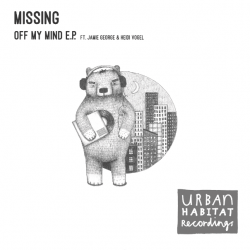 Missing - 'Off My Mind EP' (Ft Jamie George & Heidi Vogel)
Urban Habitat Recordings is the brand new label of acclaimed Jungle and breaks producer, Missing, set up as a platform to showcase innovative new sounds that transcend all aspects of the dance music spectrum. 'Off My Mind EP' oozes cool and comes loaded with 4 diverse forward thinking cuts for the floor, each with it's own very unique flavour. The EP title track features the much in demand UK vocal talents of Jamie George, who delivers an intense spoken word over a captivating Deep House piano lead groove, immersed in a bubble bath of melancholy. 'Time 4 House' is a dynamic four-to-the-floor bass driven power jam, armed with moody bass licks, punchy 90's style beats, teased with cut up vocal samples and tension filled breaks. Flipping the script, 'Bun & Cheese' is 5 glorious minutes of experimental Dub and Jungle influenced House with it's rolling bass, airy synth washes and sublime beat science. Finishing off the package with bang, 'Karma' features the unmistakeable sound of Heidi Vogel, who delivers a Soulful power-vox over a huge slab of Electro-tinged heaven!
London producer Sam Gordon burst onto the 90's Jungle scene as part of the seminal Kemet Crew and Tearin Vinyl stables. He's best known for his remix of Human Being's 'The Box Reopens', which he made when just 18 years old. During the 2000's his production shifted into Breaks as one half of C83 (Class of 83). Fresh for 2016 with the launch of his Urban Habitat Recordings, Missing's new collection of productions are already finding support from such luminaries including Carl Craig, Kissy Sell Out, M.A.N.D.Y. Jaguar Skills, James Zabeila, Lupe Fuentes, Daniel Bortz and many more!
Track Listing
1 Off My Mind ft Jamie George
2 Time 4 House
3 Bun & Cheese
4 Karma ft Heidi Vogel
'Off My Mind EP' will be released on March 18th 2016 on Urban Habitat Recordings.