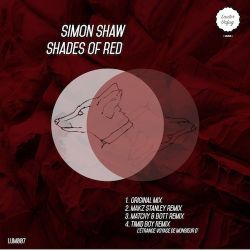 Simon Shaw - Shades Of Red (Incl. Timid Boy, Matchy & Bott, Makz Stanley Remixes)
UK DJ/Producer Simon Shaw continues to rapidly gather momentum with his musical output, landing his new single 'Shades Of Red' on one of the most cutting edge labels of the moment, Lauter Unfug from Luxembourg. 'Shades Of Red' is a majestic Deep, Tech-Funk groove, abound with tension filled and breezy atmospheric soundscapes and teased with trippy vocal samples.Remixes come courtesy of Makz Stanley, who creates a gem for the small hours riddled with dark pulsating bass throbs set to a 90's style hi-hat groove and German duo Matchy & Bott whack up the intensity thermostat in order to annihilate the dance-floor with their colossal acid fuelled bomb. Closing out this electric package is French label 'Time Has Changed' boss, Timid Boy, works up a haunting slab of beat driven minimal Tech.
Immersed in 90's House music at the age of 18, listening to the likes of Masters At Work through to Carl Cox, Simon Shaw was inspired to learn the craft of DJing. He worked his way up from humble beginnings as just a small DJ to now running his own successful club night in his home town of Southend On Sea (UK), as well as guesting at premier clubs in the UK and Europe. At the start of 2014 Simon landed a job working within the A&R department for the legendary record label Defected, were here he continues to learn his craft and the industry around him. In that time he released his first single, 'Special Delivery EP', on Smiley Fingers and has gone on to release on labels including, The Deepshakerz' Safe Music, Save Room Recordings, Go Deeva Records, Lauter Unfugand is working on collaborations with Dantiez Saunderson, Jhonsson and more.
Track Listing
1 Simon Shaw – Shades of Red (Original Mix)
2 Simon Shaw – Shades Of Red (Makz Stanley Remix)
3 Simon Shaw – Shades Of Red (Matchy & Bott Remix)
4 Simon Shaw – Shades Of Red (Timid Boy 'L'étrange Voyage De Monsieur D Remix)
'Shades Of Red' will be release on March 21st 2016 on Lauter Unfug.