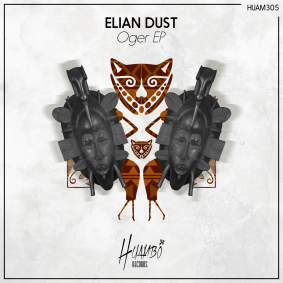 Elian Dust - Oger EP
Austria's Elian Dust joins Huambo Records to release two clubby house cuts entitled 'Oger' EP.
For many years, Elian Dust has been a welcome guest on many stages across the globe such as Nikki Beach in Miami, Privilege in Ibiza and Sziget and Balaton Sounds festivals in Hungary. His Nachtflug Radio show continues to display his wide music taste steering more towards effervescent, percussive grooves. Elian released his debut 'Y'all' on Seveneves Records at the end of last year before following up with 'Bari' on Vagabond Recordings a month later which received airplay on Ibiza Global Radio. His 'Oger' EP sees him join the Spanish record label Huambo Records following the likes of Antony Pl, Alex Lo Faro, Anfarmy and many more.
A reverberating bassline, sharp drums and infectious vocal samples take the focus in 'Oger'. 'Movin' then rounds things off with tribal drums, rhythmic grooves and pulsating low end offering a lively atmosphere throughout.
Elian Dust 'Oger' EP drops on Huambo Records on 1st March 2019.
https://www.facebook.com/HuamboRecords
https://twitter.com/huamborecords
www.facebook.com/eliandust
http://www.instagram.com/eliandust
Tracklist:
1. Oger
2. Movin