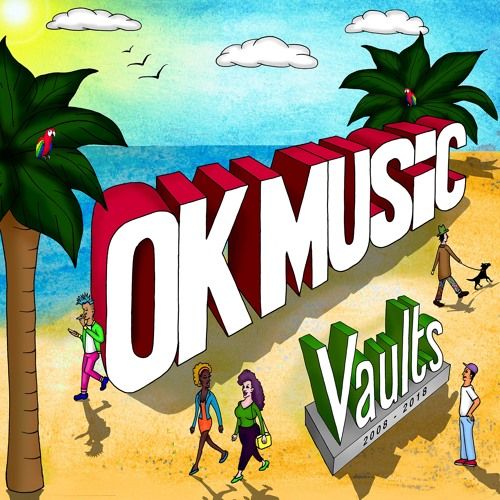 Various Artists - OK Music: Vaults 2008 – 2018
Composer and producer Fil OK celebrates 10 years as a recording artist by unveiling a new compilation double-album "OK Music: Vaults (2008 – 2018)", released via his own imprint OK Music.
"Fil OK was a bright light of the early noughties' Electroclash scene centred on the London club night Nag Nag Nag, and has been pumping out fabulous electro tracks ever since!" (Neil Tennant – Pet Shop Boys)
The collection is split into two halves: the first being dedicated to Fil OK, consisting of 16 songs from his solo recording career to date. The body of work spans greatest hits, as well as personal favourites, from his past four full-length albums; "Bitch Disco" (2009); "Neon Ghost" (11); "Electropolis" (13) and "Mute Riot" (15). The second collection is from his collaborative project We're in the Water, gathering 12 songs from the band's three albums "Delinquent" (12), "Soap Opera" (14) and "This Is Strange" (16).
In Fil OK's experimental and twisted, yet melodic electro-pop landscape you'll easily hear influences from house, electronica, techno, acid and ambient, as well as from the world of movie scores, classical music and even opera. With art collective We're in the Water Fil shows an even more theatrical side of his production; lush dramatic chords draw your attention to almost medieval arrangements in some parts. Here Fil's skill as a classic songwriter, and lust for experimenting with vocals (either his own or the ones of the contributing members) really get to shine. Listening to the Fil OK selection as one entity, you will hear an artistic journey unfolding. The early productions are full of impulsive, high octane sonic peaks, whereas his latter compositions convey more spacious and luxurious soundscapes, yet still contain Fil's colourful, pure energy.
Fil has also scored several short films in, including work for the BBC. Furthermore, We're in the Water songs feature in the 2015 Oscar-winning film "Still Alice", as well as TV Land's show "Younger".