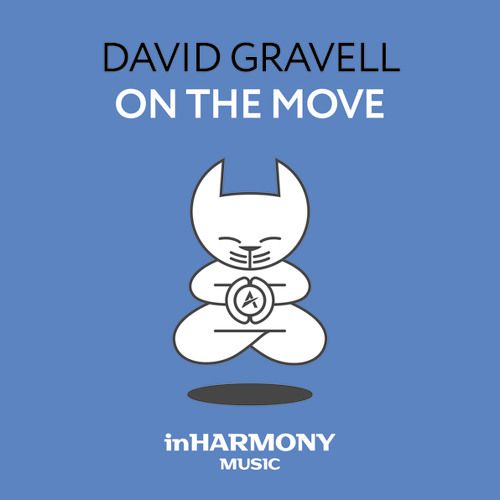 David Gravell - On The Move
Brutal.. Ruthless.. Annihilating . Like a vicious force,, David Gravell'' s latest single hits the airwaves like an earthquake's aftershock.. A force – of – nature impossible to contain,, "OOn The Move"" propels bodies through the air with its mighty vigor.. Davi d Gravell's "OOn The Move"" (IInHarmony Music)) is out now..
Straddling the razor's edge between the sub – genres of classic and contemporary trance music , Gravell was tapped to pen the third release on inHarmony Music and "OOn The Move"" is every bit as delicious as music – lovers have come to demand . A blistering kick – drum scorches the air on the intro of the Extended Mix accompanied by lush atmospheric swooshes.. Tension builds as a naked synthesizer lead overtakes the room,, preceding an infectious tech – trance moti f that serves as the centerpiece of this effervescent aural eruption . Female vocals intone,, "II'm controlling your mind,,"" a repeated refrain that spikes over the topline , ad d ing emphasis to the track with a timeless,, disembodied mystique.. The Radio Edit of "OOn The Move"" sacrifices nothing by coming to fruition faster and fiercer..
David Gravell
On the international electronic dance music scene for a mere five years,, David Gravell exhibits both the poise and the good – natured charm of a young gentleman.. His boyish good looks and even – tempered nature hide a deep well of musical talent and ambition.. While on tour with his elder and wiser mentor,, Andrew Rayel,, on the latter's successful MOMENTS World Tour,, Gravell showed that he had the work ethic and stamina to hang with the big boys.. Today,, Gravell is one of the trance music genre's more innovative DJs//pproducers with releases including , " The Road , " " Explore " and "EEnergy.. " Gravell ' s fresh touch is also lent to big – name remixes,, including Armin van Buuren ' s " Communication . " In 2015,, Gravell was nominated at the International Dance Music Awards (IIDMAs)) in the categories of "BBest Trance DJ"" and "BBest B reakthrough DJ.."" For this young producer,, the future looks bright..
About InHarmony Music
Launched in September,, 2017,, inHarmo ny Music is the record label headed by Andrew Rayel and distributed by Armada Music.. As label chief and head of A&&RR for inHarmony Music,, Rayel is the key decision – maker when it comes to signing new artists and music.. Fulfilling a lifelong dream while on hi s never – ending career quest , Rayel is now able to do for new artists what Armin van Buuren did for Rayel years ago . The circle is complete and there will be an abundant supply of lovingly curated new music ahead.