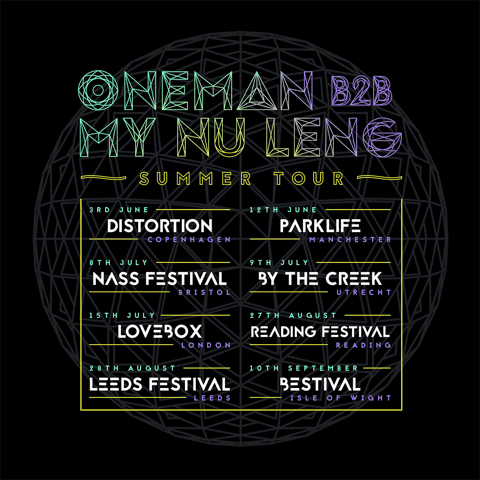 Oneman announces series of festival tour dates with My Nu Leng
Oneman has announced that he'll be teaming up with Bristolian bass duo My Nu Leng for a string of dates at festivals across Europe this summer. Through a shared love and deep understanding of UK musical subcultures, the trio form a natural back-to-back outfit, having already played several standout US dates together earlier this year.
They'll be starting out at Copenhagen's Distortion festival on June 3rd, before hitting the UK for Manchester's infamous Parklife and Nass in Bristol. They'll then head back to the continent for Dutch festival By The Creek, ahead of their final four huge UK-based festivals; Lovebox, Reading & Leeds, and Bestival.
Oneman x My Nu Leng Tour Dates
3rd June – Distortion, Copenhagen
12th June – Parklife, Manchester
8th July – Nass Festival, Bristol,
9th July – By The Creek, Utrecht
15th July – Lovebox, London
27th August – Reading Festival, Reading
28th August – Leeds Festival, Leeds
10th September – Bestival, Isle of Wight

About Oneman
Whether through his acclaimed mix CDs, FabricLive 64 and Rinse 15, his fabled sets for Boiler Room, back-to-back festival sets with Jackmaster as Can U Dance or opening for renowned live dance acts like SBTRKT and even Major Lazer, Oneman has established himself as one of the UK's most accomplished and versatile selectors. Touching on everything from garage to hip-hop to grime, his mixes – both in the club and on iconic London station, Rinse FM, where has held down a weekly show since 2007 – have served as a vital reference point for those looking to get to grips with UK underground music.
About My Nu Leng
After releases with both Black Butter and Chase & Status' MTA Records, as well as their recent contribution to the iconic FabricLive series and consistent support from BBC Radio 1, My Nu Leng are revered for their blistering sets and dark, smouldering vibe. Having recently collaborated with Flava D on the monstrous 'Soul Shake' too – a track already being mooted as one of the underground club tracks of the year – they remain firmly in-demand.
For more information on Oneman, please visit
http://djoneman.net/
https://www.facebook.com/thedjoneman/
https://twitter.com/djoneman
https://www.mixcloud.com/ONEMAN/