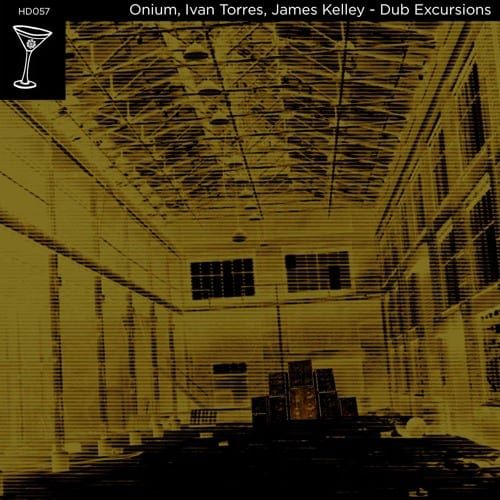 Onium, Ivan Torres Dub Excursions
As winter lingers longer than expected, waves of indecisive weather permeate the planet. The Harmonious Discord camp is picking up on deep connotations distilled in dreary afternoons. It's a perfect time to revisit some of the label's dub-minded artists with a special collaboration called Dub Excursions. Dub Excursions features label familiar Onium as well as two rising stars in the expansive dub techno arena, Ivan Torres and James Kelley.
Onium's "Intentions" is a breathing invitation to rise. Artifacts of ambient works and eco-botanal shades temper organic dub influences with expressive synthesizer design. Cascading momentum drives this pensive powerhouse to a floaty array of melodic bliss. Next, "Perceptions" compliments "Intentions" as that selection set the path and "Perceptions" moves things deeper. The soundscape is filled with vinyl remnants and complex pads, but the other elements bring a more aggressive techno flavor to the later sections.
"Dub 7," the EP's first cut from Ivan Torres, cracks a smile in this rather serious project. It begins with evolving pads and a muted, dusty drum machine. The cut starts to open up in the middle with brushes of melodic leads that dance in-between the lush soundscapes. Its successor "Dub 8" is a good order sharper. Driving interstellar melodies and tense bass deliver on the dance-floor presence of Ivan's contribution. Expect more from Ivan to come on Harmonious Discord.
On the remix tip, longtime Dallas-based sleeper sensation James Kelley (Subspec/Momentum League) drives the subtle but tense properties of "Intentions" into a skin-crawling warehouse techno piece. The once calming breaths now breed uncertainty as James layers on heady atmospheres. James gives us a crippling bass-bin workout for the after hours.
Label and Artist Links:
www.hdrecordings.com
www.facebook.com/oniummusic/