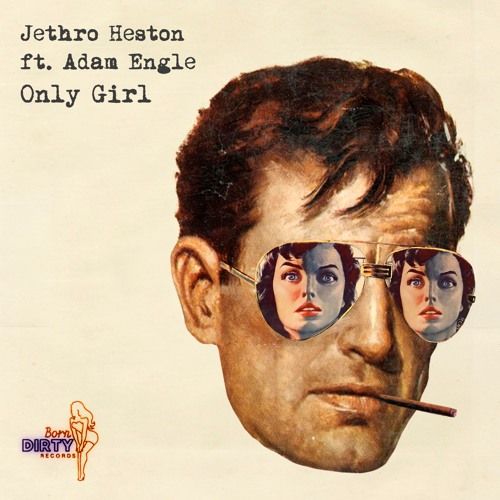 Jethro Heston ft. Adam Engle - Only Girl
Jethro Heston teams up with Blonde's Adam Engle on the deep and sultry 'Only Girl', released on Born Dirty Records on 5 October.
'Only Girl' sees Jethro Heston returning with a darker and more emotive cut, reminiscent of some of his earlier work. Adam Engle's captivating and distorted vocal perfectly matches the dark, shimmering bassline to create a deep and atmospheric after-hours cut that is already making a big impression.
On working with Adam Engle, Jethro Heston says: "Adam and I had been discussing writing a track together and he told me about a vocal that he'd been holding on to for a while. I loved the vocal as soon as I heard it, so I got straight to work. I introduced a synth sound iconic to a few of my old tracks including 'No Words' and 'Secret Garden' and worked on a nice little break for the build-up leading up to the bassline. We didn't think the moody feel of 'Only Girl' was right for the summer, so we've waited for the darker months of autumn to release this one."
Jethro Heston is fast becoming a household name in UK house music. He has received strong support from leading DJs and tastemakers including Disciples, Blonde, Full Intention, Benny Benassi and TDQ – aka Royal-T, DJ Q and Flava D.
Jethro Heston's previous releases include 'Cut Me Loose ft. Max Marshall', 'Feel Good', 'Desire' and 'Slave' ft Alex Mills. Jethro Heston has built a large and loyal following including over 75,000 Facebook and Instagram followers, 3.25 million YouTube views, over 3.5 million Spotify streams (85,000 monthly), and more than 30 million Facebook and Instagram video views. Jethro Heston runs the Born Dirty Records label and has forthcoming follow-up releases with of Alex Mills and Max Marshall.
Jethro Heston Social Media
www.instagram.com/jethroheston
www.facebook.com/jethroheston
www.soundcloud.com/jethroheston
www.youtube.com/jethroheston