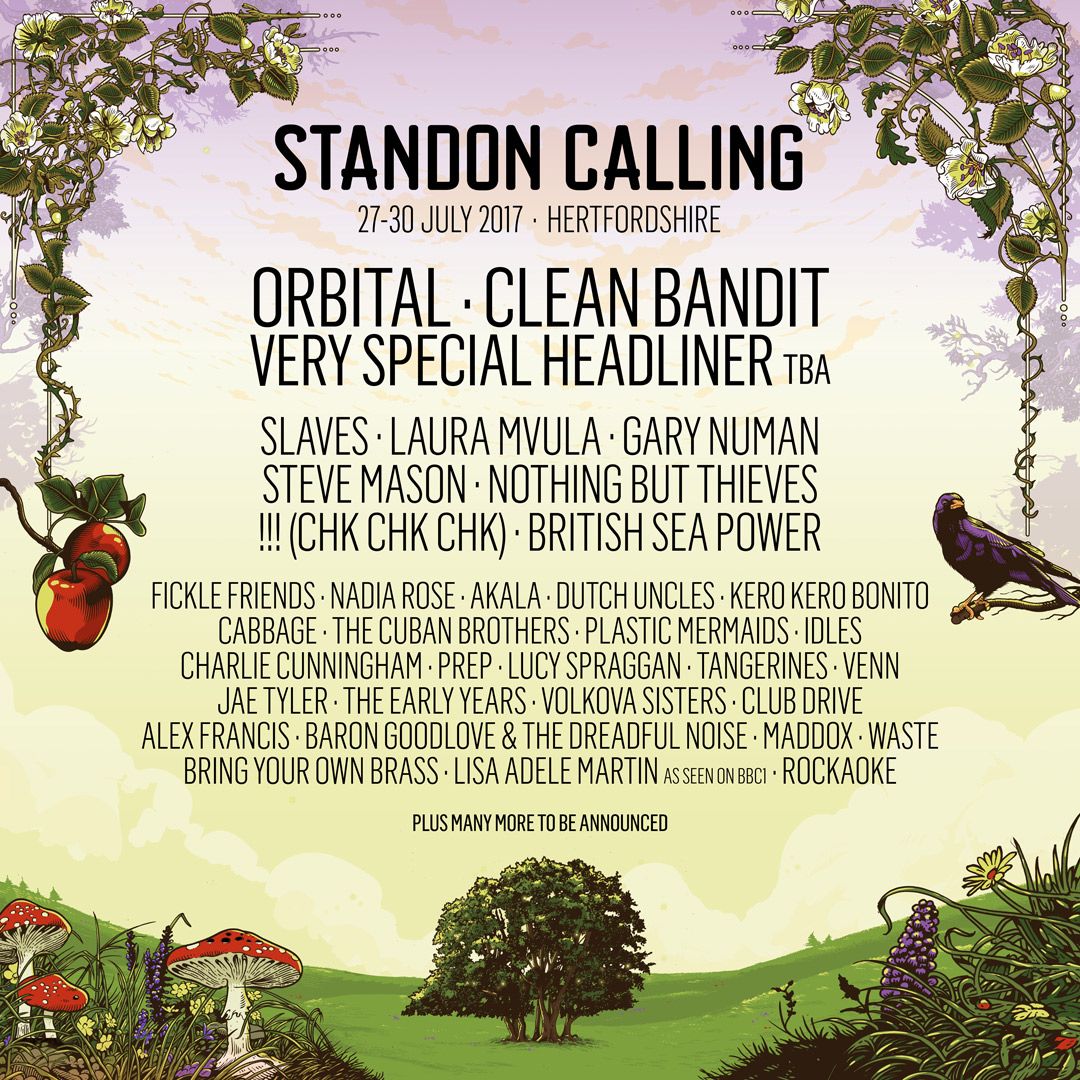 Orbital and Clean Bandit lead first wave of acts for Standon Calling 2017
Bringing together a unique weekend of irresistible fun, extraordinary experiences and unrivalled entertainment, Standon Calling has over 11 years marked itself as the true epitome of what a festival is. Celebrating creativity, community and freedom – Standon Calling offers a genuine weekend escape that's seen over 12,000 festival-goers return year after year – with 2017's 12th edition only set to continue that story.

Originators, visionaries and vital in defining an era for an entire generation, Orbital sit on the head-table of electronic royalty with a catalogue and legacy packed with forward-thinking music. Since emerging at the start of the 90s, the Hartnoll brothers have consistently evolved and innovated, with rapturous live sets of infectious techno beats and peerless anthems such as 'Belfast', 'Halcyon And On And On' and 'Chime' standing in a class of their own. After five years away from the stage, Orbital are destined to provided a truly staggering festival moment, when they headline Standon Calling 2017 – as one of dance music's true greats bursts back into frame.

One of the most infectious and dynamic pop groups of the 21st century, Clean Bandit's fusion of classical strings, electro beats and vintage pop hooks have made them a treasured and adored part of British pop culture. Their worldwide smash 'Rather Be' paved the way for a career which consistently finds them creating and developing, with hits such as 'Real Love', 'Tears' and last year's Christmas number 1 'Rockabye' all becoming go-to anthems in music collections around the country. Guaranteed to bring the sun-soaked vibes, Clean Bandit are ones destined to seize the moment when they headline Standon Calling 2017.

Talking about their headline set at Standon Calling 2017, Clean Bandit said:

"Having spent so long in the studio working on the new album, it's incredibly exciting to have the opportunity to play our new music to fans this summer. It's a really exciting opportunity to be headlining a festival in the UK and we hope to bring the party to Standon this summer!"

Both Orbital and Clean Bandit head up a staggering wealth of talent making their way to Standon Calling, continuing a long-standing passion for emerging talent that has been the backbone of the festival for many years.

Heading back to the fields after a breakout set in 2015 is youthful punk royalty Slaves, bringing a live show amped full of blistering intensity, unquenchable energy and unmissable presence. One of the defining live bands of recent years, the Mercury Prize-nominated duo are sure to leave their mark at Standon Calling 2017. Fellow Mercury Prize nominee Laura Mvula knows all about show-stealing moments, and her set at Standon Calling is sure to be a stand-out, bringing the infectious rhythms of latest album 'Phenomenal Woman' to the fields. One of the fastest rising British bands of recent times, Nothing But Thieves will bring their anthemic and explosive live presence to Standon for a heavyweight offering of future riff royalty whilst dark-pop heavyweight Gary Numan will delve into his synth-laden cabinets of punk for a stunning trip down memory lane with an artist right at the forefront of individuality and independence.

Continuing the festival's rich history of bringing some of the most critically celebrated acts to the forefront at Standon Calling, The Laundry Meadows stage (in association with The Independent) is set to play host to a myriad of game-changing talent. These include Beta Band frontman Steve Mason who is destined to lay out a dazzling set with choice cuts from his recent solo return 'Meet The Humans' full of revitalising modern experimentation. !!! (Chk Chk Chk) are a band born and raised exactly for explosive festival fields and eruptive live moments, and their set at Standon Calling is destined to be a true embodiment of everything the dance-punk groovers represent. The full live experience also radiates through British Sea Power, returning to Standon Calling with new album 'Let The Dancers Inherit The Party' continuing to show why their storied tales of British-life still resonate with a legion of fans around the country. Expect their live show to be a truly unmissable moment in a weekend crammed full of them.

Standon Calling once again brings the most talked about names in new music into one weekend, with UK MC Nadia Rose, shimmering indie-pop slickers Fickle Friends and Manchester anarchists Cabbage confirmed for the festival, whilst renowned party-lighters The Cuban Brothers will turn on the charm for a festival moment bound to trigger pure joy around the site. Manchster's art-pop groovers Dutch Uncles will be spinning through latest album 'Big Balloon' at this year's festival, with respected UK hip-hop wordsmith Akala also touching down for a set of explosive and vital portraits of a nation. With even more spectacular sounds emanating from electro genre melders Kero Kero Bonito, dreamers Plastic Mermaids and proto-punk hitters Idles – Standon Calling 2017 is laying out the red carpet for the future of exciting new music.

Drawing in dance innovators on every level, Standon Calling's late-night lineup boasts a staggering array of electronic names and unparalleled stage takeovers. Leading the first reveal of must-see DJ sets is Joe Goddard (of Hot Chip fame), influential favourites Faithless, Jax Jones, DJ Yoda and Maxxi Soundsystem with a plethora of beat-maker and party-shakers. The Cowshed will once again trade in infamous and standout takeovers from the likes of the glamour-soaked glitz-filled extravaganza of Sink The Pink, the drum'n'bass gurus from Hospital Records with their Hospitality live spectacle, The Streets figurehead Mike Skinner and Manchester rap-rave heroes Murkage bringing their Tonga night to the fields and sombre club night Feeling Gloomy presenting their own distinct Bowie Disco – the spectacular and the unique are celebrated in style with the late night highs of Standon Calling.

Speaking about the first line-up announcement, Founder and Festival Director Alex Trenchard said:

"Standon Calling has always been about jaw dropping performances, whether that be from crowd favourites or emerging talent. For me, the very first Orbital Glastonbury show is something I will never forget but Standon is also about the now and I'm very excited to be announcing Clean Bandit straight off the back of nine weeks at number 1. When it comes to breaking acts, something that has been such an important part of Standon's gone-by, I'm really excited about Cabbage, Nadia Rose and Fickle Friends. We've got loads more to announce including a very special Sunday night headliner, and I can't quite believe this is only the first wave. But what I do know is Standon 2017 is going to be the best ever."

Over at The Lawn, there's entertainment at every turn – lead by the incredible new comedy programme headlined by rising star and TV stalwart James Acaster, bringing an extremely special hour long Edinburgh preview to the festival as one of the nation's leading new comedians heads to Standon Calling. With emerging star John Robins also confirmed for a set, expect to hear the belly laughs ringing from the comedy programme of stand-up and sketch performers across the weekend. Along with the gather-round thrills of the Pub Quiz, the sipping of smooth concoctions from the Cocktail Masterclasses, the unwinding Acoustic Sets or the in-depth talks – Standon Calling has it all and The Lawn will be its beating heart.

Whether it's adults letting their hair down until 4am to the rings of late-night dance or dipping in the outdoor swimming pool, kids aged from teens to toddlers enjoying a daytime array of unique activities and celebrated entertainment or even dogs – participating in the renowned Standon Calling Dog Show – there's something unmistakably new at every corner of Standon Calling. The Matthew Bourne Re:Bourne programme of modern ballet performances and workshops will appear at the festival this summer, choreographed by the five time Olivier award winning choreographer himself – Sir Matthew Bourne – in what's sure to be a truly stunning experience of modern dance of the highest order. From Rockaoke to the Groove Garden, the wellness area boasting hot tubs, Yoga, meditation and more to the Real Ale Festival and the stunning array of curated street food, one-off delicacies and beyond – Standon Calling brings every turn of modern culture into one unforgettable weekend.

Unparalleled and unmissable, Standon Calling 2017 will once again open its gates for a weekend that defines the British festival experience.
TICKETS AVAILABLE NOW FROM
http://standon-calling.com