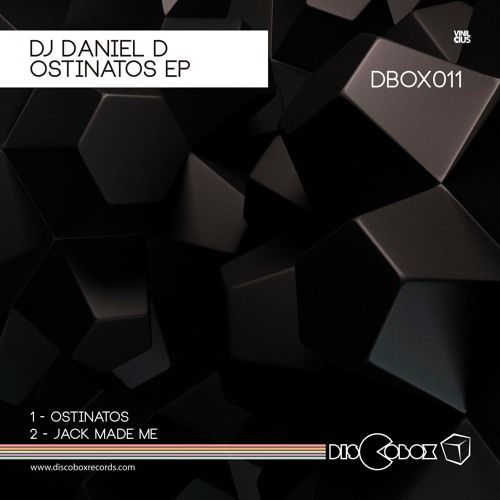 DJ Daniel D - Ostinatos / Jack Made Me
What started as a humble party in Belo Horizonte, Brazil, back in 2006 has since outgrown itself in vision. DJ Daniel D and promoter Vinilcius have shifted focus, determined to push their Discobox night's musical concept on a greater scale. In 2013 they emerged as a label with one foot in the past and the other toeing the future – imagining a '70s dance move in today's skinny jeans, and that's one hell of a spilt. Sonically they look to blend that era's disco and the classic house sounds that followed with modern nu-disco and tech house sheen.
Discobox's latest release features co-founder DJ Daniel D with a double A-side single. No stranger to the label's discography, he's previously released under the name Dansoul and as part of the duo Shake Machine. With a more straight-forward, dance floor-focused sound Daniel debuts under his solo DJ name, revealing the rollicking "Ostinatos" and "Jack Made Me".
"Ostinatos" is intro'ed with catchy, staccato piano chords and squelchy synth hits before a frenetic but appealing bass line takes hold. Layers of bouncy percussion and splashes of a vocal chant ("You know what's up!") add spice to the track's irresistible party flavor. Next up, "Jack Made Me" hints at classic house music in its title and is appropriately spilling over with that vibe. The funk quotient is ratcheted up with filtered guitar riffs, an old school Moog bass, and some shouts to call the dance floor to action. Prime movers!
Label and Artist Links:
www.discoboxrecords.com
www.danield.com.br