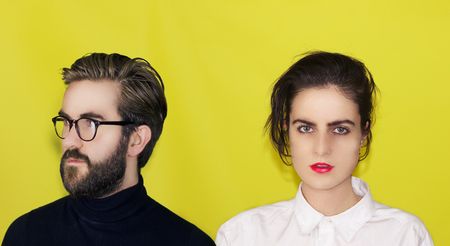 FACE+HEEL - Our Prince's Quarry
Following two successful EP releases, which led to an appearance on Boiler Room and media support from Dazed, FACT, XLR8R, Wonderland, The FADER, Dummy and many more, duo Face+Heel are excited to announce the release of their debut full length album; 'Our Prince's Quarry', out 4th March 2016 on Dekalog. The first taster from the album comes by way of 'Mansions', a brand new track/video, which you can watch here. Alternatively you can stream on Soundcloud.

Face+Heel are Luke Taylor and Sinead McMillan; a Welsh born duo now based in the culturally rich city of Bristol. The pair garnered widespread acclaim with their 'No Stars' (2012) and 'Chipped Tooth' (2013) EPs, and built a reputation for their dynamic live offering after tours throughout Europe, and a sold out show with Matthew Dear in London.

'Our Prince's Quarry' tells the story of growing up in mid-west Wales in the 1990's and how it feels to leave the city and return there as an adult. Memories good and bad of the faded postcard towns and the people who inhabit them all year round; the returning sense of isolation felt as a younger person desperate to escape life in the margins. Remembering first loves and awakenings and looking for reconstruction after inner city burnouts.

From love songs that tale place in the last days of Dryweryn, a village flooded in the 1960's to be used as a reservoir for the city of Liverpool, to tales of delinquency and psychadelic experimentation at agricultural fairs; the album tells the story of the end of youth and the uneasy feeling that all roads lead back to home.
The album perfectly showcases their brand of downbeat, minimal electronica, combined with McMillan's gorgeous, atmospheric vocal to create layer upon layer of sonic serenity.

Stay tuned for more music from the album to come soon, alongside tracklisting and forthcoming live dates.

www.facebook.com/faceandheel
soundcloud.com/faceandheel
twitter.com/faceheel1