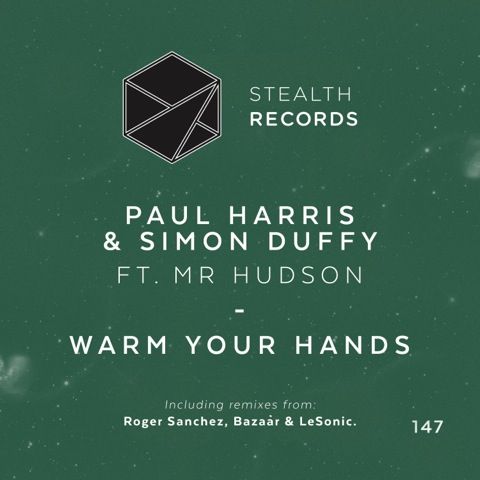 Paul Harris & Simon Duffy ft. Mr Hudson - Warm Your Hands
Following on from the huge success of Roger Sanchez's ''Remember Me', the Stealth Records re-launch goes from strength to strength with another standout single, this time from dance legend Paul Harris of Dirty Vegas fame, producer extraordinaire Simon Duffy and Jay-Z/Kanye West Collaborator, Mr Hudson.
Best known for his Grammy-winning band Dirty Vegas, and their debut hit "Days Go By", Harris is a true musical polymath. A DJ-artist, writer, producer, and re-mixer, his career began in the mid-90s when he first reached popular acclaim spinning at legendary London clubs Milk Bar and Ministry of Sound. His most recent production credits include Karen Harding, Jakwob, Alex Tepper, Mark Knight and a whole host more. Warm Your Hands is a quality start to a busy year of releases in 2016. Equally talented producer Simon Duffy holds acclaim as one of the finest engineers and producers/remixers of the time, his work includes Mika, Ali Love, Amy Winehouse and Missy Elliott to name only a few.
Mr Hudson needs no introduction. Having collaborated with the highest pedigree of artists, the most notable ones include his feature on Jay-Z's anthem, 'Young Forever', his work with Kanye West on the platinum selling '808s & Heartbreak' album, and again in 2009 when he featured on Jay-Z's 'The Blueprint 3'… the list keeps going – not to mention recording and touring with Tinie Tempah, Calvin Harris and Amy Winehouse. Despite his high calibre past, Mr Hudson is now back to showcasing himself as an artist – proving yet again his skill with 'Warm Your Hands'.
On remix duties we have the label boss himself, godfather Roger Sanchez adding his signature jacking style and old school house flavour to the original. London underground star, Bazaar is up next, stepping in with his raw, percussion led rehash and finally, LeSonic puts his nu-disco spin on it, tropical and light-hearted.
A striking EP from a talented collection of artists, 'Warm Your Hands' is not to be missed.
https://www.facebook.com/stealthrecords/
https://soundcloud.com/stealthrecords