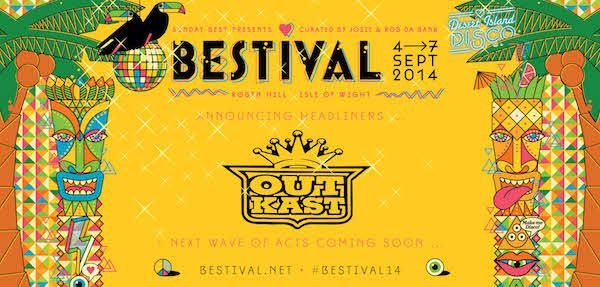 OutKast announced for Bestival 2014 & Desert Island Disco theme revealed
If you thought last year was HMS Epic then the return of Bestival promises to blow you out of the water!
Yes indeed, you may recall when last we met; we were all aboard the good ship HMS Bestival. Since that heady weekend we have sailed far into uncharted waters on a voyage of exploration and discovery, picking up rebels, misfits, artists and prophets, but alas we have run aground. Now, beached upon the warm sands of a tropical paradise our lookout peers through the palms fringing the beach, in a clearing he sees a stone temple, and teems of bamboo and palm roofed shacks. He hears the distant sound of drums on the breeze and sees tiny tribes-people moving and shaking. And there, in the middle of it all, the source of his confusion, is a giant bloody disco ball….
…this, my friend, is Desert Island Disco. And you are very welcome.

Kicking off with a frankly magnificent headliner, and our very best theme yet, believe us when we say Bestival is gonna go off big time this September 4th-7th, and you're gonna want to be with us!
Rob da Bank says: "Hey ya! By the power invested in me as chief Bestival booker, I'm pretty darn excited to announce that OutKast are headlining Bestival this year! We've fought hard to get the recently reunited legendary hip-hop duo onto the ferry… and it's no ordinary ferry this year as Bestival goes Desert Island Disco for 2014… Palm trees, grass skirts and mirrorballs are the order of the day. It truly is gonna be the Bestival yet!"

Levels of excitement are beyond stratospheric in the Bestival bunker because one of our all-time favourite duos, OutKast, have not only reformed but they're also coming to headline Bestival, laying down the sickest flows they know in one of only two UK Festival appearances! From Southernplayalisticadillacmuzik to Idlewild, Andre 3000 and Big Boi have consistently delivered booty shaking brilliance; their live shows are the stuff of legend and their comeback is undoubtedly one of the most feverishly anticipated this century, making Bestival a golden opportunity to catch the most popular, innovative and downright amazing hip-hop force on the planet! As you can probably tell, we're just about as pleased as we've ever been that the Gs have returned and part of their 20th anniversary celebrations are going to be with us! BRING. IT. ON!
It's just the beginning, there's a whole desert island of disco infiltrators to reveal, with THREE more headliners, plus wild attractions and mind-blowing treats that will astonish and thrill your very being to the core. So pay heed to www.bestival.net and our Facebook and Twitter.

BESTIVAL TICKET LINKS & INFORMATION:
www.ticketline.co.uk/bestival-tickets / 0844 888 4410
Adult Ticket with entry from Thursday 4th September – £195
Student Ticket with entry from Thursday 4th September – £180
(For full-time students only. Valid NUS or ISIC ID required at the box office. No other student ID accepted)
Teen (age 13-17) Ticket with entry from Thursday 4th September – £127
Child (age 12 & under) Ticket – Free (but you must obtain a ticket)
Caravan Tickets: £101 (per vehicle)
Campervan Tickets: £90 (per vehicle)
Advance Car Parking £15
All Tickets:
– will incur a booking fee.
– there are No Day Tickets.
– incur a £1 donation to the Isle Of Wight Youth Trust*.
THE WEEKLY PAYMENT PLAN
We're pleased to say that we are once again offering a 25 week payment plan which means that an adult ticket can now be bought at a payment of £7.80 per week over 25 weekly payments.
Only available online via: www.ticketline.co.uk/bestival-tickets
Once you have signed up to the payment plan, which basically means giving your agreement by ticking the bank mandate form on Ticketline's website, Ticketline will automatically debit your card on a weekly basis. They only accept Visa (credit or debit) or Mastercard for the payment plan.
NB: Booking fees will be charged with your initial transaction.
THE ISLE OF WIGHT YOUTH TRUST CHARITY DONATION
*This year we are adding on a £1 charity donation onto all Bestival tickets. The money raised will go directly to the Isle Of Wight Youth Trust (Reg Charity no. 1087163) to help fund their fantastic work offering counselling and support to young people aged 25 and under on the Isle of Wight. The Bestival Foundation is also a proud supporter of the Youth Trust.
Travel: Book Now For Best Early Prices
http://www.redfunnel.co.uk/
http://www.wightlink.co.uk/
www.bestival.net / facebook.com/bestivalfestival / Twitter: @bestival