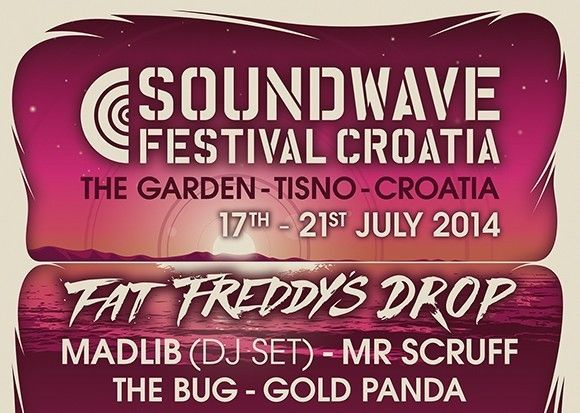 Soundwave Festival Croatia 2014
Europe's most beautiful, boutique music event, Soundwave Festival Croatia is back for its 6th year and announces its most exciting and eclectic lineup yet. 7-piece New Zealand outfit Fat Freddy's Drop lead the pack, followed by a highly-anticipated DJ set from one of hip hop's most legendary artists, the Los Angeles based DJ/Producer/Rapper – Madlib, and British electronic music DJ/Producer Mr Scruff.
Heralded as one of 'Europe's Best Music Festivals' by The Independent, Soundwave Festival Croatia makes the most of it's bountiful setting year on year with its boat parties, beach stages and club nights for a long weekend of guaranteed sunshine in the aptly named 'The Garden'.
FULL LINE UP ANNOUNCEMENT
FAT FREDDY'S DROP | MADLIB (DJ SET) | MR SCRUFF | GOLD PANDA | THE BUG
GENTLEMAN'S DUB CLUB | HUEY MORGAN | OM UNIT | ELIPHINO | JONWAYNE | RIOT JAZZ | FLAKO | ALEXANDER NUT | ANDREW ASHONG | GILLA | BOBA FATT | JON K |CHEEBA | JONNY DUB | CHUNKY | DELE SOSIMI | MR THING & ESSA | THE MOUSE OUTFIT
Plus: SOULEANCE | ANUSKA | WYLES & SIMPSON | TANYA AUCLAIR | TAWIAH | RICH REASON | WARA | THE BLUNTSKINS | BEDMO DISCO | BLOXED BEATS | TEHBIS | RENEGADE BRASS BRAND | THE PURIST | SOLKO | ALTA | AMIN PAYNE | MIEUX | SEKUOIA | GREENWOOD SHARPS | SCARPER JOSCA CREUZFELDT | PAUSE | DUB SMUGGLERS | ORIGIN ONE | REAL ROOTS | KATJA SULC
Soundwave Festival Croatia online / tickets:
Early Bird tickets – sold out
Advance Tickets – £125
Group Offer (5 for 4)
Deposit Tickets – Pay £55 now pay the rest later All tickets: http://soundwavecroatia.com/
https://www.facebook.com/soundwavecroatia
https://www.facebook.com/events/381103688640606/
@SoundwaveCro