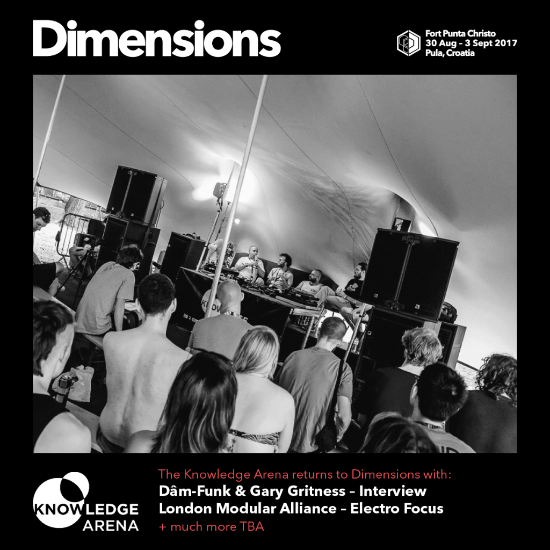 Outlook And Dimensions Announce Knowledge Arena Scheme
Outlook and Dimensions Festival announce Knowledge Arena programme and 'Knowledge Arena Pro' scheme with talks, panels, tutorials and more from Dam Funk, General Levy, Hatcha, Gary Gritness, Adrian Sherwood, London Modular Alliance and much more TBA.
Dimensions Festival Knowledge Arena
31st August – 3rd September 2017
TICKET INFO : http://bit.ly/2vfflUE
Outlook Festival Knowledge Arena
7th September – 10th September 2017
TICKET INFO : http://bit.ly/2uQPP5R
LIMITED £99 DELEGATE PASSES available – Please enquire direct.
As the innovative concept moves from strength to strength, 2017 sees the continuation of Outlook and Dimensions Festivals extremely popular Knowledge Arena, an extensive programme of free-play workstations and interactive workshops using cutting edge music production equipment. A place for attendees, industry types and next generation artists and to network, learn and discover, it's all about digging deeper into the roots of genres, as well as taking a fresh look to the future of our industry. A hub of activity across each festival, 2017's programme sees talks, panels, sessions, tutorials and more from Dam Funk, General Levy, Hatcha, Gary Gritness, Adrian Sherwood, London Modular Alliance and more.
For anyone working in, or looking to break into the industry, there's a new DELEGATE pass 'KNOWLEDGE ARENA PRO' available, giving access to all Knowledge Arena activities, a VIP wristband with access to artist bar, plus a variety of networking events across the week. Knowledge Arena Pro further enhances the educational experience on site by providing members with exclusive opportunities & giveaways, while simultaneously building a close-knit network of like minded artists. All this is available for an extra £27.50 ticket update, or there is a very limited 'KNOWLEDGE ARENA PRO' ticket x festival delegate pass, please enquire direct for that.
Starting with Dimensions Festival, there's a deep agenda of talks already confirmed, including Dimensions favourite Dam-Funk and the incredible electro-funk lord Gary Gritness up with a joint interview, as well as electro under the microscope with London's premiere modular crew, London Modular Alliance. The team will run through the foundations of the electro genre, key players and artists and it's growth, plus their role in pushing the game into new places through analogue gear.
On to Outlook Festival, where the focus is on digging into the UK's most famed genres, and shining a light on what is next to come for bass, hip-hop, grime, dub and more. Jungle pioneers Randall, Kenny Ken and Fabio take a journey through the history of jungle, starting off in the late 80s and working through to current day, then there's Hatcha and Youngsta running us through the history of dubstep, both set to be nostalgic looks back through two staple Outlook genres. A not to miss talk also comes from veteran General Levy, then looking back on a practical level OG Adrian Sherwood will discuss the SSL Desk (Solid State Logic), a revered piece of equipment used to innovate and create.
Whether it's a fix of bass or a touch of techno, Outlook Festival and Dimensions Festival's have in their own right become two highlights in the global festival calendar, each year uniting thousands of people in it's fortress home.