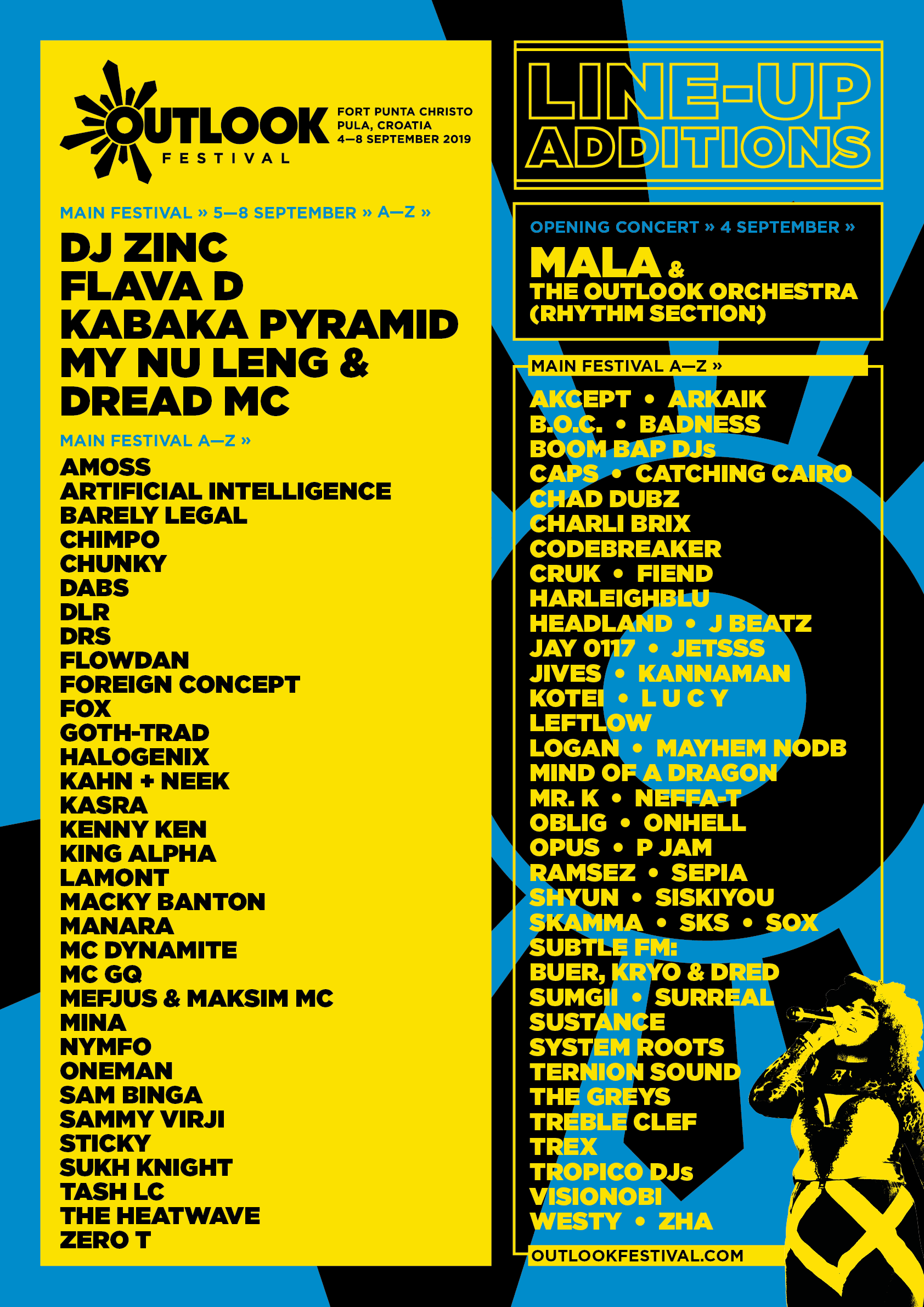 Outlook Announce Mala & The Outlook Orchestra (Rhythm Section), Kabaka Pyramid, Flava D, Dj Zinc, My Nu Leng And More
Today, Croatian mainstay Outlook Festival complete their line-up, announcing Mala & The Outlook Orchestra (rhythm section) as an addition to the already hefty opening concert. While Kingston revolutionary lyricist Kabaka Pyramid, bassline heroine Flava D and DJ Zinc (who has straddled the world of jungle and house for over two decades) all join for the main festival. Bristol based Black Butter originators My Nu Leng & Dread MC also add to an already heavyweight line up as the festival says goodbye to 10 whole years at Fort Punta Christo – this year's edition is set to be the best yet.
Each year Outlook kicks off its yearly outing with a massive opening concert inside Pula's 2000-year-old Roman amphitheatre. Today they reveal that Mala & The Outlook Orchestra (Rhythm Section) join an already enormous line-up including Andy C, Loyle Carner, Shy FX and more. The Orchestra's Rhythm Section features some of the scene's finest musicians including two drummers and an extended rhythm section including Richard Spaven (Flying Lotus, The Cinematic Orchestra) who steps up on percussion duties for this show alongside Eddie Hicks (Sons Of Kemet). The Mala project will be a special Audio Visual performance.
Following the first wave of artists announced last month (including Loyle Carner, Chase and Status, Goldie and Bugzy Malone) Outlook add Kingstonian Kabaka Pyramid who makes a welcomed return to the fort in 2019. Following the release of his highly acclaimed debut album Kontraband last year, there's a lot of excitement around this year's appearance. Collaborations have included some of reggaes finest new wave artists and Outlook festival favourites including Chronixx and Damian Marley.
Elsewhere, the ever successful Flava D adds to the bill. Following a heavy couple of years touring with DJ Q, and Royal T as part of their collective TQD, the Bournemouth native hasn't stopped, recently releasing her debut album More Love 2, completing a residency at East London favourite XOYO and later headlining her own show at Brixton Academy, whilst continuing to tour worldwide.
Long time member of the UK's illustrious dance music scene, DJ Zinc will return to Outlook, treating ravers to a marathon of house, techno, jungle, rave and everything in between, collected from his 25 year commitment to the scene.
No strangers to Outlook and joining the second wave are Bristol based duo My Nu Leng, who've been pushing the fringes of bass music forward via Black Butter since their inception. They'll be joined by their partner in rhyme; Dread MC.
Waving goodbye to their abandoned fortress home in 2019, Outlook are pulling out all the stops to make this a year to remember and have added even more pioneering artists to the bill. Long term friends of Outlook Kahn and Neek who've gained a huge following for their uncompromising modern clash of dub and grime will head back to the island, alongside serious selector Oneman and Roll Deep's founding member Flowdan. Elsewhere, Critical label boss Kasra, DnB kingpin Foreign Concept and Japan's leading dubstep producer Goth Trad all join for the finale.
Heading back to Outlook for another year is genre bending Barely Legal, garage legend Sticky, dancehall afficianado's The Heatwave, BBC AZN Network member Manara and jungle mainstay Kenny Ken. Next up is Metalheadz signing DLR who'll take to the festival with Halogenix, Akcept and Dabs all pushing forward drum and bass, a genre the festival is so loved for.
On a more grimey tip is Jetsss will make her return to Outlook alongside P Jam, Neffa T, Treble Clef, Sukh Knight, Oblig and J Beatz whilst Manchester's finest Chimpo, MC Fox, Chunky, MC DRS will be all repping the rainy city. With the festival's roots firmly in reggae and dub, this years line up continues to nod to it's heritage inviting King Alpha and Macky Banton to perform whilst Lamont, Mefjus, Sammy Virji, Nymfo, Mina and Zero T will treat ravers to a more bass heavy sounds all hosted by the great's -Maksim MC and MC GQ.
Elsewhere, making sonic explorations are Liana, Logan, Mr K, Opus, Ramsez, Sepia, Shyun who all line up for the finale, whilst Worldwide FM & BBC 1XTRA regular Tash LC heads to Croatia with Mind of a Dragon, Siskiyou, SKS, Subtle FM, System Roots and Ternion Sound in tow. Supporting music from grassroots up, Outlook continues to showcase some of the hottest talent rising through the scenes, new wave meistro L U C Y makes her Outlook debut alongside Catching Cairo and more, whilst Arkaik, Chad Dubz, Charli Brix, Codebreaker, Fiend, Ground, Headland, Leftflow round off the bill.
In addition to new names, Outlook have also unveiled another ten boat parties – releasing tickets early for the three hour voyages. Line-ups for the boats will be revealed later in the spring but for customers who already know the deal, it's a chance to secure your spot onboard the infamous parties! New additions include; Subtle FM, Sub:Mission, Vandal Records, Gentleman's Dub Club, Navy Cut, Hot Wuk, System, Flexout Audio, Swamp 81 '10 Years'. Head to the book now section of the website to find more info.
The closest town, Pula, is easily accessible by taxi to the festival site and has a wealth of accommodation. Outlook also offer camping on site, with the option to stay in boutique camping options. Head to the Outlook Festival website see what is available. Flight options from the UK are to Trieste, Ljubljana, Zagreb, Venice Treviso or Venice Marco-Polo airports, and then a transfer to the festival site. Outlook Festival also organise coach packages and flight packages, all available to view / purchase at –http://bit.ly/Out19_tkts
With tickets selling fast, customers are advised to act fast on tickets for what will be the final year at Outlook's stunning Fort Punta Christo location. To lock in a place at Outlook Festival from just £135, head to : http://bit.ly/Out19_tkts – groups can save further still as Outlook offer 5 tickets for the price of 4 (£108 per ticket)!

Get your festival and opening concert ticket and camping pass together as save over £30!