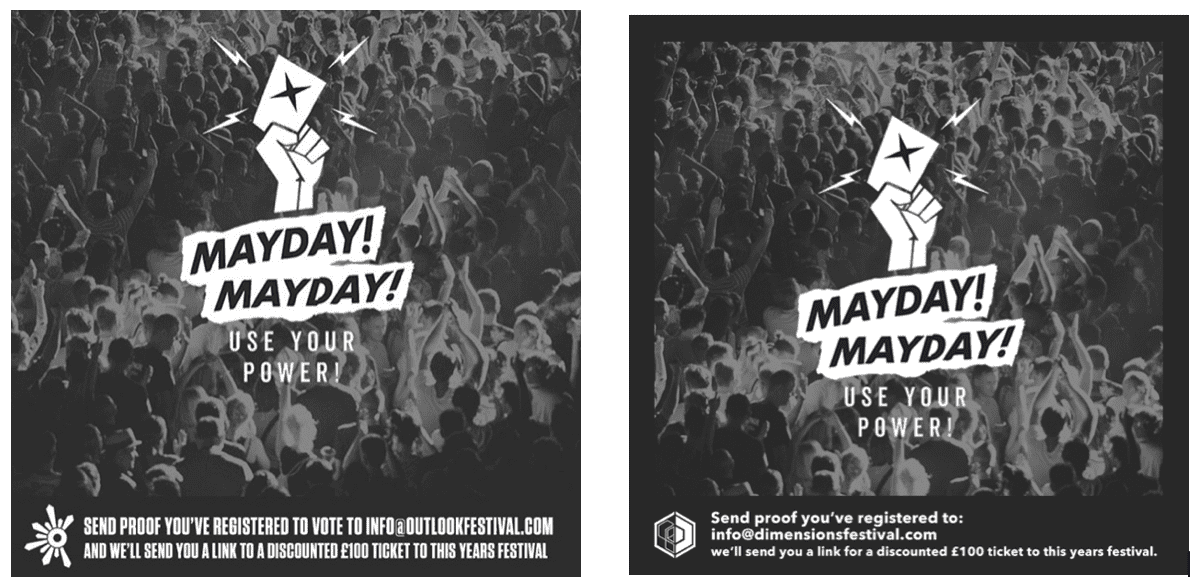 Outlook & Dimensions Festivals join Boomtown, Shambala and Love Saves the Day to encourage young people to register to vote with MAYDAY
Outlook and Dimensions Festivals support MAYDAY initiative and launch £100 tickets for 18 – 25 year olds who are registered to vote, available only until May 22nd
#maydaymayday2017 / #voteuseyourpower

With a general election around the corner that could easily be the most important election for a generation, a collective of festival organisers, venue owners and artists have launched the MAYDAY initiative, a drive to encourage young people to vote, and register to vote. As part of this, leading Croatian parties Outlook and Dimensions will be offering discounted £100 tickets to this summer's festivals with discounted tickets available to anyone who can prove they are registered to vote up until May 22nd. It's simple; all you need to do is email the addresses below with proof you are registered to vote! MAYDAY was started by Boomtown Fair, and also includes leading UK festivals Shambala and Love Saves the Day.
Time to #voteuseyourpower ahead of June 8th.
#maydaymayday2017 aims to encourage young people to get their voices heard and make their opinion count on 8th June. With the last date to register to vote less than two weeks away on Monday 22nd May,the collective behind the initiatives are using their extensive network and reach with young people to encourage a new group of voters; and Outlook Festival are extremely pleased to be backing this cause. Over the next couple of weeks the 'Use Your Power: Vote' initiative will engage as many people and networks as possible; inviting young or disfranchised voters to have their say across their various platforms, including the 'Mayday Mayday' website and the individual festival's social channels.
For bass heads, this is a rare chance to catch the likes of Dizzee Rascal, Giggs, Wiley, Princess Nokia, Swing Ting, DJ Shadow and Goldie for £100, or eclectic house, techno, disco, funk and sounds from the likes of Jeff Mills, Cymande, Helena Hauff, Goldie and more for the same price. All you need to to is send the team proof!
SEND PROOF YOU HAVE REGISTERED TO VOTE TO [email protected] [email protected] TO RECEIVE YOUR £100 LINK
OUTLOOK FESTIVAL || DIMENSIONS FESTIVAL || BOOMTOWN FAIR || LOVE SAVES THE DAY || SHAMBALA
Mayday Mayday
Website: http://maydaymayday.co/
Campaign Hashtags: #maydaymayday2017 / #voteuseyourpower