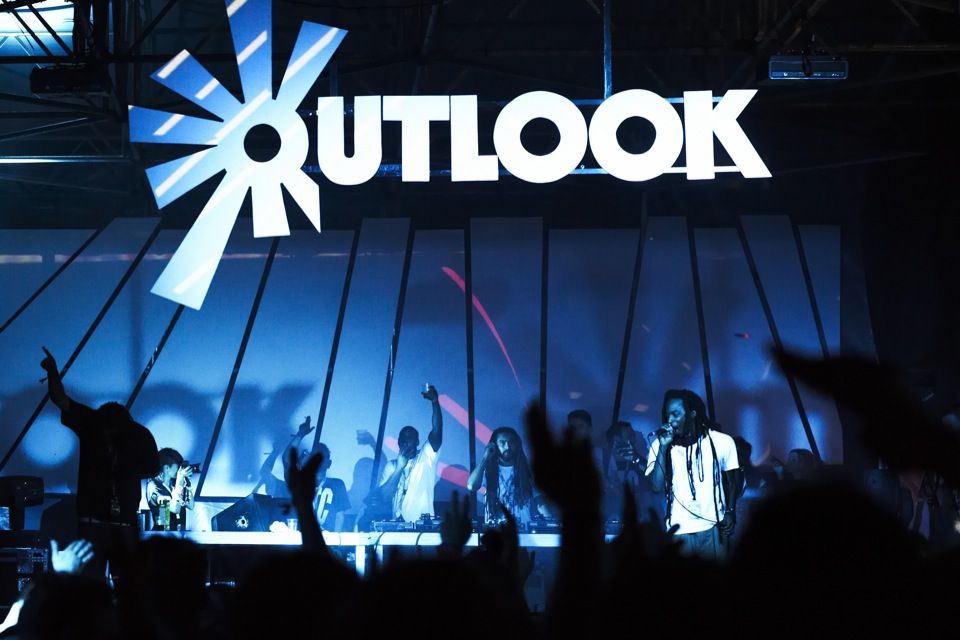 Outlook Festival 2016: Stage and Day Breakdowns Revealed…
Heading into its 9th year, Outlook Festival one again paves the way with a line up celebrating sound system culture, right the way from reggae to grime to hip-hop and everything in between. With Damien Marley and Slum Village live in a 2000 year old amphitheatre for the opening concert, and acts like Hiatus Kaiyote, Noisia, Section Boys, Little Simz, Benga, Alix Perez, Goldie, Kahn and Neek all gracing stages at Fort Punta Christo, this years festival is not to be missed. Tickets for this years edition are flying out at their fastest rate ever, and are looking to sell out within the next month- so don't sleep on the remaining few. Outlook can now reveal the day by day breakdowns and stage partners across the 5 day Adriatic adventure…
Thursday sees Outlook off to a flying start with Ram Jam will be taking dancers through all night long at The Clearing Stage, with DnB royalty Roni Size & Krust, dub specialist David Rodigan, and heavyweight sets from Congo Natty, Mala and more. Friday night sees Andy C, an 'Outer Edges' set from Noisia, Brooklyn vibes with Joey Bada$$ and a taste of East London as Kano graces the stage. Hospital take the reigns on Saturday night with hi-energy drum and bass from High Contrast, London Elektricity and more, whilst Sunday is dominated by UK rappers spanning the genres with Stormzy (live in the flesh), Irish lad Rejjie Snow, Section Boys, and Novelist backed up by garage crew Kurupt FM.
Just outside the fort lies The Void stage, complete with a sound system as heavy as the rest. London party starters Just Jam take hold on the Thursday night with garage legends Zed Bias and MJ Cole, alongside baseline rhythms of DJ Q, Barely Legal, Swindle and Crack Stevens brings the Neverland Clan through for a special show. Practice 'palancing' ahead of Hot Wuk 's Friday night bashment featuring The Heatwave, Queen Lady Leshurr, alongside Millon Stylez and Lady Chann. Deep Medi celebrate 10 years with a Saturday night session including boss man Mala, Tokyo sounds from Goth-Trad, who will be pushing the limits of the sound systems alongside family members Kahn, Gantz, Commodo and more hosted by OG MC Crazy D. Sunday sees in another celebration: 15 Years of Dispatch featuring Dub Phizix, a special B2B with Alix Perez and Skeptical with MCs DRS, DLR and Gusto taking ravers through 'til the early morning.
Outlook prides itself on having one of the most unique festival sites, and a firm favourite stage for many is the 100m long Moat Stage with tall walls that surround the crowd to make for an incredible immersive experience. On Thursday night Metalheadz x Star Warz start off proceedings with a drum and bass heavy evening featuring Lenzman & Visionobi, Dom & Roland, Commix & Codebreaker, Doc Scott, Sense MC. Friday sees Bandulu bring Bristol rhythms to Pula with labels bosses Kahn & Neek heading up the stage next to label family Commodo, upcoming talents Boofy & Hi5 Ghost, Manchester lady Madam X, and badman lyricists, Flowdan, Riko Dan and Killa P. Playaz have a 20th birthday with DJ Hype, MC AD, and flowing sets from Hazard and Randall, whilst on Sunday The Moat will see darker dubstep sounds with legendary imprint Contact taking over. Youngsta helms the stage, with support from scene starters Benga, Sgt Pokes, Hatcha and more.
Scottish Soundsystem crew Mungo's Hifi fine tune their epic sound with a perfectly sized open air arena which will play host to an eclectic mix of sounds over the 5 days. Walk n Skank will keep bodies moving on Thursday night with Manudigital, Mungo's themselves, Dreadsquad and more guests. Picking up the pace for Friday night will Hyperdub x Teklife featuring energy driven sets from, Kode 9, footwork Kings DJ Spinn and DJ Taye alongside friends and family Ikonika, Scratcha DVA, Sarah Farina and Shy One. Infamous Leeds imprint Subdub bring those original roots sounds with Mad Professor, the generals Iration Steppas, Weeding Dub hosted by Shanti D, Charlie P and more.
With an incredible light show and a weighty system, The Stables is another unmissable stage at Outlook. Revellers can get their fill of US sounds from Thursday night with an All Trap Music takeover, which sees trap originator Lex Luger, and new school sounds from Hucci, Tropkillaz and Ganz. Sister festival Dimensions host on Friday night with world sounds from the Dimensions Soundsystem, and house filled grooves from Eliphino, Henry Wu and Hodge. Serious selectors Josey Rebelle and Sassy J also join. Manchester massive LEVELZ return with a full crew takeover on Saturday night with Black Josh, Chimpo, Chunky, Dub Phzix, Fox, Jonny Dub, Rich Reason, and Madam X.
The intricate Garden stage returns bigger and better than last year, standing alone in a clearing and hosts hip hop, garage and everything in between. Boom Bap are first up on Thursday seeing live performances from Mick Jenkins, RA the Rugged Man, Lundun newcomers 808ink and many more. For the Love of Garage will be holding the UK sounds down on Friday with hands in the air sets from Artful Dodger, the Foundation (Sticky and Scott Garcia), iconic hosts Mighty Moe and Crazy D. On Saturday the Garden will be hosted by iD-Mix with raw sounds from rapper Angel Haze, the enigmatic CASISDEAD, alongside young'uns AJ Tracey, Riz La Teef and more. Sunday's finale sees Med School flex their muscles with Etherwood, drum and bass rhythms from Bop, Keeno and B2B performances from Blu Mar Ten and Royalston.
The Beach stage is located on the festival campsite- with sun drenched sets on the sand, there is something truly special about the beach parties that take place daily. So Fresh So Clean are on duty to sooth the souls on Thursday with a headline slot for Hiatus Kaiyote, words from Akala, and North London's very own Little Simz with SFSC DJs to set the tone. Straight up dub vibes fill Friday with Twinkle Brothers, ska sounds from Gentleman's Dub Club and big brass covers from Hot 8 Brass Band, with more live performances across the day. Norman Jay and co soak up the Sun on Saturday alongside the Mungo's Hifi crew, a live set from Swindle and First Degree Burns. Whilst on Sunday the Soul:Ution family round off the final beach party of the festival with unmissable sets from the likes of Calibre, Marcus Intalex and the soothing sounds of DRS ft Fox & Talyer Dayley. On top of all that, there is still much, much more to be announced.
Full day-by-day stage breakdowns on the website: www.outlookfestival.com
Outlook Festival is no doubt located in one of the most stunning parts of the world, and prides itself on its unique home, which makes it a one-of-a-kind experience for any festival go-er. The five day festival is balanced between an all-out rave and holiday, a mix of chilling on the beach all day and dancing as long as the music lasts. Combining the best sound systems in the world, with a stunning Adriatic fort location , on top of an unparalleled line up, tickets for this years edition are selling faster than ever.
To take part in Outlook Festival 2016, head to : outlookfestival.com/tickets/uk/ .
Nearby Pula is easily accessible by taxi from the Outlook Festival site, and is complete with excellent transport links, apartment accommodation and historic sites. For those wishing to camp on-site, or for more information on accommodation options including boutique camping options, head to outlookfestival.com/accommodation/ to look at what is available. Flight options from the UK are to Trieste, Ljubljana, Zagreb, Venice Treviso or Venice Marco-Polo airports, and then a transfer to the festival site. Outlook Festival also organise coach packages and flight packages, all available to view / purchase at outlookfestival.com/travel/ . See you at the fort!
TICKET INFO
outlookfestival.com/tickets/ || From £130 // €175
TRAVEL / ACCOMMODATION INFO
outlookfestival.com/travel/ || outlookfestival.com/accommodation/
OUTLOOK FESTIVAL LINKS
highlights video || facebook event || facebook || twitter || soundcloud
MEDIA PACK : http://bit.ly/1Oza0ZU || PRESS ACCREDITATION : http://bit.ly/1NmvXHR
For more info contact BIGBOX / +44 (0)20 3487 0929 / [email protected] or [email protected]
FULL LINE-UP TO DATE (in alphabetical order)
808ink – ABRA – A-F-R-O – AJ Tracey – Akala – Alix Perez – Amoss – Andy C – Angel Haze – Anna Morgan (NYC) – Ant TC1 – Artful Dodger ASM – Bamwise – Baseline Crew – Barely Legal – Benga – Billain – Breezak – Calibre – cas is dead – Channel One – Charlie P – Chimpo – Codebreaker MC – Commix – Commodo – Congo Natty ft Iron Dread & Congo Dubz – Crack Stevens – Crazy D – Damian Marley – Danman – Danny T & Tradesman – David Rodigan – Detboi – Digitron – DJ Betty – Dj Hype – Dj Q – Dj Spinn – Dj Taye – DLR – Doc Scott – Dom & Roland – Dreadsquad – DRS (live) – Dubble – Dub Phizix & Strategy – Dub Smugglers Sound System – Earl Gateshead – Egoless – Elijah & Skilliam – El-B – Elemental – Eliphino – Eva Lazarus – Finwa – First Degree Burns – Filip Motovunski – Flowdan – Foundation – Sticky & Scott Garcia – Fox – Gantz – Gardna – Gentleman's Dub Club – Grade 10 – Goldie MBE – GothTrad – GUTS – Hatcha – Harleighblu – Hazard – Henry Wu – Hi5 Ghost & Boofy – Hiatus Kaiyote – High Focus Records – HODGE – Hometown Sound Promotion – Hornsman Coyote & Soulcraft – Hot 8 Brass Band – Hucci – Iglooghost – Ikonika – Iration Steppas – Ivy Lab – Jack Sparrow – Jah Shaka – JKenzo – Jackie Dagger & Feloneezy – Jikay – Joey Bada$$ – Josey Rebelle – Kabaka Pyramid – Kahn & Neek – Kaiju – Kandzija & Gole Zene – Karnage – Kano – Killa P – Kode 9 – Lady Chann – Lady Leshurr – Lenzman – Levelz – Lex Luger – Little Simz – LSB – Mad Professor – Madam X – Mala – Manudigital – Massappeals – Marcus Intalex – Matty Roots – MC AD – MC Flux – Mick Jenkins – Mighty Moe – Million Stylez – MJ Cole – Moony – Mungo's Hifi Sound System – Mystic Stylez – Neverland Clan – Norman Jay MBE – Noisia – Novelist – OBF – One87 – Onemind (live) / DLR & Mako – Onset – Part2Style – Prince Fatty, Horseman & Shniece – Potential Badboy – Prayer – PUSH UK – RA the Rugged Man – Randall – Rejjie Snow – Rider Shafique – Riko Dan – Riz La Teef – Roni Size & Krust present Full Cycle ft Dynamite MC – Roots In Session – Sassy J – Sarah Farina – SCAR – Scratcha DVA – Section Boyz – Sense MC – Shy One – Silkie – Sgt Pokes – Skeptical – Shanti D – Silas & Snare – Sinai sound – Slum Village – SP:MC – Stalawa – Star Eyes – Steppa Style – Stormzy – Sun of Selah – Swindle – T_! – The Heatwave – Tonn Piper – Tropkillaz – Truth – Tunnidge – Twinkle Brothers – Visionobi – Vital Techniques – Weeding Dub – Youngsta – Zed Bias – Zero T