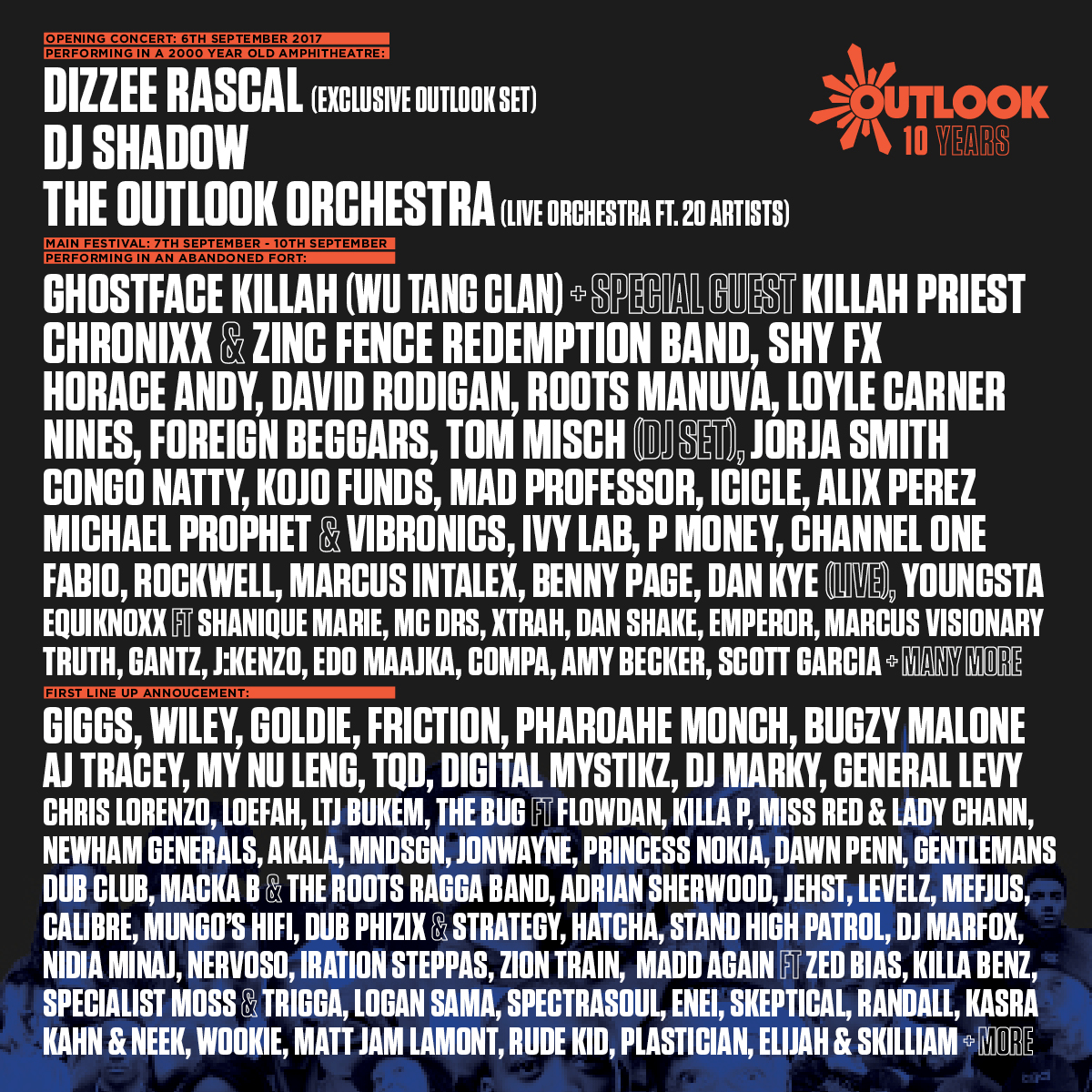 Outlook Festival announces full lineup
Recognised as the leading ambassador of bass celebrations and soundsystem culture across the world, Outlook Festival marks an incredible ten years of existence this summer. For this mammoth bill there's no holding back, as Outlook announce Ghostface Killah, David Rodigan, Roots Manuva, Mad Professor, Shy FX, Loyle Carner, Rockwell, Chronixx & Zinc Fence Redemption Band, Congo Natty, Amy Becker, Alix Perez, Jammz and more all making the pilgrimage to Croatia to join Dizzee Rascal, Wiley, Goldie, LEVELZ, Jonwayne and more. Priding themselves on championing both legends of the game and the leaders of tomorrow, Outlook Festival will unite the biggest, baddest and best names from dubstep, jungle, dub, drum and bass, hip-hop, grime and everything in between at their fortress home across the 6th-10th September, and with tier three tickets moving fast, party people wanting to join the celebrations should act now to secure a spot at Outlook Festival 2017.
This year sees Staten Island rap god and Wu Tang member Ghostface KIllah topping the Outlook Festival bill, the rappers favourite rapper known for his extensive solo work, releases with the iconic Wu Tang collective, and recently on Sour Soul, a collab album with celebrated jazz-funk cats BadBadNotGood. Having this OG at Outlook Festival's 10 year outing is set to be a monumental performance, and there's plenty more where that came from with don's Dizzee Rascal, Roots Manuva, Wiley, AJ Tracey, Gentleman's Dub Club and more all making up live shows not to be missed across 2017.
Set in an abandoned fort on the stunning Adriatic ocean, Outlook Festival is the perfect setting for a party and holiday experience, giving the best of all worlds. With blissful sun, sea and a beach specifically for punters to relax before dancing all night long, it's the ideal way to combine adventure and travel with the very best music you can find. With over 90 artists added to the already immense lineup, the celebration of a decade of Outlook Festival is set for it to be it's most monumental edition to date.
A lot can change over ten years, but Outlook Festival's dedication, passion and ability has secured their place as one of the leading festival promoters worldwide. Though grown, the family feels the same, with artists and punters coming back year on year to experience and discover new music on world class, bespoke built sound systems. From the ambitious settings (we've all seen the speaker stacks in The Moat), to blissful boat parties, and the recent addition of the Opening Concert, the team have never shied away from taking things to the next level, whilst staying firmly grounded to their roots. Here's to another ten.
A DECADE OF OUTLOOK – SEE YOU AT THE FORT!
OPENING CONCERT LINE UP :
DIZZEE RASCAL (Exclusive Outlook Festival set) || DJ Shadow || The Outlook Orchestra
10 YEARS OF OUTLOOK : Full line-up:
207 – A.Fruit – Adrian Sherwood – AJ Tracey – Akala – Alix Perez – Amy Becker – Andy H – Anna Morgan – Ant TC1 – Arkaik – Bamwise – Bane – Barely Legal – Benny Page – Big Zuu – Biome – Blazin – Bru-C – Bugzy Malone – Bukez Finezt – BusyFingers – Calibre – Capo Lee – Champion – Channel One – Charlie P – Children Of Zeus – Chimpo – Chris Lorenzo – Chris Munky – Chronixx & Zinc Fence Redemption Band – Chunky – Coco – Commodo – Compa Conducta – Congo Natty ft Congo Dubz & Iron Dread – Crazy D – Dan Kye (Jordan Rakai Solo Electronic Live) – Dan Shake – Danny T & Tradesman – Darkzy – David Rodigan – Dawn Penn – Digital Mystikz (Mala & Coki) – Digitron – Dimensions SoundSystem -Disrupt ft Speng Bond – Distinct Motive – DJ Marfox – Dj Marky – DJ Nigga Fox – DLR – Dub Dynasty (Alpha & Omega meets Alpha Steppa) – Dub Phizix & Strategy – Dub Smugglers – Edo Maajka – Egoless – Elijah & Skilliam – Elisa Do Brasil – Emperor – Enei – Equiknoxx ft Shanique Marie – Eva Lazarus – Fabio – Filip Motovunski – Fineart – Finwa – fLECK – Flirta D – Fokus – Foreign Beggars – Freewize – Friction – Gantz – Gardna – General Levy – Gentlemans Dub Club – Ghostface Killah – Giggs – Goldie – Grade 10 – GQ – Grandmixxer – Hatcha – Hi5 Ghost & Boofy – High Focus Records feat Ocean Wisdom, Fliptrix, Dirty Dike, Ed Scissor, Molotov & DJ Sammy B-Side – Horace Andy – Iamddb – Icicle – INKA – Iration Steppas – Ivy Lab – J:Kenzo – Jack Sparrow – Jammz – Jehst – Jenna G (Jenna & The G's) – Jetsss – Jonwayne – Jorja Smith – Josey Rebelle – Jossy Mitsu – Kahn & Neek – Kasra – Kenny Allstar – Kenny Ken – Kodin – Kojo Funds – Kyrist – Lamont – Lazcru – LD50 – Less Effect – Levelz – Linguistics – Loefah – Logan Sama – Lowqui – Loyle Carner – LTJ Bukem – LuSinda – LX One – Macka B & The Roots Ragga Band – Mad Professor – Madam X – Madd Again ft Zed Bias, Killa Benz, Specialist Moss & Trigga – Marcus Intalex – Marcus Visionary – Matt Jam Lamont – MC Drs – MC Pean – Mefjus – Michael Prophet & Vibronics (live) – Mighty Moe – Mike Delinquent – MNDSGN – Monty – Mr Thing – Mr Virgo – Mungo – Mungo's Hifi – Murlo – Murrayman – My Nu Leng – Nanci – Nervoso – Newham Generals – Nidia Minaj – NINES – ONE PUF – Onset – P Money – Paleman – Parly B – Pharoahe Monch – Plastician – Princess Nokia – Rahmanhee – Randall – Rider Shafique – Riko Dan – Rockwell – Roots Manuva – Rude Kid – Sam Binga – Scott Garcia – Selekta – Serious MC – Seven – Sgt Pokes – Shield – Shosh – Shy fx – Signal – Signs – Sir Spyro – Six Sunsets – SKEPSIS – Skeptical – Skittles – SKS – Sleazy – Sofie (NTS, Stones Throw) – Soom T & Derw Tha Damaja – SP:MC – SpectraSoul – Spooky – Stalawa – Stamina MC – Stand High Patrol – Stylust Beats – Sun Of Selah – Swindle – Swing Ting – The Bug ft Flowdan, Killa P, Miss Red & Lady Chann – The Mouse Outfit – Tom Misch (DJ Set) – TQD (Royal T, DJ Q, Flava D) – Tropico Dj's – Truth – Vital Techniques – Von D – Walton – Whodemsounds – Wiley – Wookie – Xtrah – Youngsta – Zion Train