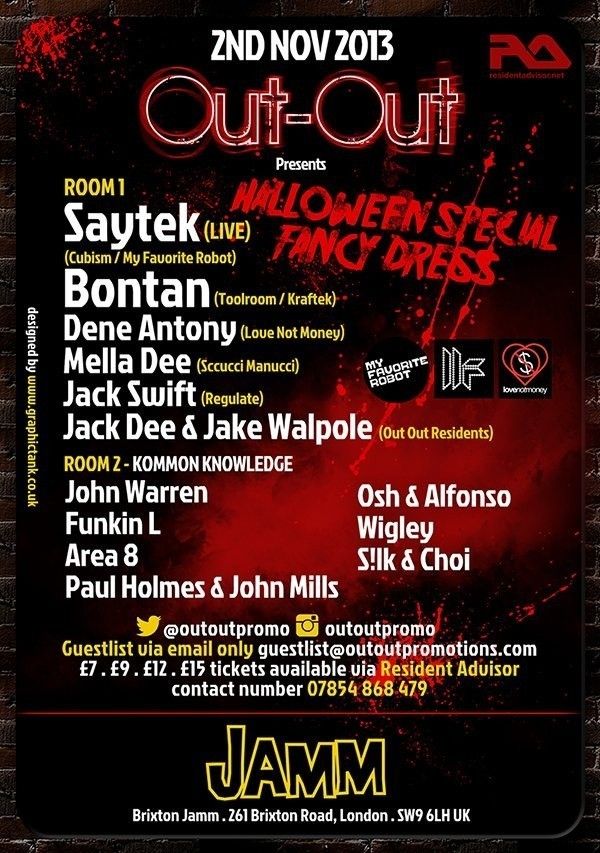 Outout's Halloween Special
This quality party aim as always is to bring a selection of not just well known but also up & coming house DJ's/Artists and place them all under one buzzing roof to give you an unforgettable sound & atmosphere. They are all about the music, as it should be!
Outout are going to give the venue a special make-over for this event with no expense spared! Expect a host of weird and scary things for the occasion with a few surprises to boot. It's certainly going to be one to tell your friends about!
If your not going OutOut to listen to proper music, smile, have fun, meet new people or be part of a good atmosphere then just go OUT don't bother coming OUTOUT!!
FANCY DRESS is essential so don't hold back. They will also have an artist providing Face Painting through out the night : )
The Line up:
SAYTEK (LIVE)
Nominated Best Live act 2012 by DJ Mag Best Of British
"An amazing live set journeying through Saytek's distictive vision of house and techno " – DJ MAG
"Maverick Saytek seems to be getting things right his spontaneous sets being the back bone of both his reputation and releases , His improvised response to the crowd marks him out from the standard dance act"- The Guardian newspape
DENE ANTONY
24 year old DJ/Producer/Engineer from the Westest of Yorkshires in the UK!
"My main main style is a garage influenced BASS orientated wide range of house music played both in my sets and reflected through my productions. I am a self taught producer of almost five years now and a DJ of 6 years and have DJ'd at a variety of clubs in & around the UK"
MELLA DEE
Mella Dee's sound has evolved from a true passion for all things garage, a perpetual dedication to Hip Hop, combined with a love for house music which was heavily influenced by the darkness of UK funky.
BONTAN
Jack Swift
Jack Dee & Jake Walpole
John Warren
Paul Holmes & John Mills
Osh & Alfonso
Wigley
S!LK & Choi
Area8