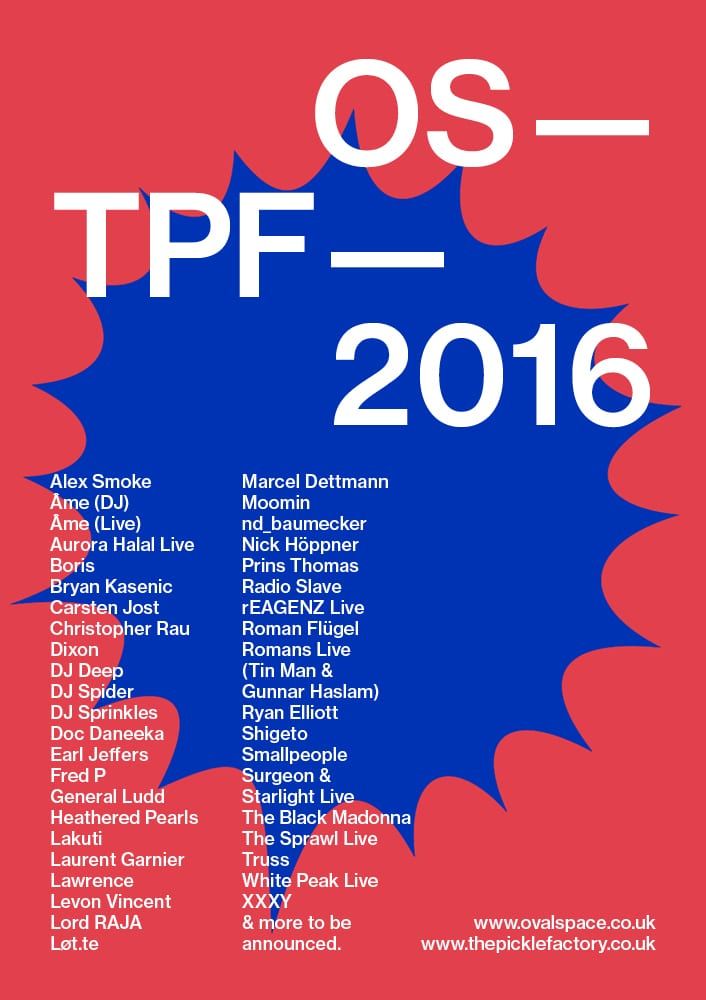 Oval Space and The Pickle Factory announce new shows for 2016
With the New Year comes a raft of exciting new shows from Oval Space and The Pickle Factory. Following on from the success of 2015, which saw Oval Space launch London's newest music venue, The Pickle Factory, and the introduction of the Ovation live music series, 2016 will see the creativity and boundaries of Oval Space's musical programming expand, with an even more diverse range of talent appearing in both venues.
Oval Space Music highlights between January – March 2016 include a tour de force of house & techno on 19th February across both venues, with Marcel Dettmann, Laurent Garnier and Radio Slave playing in Oval Space, while a special guest will be taking over The Pickle Factory with a four-hour set, leaving just enough room for a very special unannounced B2B set.
As with last year, there will be a number of label showcases planned for 2016 from old friends and affiliates, including a Smallville Records night with DJ Sprinkles, Smallpeople, Moomin and Christopher Rau on 5th February, and a Dial Records night with rEAGENZ Live, Lawrence and Carsten Jost on 18th March.
There will be not one but two all night long sessions with Innervisions founders Âme and Dixon respectively. Responsible for creating one of the most influential and unstoppable underground house label in recent times, Âme will be treating us to an all night live and DJ session on 27th February while Dixon will play later in the year.
On the live music front, Ovation will continue apace, with a Ten Thousand Yen label showcase featuring xxxy, Doc Daneeka, Earl Jeffers and General Ludd confirmed for 27th February at The Pickle Factory, while over in Oval Space, Ovation will see three of Ghostly International's finest, Shigeto, Heathered Pearls and Lord Raja, perform on 11th February.