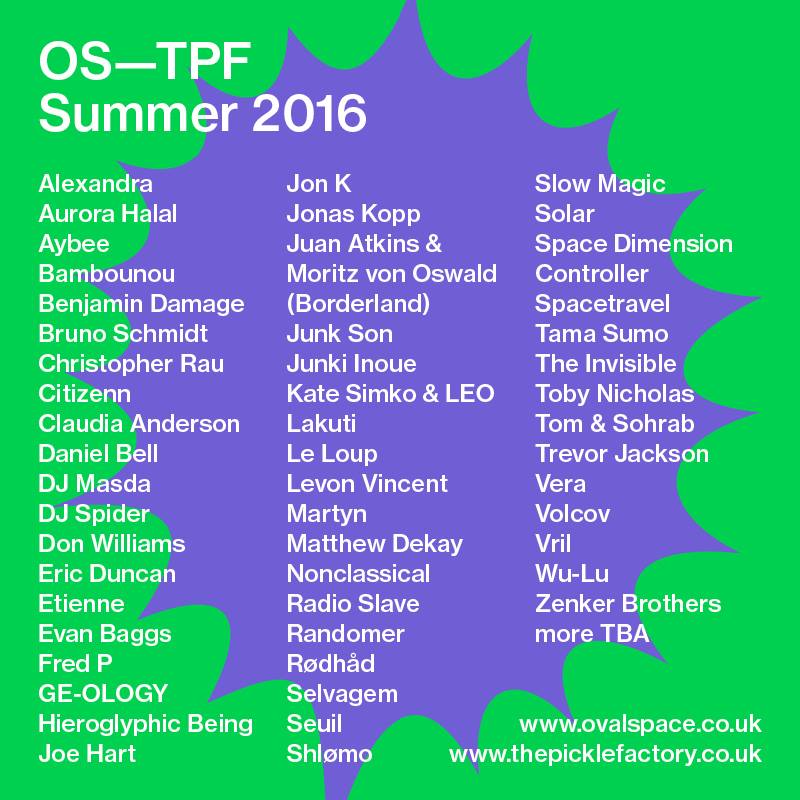 Oval Space & The Pickle Factory Announce Summer Season 2016
Oval Space and The Pickle Factory announce their summer programme from May to August, featuring some of the most exciting labels and artists of the moment.
This month Oval Space celebrate not one but two pivotal anniversaries within the electronic community. This Saturday 7th May, seminal Berlin club Tresor celebrate their 25th anniversary with Juan Atkins and Moritz Von Oswald's pioneering live show Borderland, Zenker Brothers, Jonas Kopp and Claudia Anderson. Later this month on 29th May, Oval Space helps Rekids celebrate 10 years of existence.
Under Matt Edwards' careful curatorial hand, Rekids has championed a propulsive, texturally rich brand of electronics, releasing music from the likes of Nina Kraviz, Marcel Dettmann, Shed and Mr. G since 2006. Rekids will ring in ten years with Dystopian boss and Panorama Bar favourite Rødhåd, label boss Radio Slave, Evan Baggs and DJ Spider.
Looking ahead to July, Oval Space throws open its doors for a marathon all day / night session with Levon Vincent, Tama Sumo, Hieroglyphic Being Live, Trevor Jackson, Volcov and Lakuti.
Over the road, proceedings at The Pickle Factory will be going full steam ahead throughout the summer months, with Space Dimension Controller and Matthew Dekay both taking over the intimate 200 capacity space for all night long sessions on 13th May and 3rd June respectively.
On 27th May, The Pickle Factory will play host to the Japanese contingent aka DJ Masda and Junki Inoue; Bambounou and Shlømo are repping for France on 29th July, and dance music chameleon Martyn joins us from Holland on 15th July.
Label showcases will continue to feature on The Pickle Factory's program, with Vera, Spacetravel and Alexandra playing as part of a Melliflow showcase on 24th June, and Etienne, Le Loup and Seuil playing as part of an Eklo showcase on 22nd July.
The Ovation live series continues with performances from Kate Simko & London Electronic Orchestra on 12 May, The Invisible on 19th May, Slow Magic on 14th June with special guests TBA and Benjamin Damage, Randomer and more on 9th July.