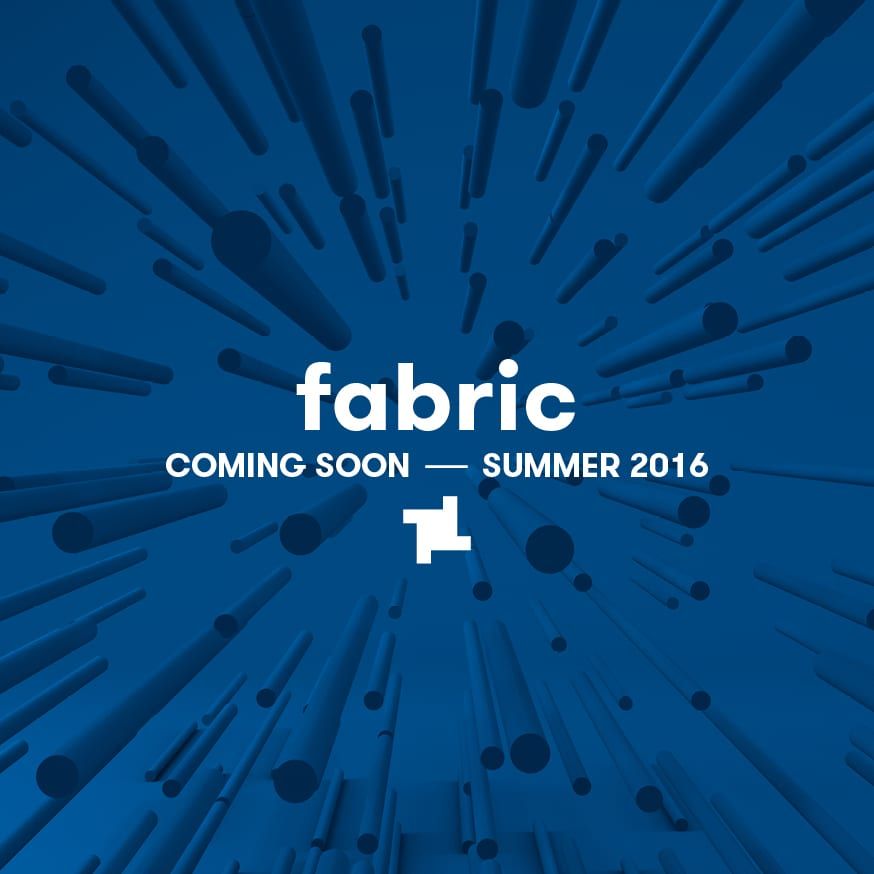 fabric Announces Summer 2016 Line Ups 
With a deliciously warm weather system breaking in the city and officially opening up the summer season, it feels timely to share what we have forthcoming in our EC1 space (and beyond) for the sun facing months of 2016.
It's a special one for us, with our partnership with Lovebox Festival unfolding this July we are currently preparing to take the ethos and values of what we do in Farringdon out into the field by installing a bespoke club sound system in partnership with Pioneer as well as bringing all our crew from the lighting operators to the sound engineers and the key artists that represent what we do.

Back in Farringdon for FABRICLIVE this Friday night The Bug lands in RM1 inviting a host of lauded MCs to join him on stage with P Money, Flowdan, Riko Dan, Manga and Miss Red all in tow while Phaeleh helms Room Two with DBridge, Om Unit and more. Over the rest of May dubstep citadel Deep Medi make their debut in RM1 backed up by Plastician's Terrorhythm in the second space and Birmingham party outfit 02:31 return. Finally the month is rounded out with Groove Armada cementing their residency with the launch of their FABRICLIVE 87 album.

In June Foreign Beggars come to lead RM1 representing the best of UK hip hop with a special appearance with Skinnyman and Hatcha relaunches his dub weighted Hatcha & Friends in RM2. Drum and bass remains very much at the core of Friday night's programming as Playaz returns to celebrate 20 years with a special full club takeover and key imprints Viper Live and Blackout also return.

Saturday nights are now sewn up over May and June with Craig Richards and Terry Francis in residence joined throughout the season by the likes of Ricardo Villalobos (returning for another infamous extended session) Sasha, Carl Craig, Seth Troxler, Nina Kraviz, Dave Clarke, Skream, George FitzGerald and many more. Plus two of techno's most integral platforms come to Room Two with Function's Infrastructure on May 21st and Regis' Downwards on 18th June.

Finally in July after a celebrated 6 hour session to mark his Room One debut, Joseph Capriati will make his awaited return and we also see BPitch Control boss Ellen Allien and Visionquest head back to EC1. The month is completed by Running Back don Gerd Janson marking the launch of his fabric 89 album.

WetYourSelf! are maintaining their Sunday night activities, creaming the best of London's local talent alongside international players with the gem in their programming landing in what always is a special event – their third Bank Holiday special of the year on 22nd May. This May Stimming comes to launch his latest long players Alpe Lusia while notorious crews Unleash and Keep On Going represent.
Tickets are now on sale for the majority of our events through to the end of July; watch out for more events going on sale over the coming weeks. Lovebox and Citadel tickets are available on their respective websites here and here.
Tickets and more information are available at www.fabriclondon.com

Listings:
**Special event**
15-16 JULY
LOVEBOX FESTIVAL
Friday
FABRICLIVE…
Kano
tqd (Royal-T x DJ Q x Flava D)
DJ Hype & MC IC3
Goldlink
Big Narstie
Preditah
Critical Soundsystem ft Kasra b2b Ivy Lab b2b Sam Binga ft. Redders
DJ Barely Legal
FABRICLIVE DJs
Saturday
fabric…
Ricardo Villalobos
Zip
Jackmaster
Residents:
Craig Richards
Terry Francis
**Special event**
17 JULY
CITADEL FESTIVAL
FABRIC SUNDAY SESSIONS…
Andrew Weatherall
Jazzanova DJ Set (20 Years On The Decks)
The 2 Bears
Pedestrian
​​​​​​​FABRICLIVE
06 MAY
ROOM ONE:
The Bug, P Money, Flowdan, Riko Dan, Manga & Miss Red, Loefah, Pinch b2b Headhunter, Remarc, Iration Steppas
Hosted By: Chunky, Koast
ROOM TWO:
PHAELEH PRESENTS…
Phaeleh, dBridge, Om Unit, DJRUM, Versa & Rowl
MCs: SP:MC
13 MAY
ROOM ONE:
02:31…
Chris Lorenzo, Tom Shorterz, NYTA, Slimzee, Pete Graham
ROOM TWO:
Feed Me, Koan Sound, KDA, SH?M, Dellux
20 MAY
ROOM ONE:
DEEP MEDI…
Mala, Kahn, Commodo, Gantz, Dubkasm, Compa, Kaiju, Sun Of Selah
ROOM TWO:
TERRORHYTHM…
Plastician, Joker & Footsie, Darq E Freaker, JD REID, Glacci, Footsie, Kareful
27 MAY
ROOM ONE:
FABRICLIVE 87: GROOVE ARMADA LAUNCH…
Groove Armada, Denney, Mele, D'lex (dollop)
ROOM TWO:
Low Steppa, Woz, Troy Gunner B2B Charlie Tee, SOBAD (Sly One, Bromley, Archive, Distro)
03 JUNE
ROOM ONE:
PAR EXCELLENCE…
Foreign Beggars Feat Skinnyman, Ed Rush b2b The Upbeats , Alix Perez b2b Chimpo , President T, Problem Child , Tim Parker , Skankandbass
ROOM TWO:
UNiiQU3, Amy Becker, RIZ LA TEEF, Capo Lee, COYOTE RECORDS SHOWCASE: Last Japan, Silk Road Assassins, OH91, Tarquin
10 JUNE
ROOM ONE:
VIPER LIVE…
Matrix & Futurebound, TC B2BThe Prototypes B2B Brookes Brothers (2 Hour Set), Dimension (Special Guest), Koven, Mob Tactics, BMotion, Sixblade B2B Insomniax, Jakes, Rhymestar, AD
ROOM TWO:
BLACKOUT…
Black Sun Empire, Phace, Neonlight Presents My Galactic Tale, Ulterior Motive, Pythius, Stealth, Lowqui, 2 Shy, Remidy
17 JUNE
LOVEBOX AFTER DARK
ROOM ONE:
TBA
ROOM TWO:
TBA
24 JUNE
ROOM ONE:
20 YEARS OF PLAYAZ…
DJ Hype, Hazard, Break, Sub Zero, Sasasas, Pascal,
ROOM TWO:
20 YEARS OF PLAYAZ…
Crissy Criss, D*Minds, Potential Badboy, Annix,
FABRIC
fabric
07 MAY
ROOM ONE:
Craig Richards, George FitzGerald, DJ Tennis
ROOM TWO:
KALUKI..
Skream, wAFF, Pirate Copy & Pete Zorba, Solardo
ROOM THREE:
CUBISM…
Saytek (Live), Mark Gwinnett, Deano Loco, Paul Neary
14 MAY
ROOM ONE:
Craig Richards, Ricardo Villalobos, Nicolas Lutz, Job Jobse
ROOM TWO:
Terry Francis, Voices From The Lake, Lee Gamble
21 MAY
ROOM ONE:
Craig Richards, Seth Troxler, Dewalta & Shannon (Live), Voigtmann
ROOM TWO:
INFRASTRUCTURE…
Function, Inland, Campbell Irvine (Live), Post Scriptum
28 MAY
ROOM ONE:
Sasha, Fur Coat, Kate Simko
ROOM TWO:
Terry Francis, Dave Clarke, Matrixxman
04 JUNE
ROOM ONE:
Nina Kraviz, Carl Craig, Marquis Hawkes
ROOM TWO:
Terry Francis, Blawan, Ancient Methods (Live)
11 JUNE
ROOM ONE:
Craig Richards, Eats Everything, Route 94
ROOM TWO:
Terry Francis, Luke Slater, Black Asteroid (Live)
18 JUNE
ROOM ONE:
Craig Richards, Joris Voorn, Kölsch
ROOM TWO:
DOWNWARDS…
Regis, Samuel Kerridge (Live), Talker ( Live), Simon Shreeve
25 JUNE
ROOM ONE:
CROSSTOWN REBELS…
Damian Lazarus, Craig Richards, Serge Devant, Magit Cacoon
ROOM TWO:
Terry Francis, Slam
02 JULY
ROOM ONE:
Craig Richards, Ellen Allien
ROOM TWO:
SUPERFREQ…
MR C, Noel Jackson
09 JULY
ROOM ONE:
Craig Richards, Joseph Capriati
ROOM TWO:
Terry Francis, Egyptian Lover (Live), Danny Daze
16 JULY
ROOM ONE:
LOVEBOX AFTER DARK
TBC
ROOM TWO:
LOVEBOX AFTER DARK
23 JULY
ROOM ONE:
VISIONQUEST:
Ryan Crosson, Shaun Reeves, Lee Curtiss, Subb-an
ROOM TWO:
Terry Francis, Surgeon (Live)
30 JULY
ROOM ONE:
FABRIC 89: GERD JANSON LAUNCH…
Gerd Janson
ROOM TWO:
Terry Francis, Alan Fitzpatrick, Pär Grindvik
WETYOURSELF!
8 MAY
ROOM ONE:
Kolo & Dyze,Db Productions (Antony Difrancesco b2b Samuel Bellis), Stuart Hawkins
15 MAY
ROOM ONE:
Brett Jacobs, James Puentes, Peter Pixzel, Jacob Husley
22 MAY
ROOM ONE:
Monika Ross, Lamine, Peter Pixzel, Jacob Husley
29 MAY
ROOM ONE:
Stimming (live) "Alpe Lusia Album Release Tour 2016", Robag Wruhme, Peter Pixzel, Jacob Husley, Koko Bayern
ROOM 2:
UNLEASH MUSIC LABEL LAUNCH…
Sammy Dee, Steve O'Sullivan – Mosaic Records (Live), Bill Patrick, Cesar Merveille, Daylomar
ROOM 3:
KEEP ON GOING…
And.re, Dean Marc, Dragos Ungureanu, Gabriel Amaru, Georgia Girl, Luca Rosa, Rob James
05 JUNE
ROOM ONE:
Derëk, Carlos Ryan, Peter Pixzel, Jacob Husley
12 JUNE
ROOM ONE:
Mar-T, Peter Pixzel, Jacob Husley​
19 JUNE
ROOM ONE:
Vid, Scott Kemp, Josh Wicks
25 JUNE
ROOM ONE:
TBA