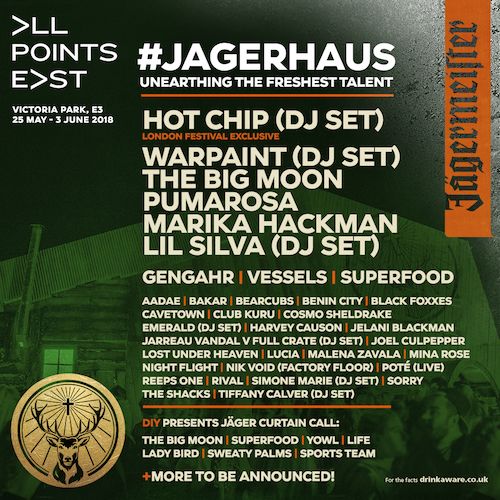 Over 35 major and emerging artists announced for JägerHaus stage at All Points East
14th May 2018 The award-winning JägerHaus is back for another summer of sun-soaked festival revelry, bringing its distinct fusion of incredible music and ice cold shots exclusively to All Points East! Jägermeister has today revealed the JägerHaus line-up showcasing their musical roots and deep connections across multiple genres with an eclectic mix of established and emerging artists.

In a London festival exclusive, electronic indie icons Hot Chip will headline the opening night, Friday 25th May, with an electrifying DJ set. Also announced to headline during the two weekends are Mercury Prize-nominated The Big Moon, pioneers of "industrial spiritual" Pumarosa, king of ethereal electronic Lil Silva (DJ Set) and free-spirited enigma Marika Hackman.

Festival goers calling into the JägerHaus at All Points East will discover an endless stream of live performances from: Gengahr, Lost Under Heaven, Vessels, Black Foxxes, Sorry, The Shacks, Cosmo Sheldrake, Jelani Blackman, Reeps One, Poté, Aadae, Benin City, Nik Void (Factory Floor), Bearcubs, Bakar, Harvey Causon, Joel Culpepper, LUCIA, Mina Rose, Malena Zavala, Club Kuru, Cavetown, Night Flight and Rival – plus DJ Sets from: Warpaint, Emerald, Tiffany Calver, Simone Marie and Jarreau Vandal v Full Crate with additional acts to be announced.

On Friday 1st June, festival attendees are invited to the JägerHaus for DIY Magazine presents Jäger Curtain Call, to experience a stellar line-up headlined by The Big Moon, with support from Superfood and some of the best emerging talent including Yowl, LIFE, Lady Bird, Sweaty Palms, and Sports Team.

Jägermeister UK's Event Manager, Samantha Green commented, "We're so excited to open the doors of theJägerHaus to All Points East festival attendees and welcome them into our Jägermeister inspired, dystopian world of music. We aim to offer people the ultimate festival experience with the opportunity to explore the secrets of the JägerHaus, whilst savouring amazing Jägermeister drinks creations and discovering the best of upcoming music talent".
The JägerHaus will open for two weekends of back-to-back live music at All Points East, 25th May – 3rd June in Victoria Park London. For further details on the JägerHaus, follow @JagerUK on Twitter, or visit www.allpointseastfestival.com