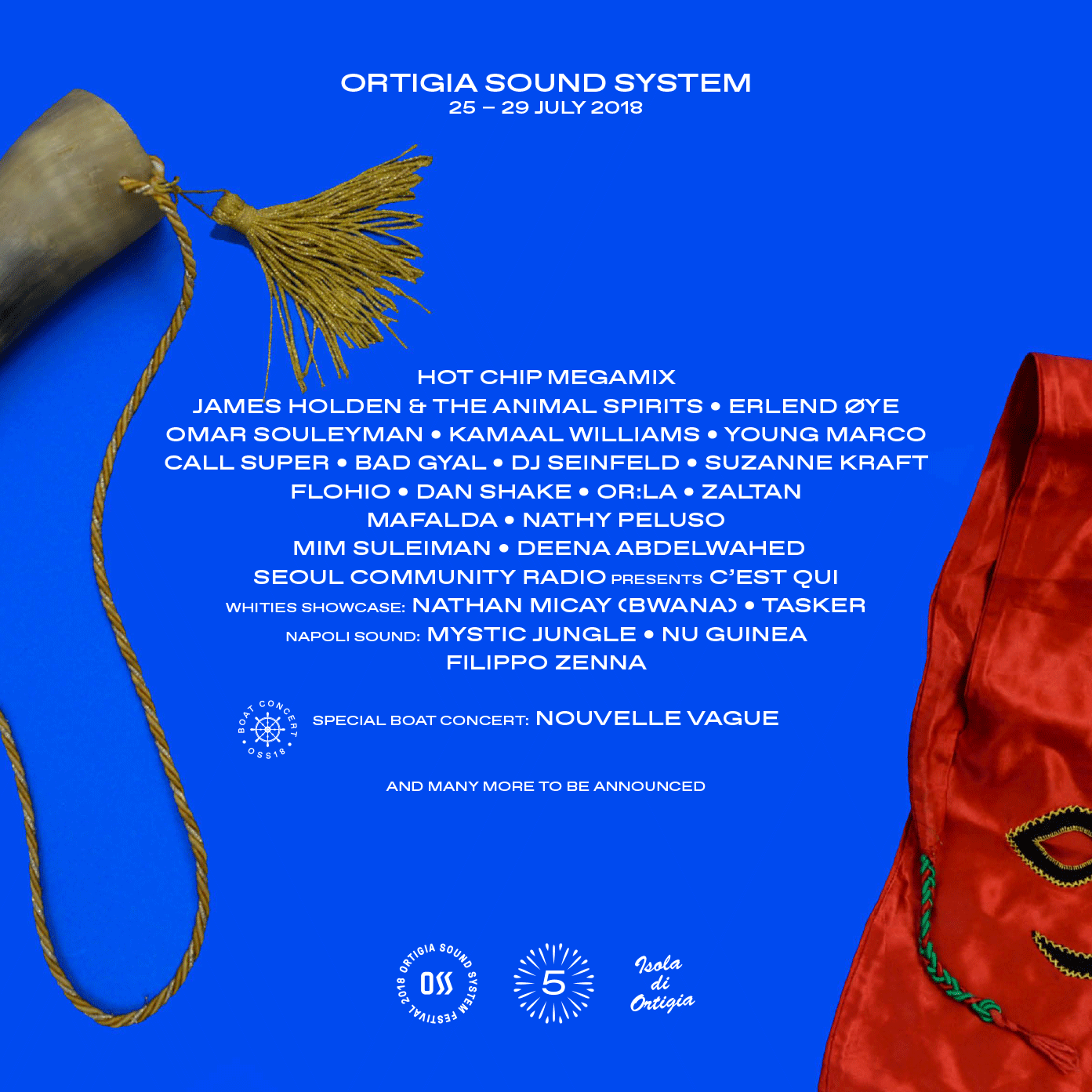 More acts announced for Ortigia Sound System!
The festival's fifth edition will premiere Hot Chip's new projet Megamix in Italy, a special boat concert courtesy of Nouvelle Vague and many other acts added to the line-up
The new wave of artists added to Ortigia Sound System 2018 line-up includeHot Chip, Nouvelle Vague, Young Marco, Suzanne Kraft, Zaltan, Dj Seinfeld, Nathy Peluso, Mim Suleiman, C'est Qui. Among Italian exclusives, premieres and special events, the festivalprogram expands by enriching an already impressive roster of talent. The freshly announced names will be joining acts such as James Holden & The Animal Spirits, Erlend Øye, Omar Souleyman and Kamaal Williams. Much admired by the Italian-and-not-only audience, Hot Chip will be the headliners of OSS festival, presenting their new project Hot Chip Megamix – a further example of theversatility that has always distinguished the English band – for the first time in Italy. A charming, relaxed atmosphere and a breathtaking sunset view over the Syracuse Gulfwill be the main ingredients of the festival's opening event, taking place on Wednesday 25th: the exclusive boat concert of Nouvelle Vague. The French band, responsible forgiving a new life to the great punk and new wave hits thanks to their original bossanovatake, will deliver a unique performance on a boat overlooking Ortigia shore. Nouvelle Vague's boat concert won't be the only out-to-sea party of Ortigia Sound System 2018. After the extraordinary success of the festival's last edition, the boat parties' program will this year include 7 DJ sets from Thursday to Sunday. On the calendar: Thursday, July 26 DJ sets from Zaltan, (Italian debut) and Young Marco, who will be back to OSS with a 4 hours DJ set. Friday, July 27 it will be the turn of the young Londoner Flohio and the South Korean radio Seoul Community Radio, which will present a live dj set broadcasttogether with the duo C'est Qui. Saturday, July 28 the spotlight is on Suzanne Kraft and Mim Suleiman, while the final boat party DJ set on Sunday 29 will be courtesy of DJ Seinfeld.
LINE UP

HOT CHIP MEGAMIX (ITALIAN PREMIERE) • JAMES HOLDEN & THE ANIMAL SPIRITS • ERLEND ØYE • OMAR SOULEYMAN • KAMAAL WILLIAMS • YOUNG MARCO • CALL SUPER • BAD GYAL • DJ SEINFELD • SUZANNE KRAFT • FLOHIO • DAN SHAKE • OR:LA • ZALTAN (ITALIAN PREMIERE) • MAFALDA (IT ALIAN PREMIERE) • NATHY PELUSO (ITALIAN PREMIERE) • MIM SULEIMAN • DEENA ABDELWAHED (ITALIAN PREMIERE) • SEOUL COMMUNITY RADIO PRESENTS C'EST QUI (ITALIAN PREMIERE) • WHITIES SHOWCASE: NATHAN MICAY (BWANA) • TASKER • NAPOLI SOUND (ITALIAN PREMIERE): MYSTIC JUNGLE • NU GUINEA • FILIPPO ZENNA • SPECIAL BOAT CONCERT: NOUVELLE VAGUE & many more to be announced…

LOCATIONS
Maniace Castle
Templar age Old Market
OSS Boat
Cathedral Terrace
San Francesco's Convent Cloister