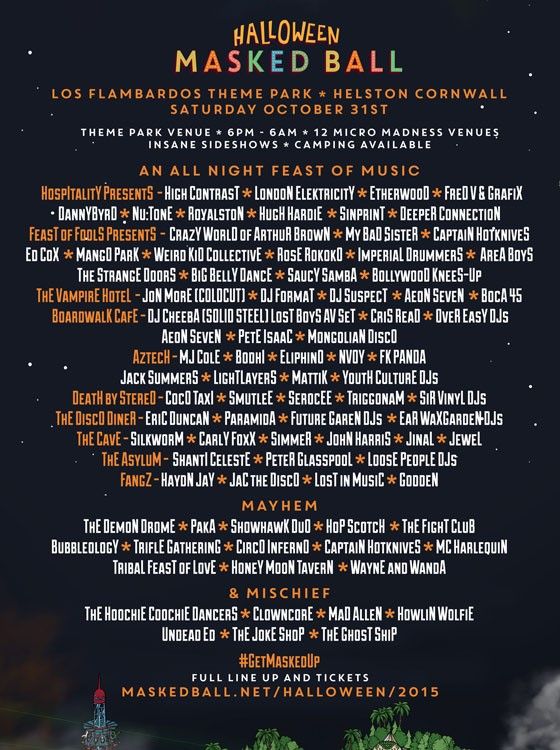 OVER 75 ACTS ANNOUNCED FOR CORNWALL'S HALLOWEEN MASKED BALL
This Halloween we've brought on board Secret Garden Party regulars Bloodstone Arts, who will be bringing their Feast of Fools travelling showground to the Ball. These pagan shamans from an another dimension will be rocking up at Flambards theme park with their own macabre medieval village – their Fayreground Euphorium – and a devilishly diverse bill.
"Be transported into a world of fantastical horror with rip-roaring fun to be had at every turn!"
Drum and bass heavyweights Hospitality will shake the grand ballroom to its foundations, bringing the likes of High Contrast, London Elektricity, Etherwood, Danny Byrd, Fred V & Grafix, Nu:Tone, Royalston and Hugh Hardie to the deepest and darkest reaches of Cornwall.
The twisted beats of electronica fill the mysterious Aztech stage – a spawning ground for the very latest electronic talent featuring MJ Cole, Boohl, Youth Culture DJs and Eliphino bringing the finest pumping house and garage.
While the bass rumbles in the dome, elsewhere the music is as diverse and varied to awaken the dead of all persuasions. Live psychedelia in the form of rock mentalists The Crazy World of Arthur Brown and The Strange Doors – the UK's most authentic tribute to The Doors – sets the stage for the Feast of Fools where crazed clowns and demented dancers will work their black magic in a fairground of freaks.
Feast of Fools Promo_v2 from ARC LIVE on Vimeo.
More spine-tingling acts will be added to the line-up so hold tight!
The Halloween Masked Ball takes place on Saturday, October 31, from 6pm to 6am, at Los Flambardos Theme Park, Helston, Cornwall TR13 0QA.
For updates and tickets www.maskedball.net