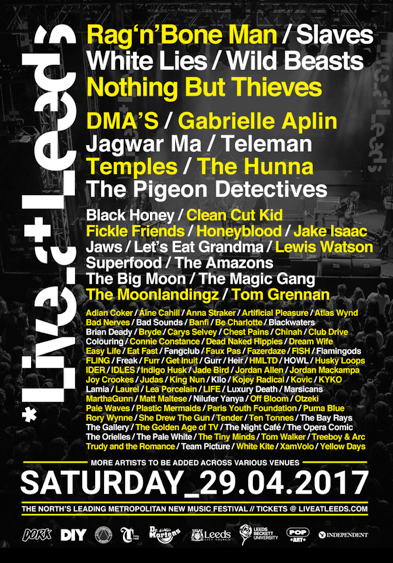 Over 75 More Names Confirmed For Live At Leeds 2017
Cementing its position as the definitive opener for the summer festival season, Live At Leeds has announced a string of new names sure to leave their mark this April, with performances that'll set the path for the year ahead in music.

Leading the new batch of bands and artists set to descend on Leeds City Centre this April is Rag 'N' Bone Man. Complete with one of the most recognisable voices of 2017, his staggering rise over the past 12 months has seen Rag 'N' Bone Man become the most-talked about name in modern music – with his all-conquering anthem 'Human' an exciting introduction to the soul-infused tales of heartache and triumph that'll pepper his upcoming debut album. Fresh from being named the BRITS Critics Choice, Rag 'N' Bone Man's set at Live At Leeds this year is destined to be a true "I Was There" moment.

Nothing But Thieves are primed to touch down at this year's Live At Leeds, bringing the runaway success of their self-titled debut to the city, a collection that has taken them around the globe and onto prized headline slots. A band destined for greatness, they're ones not to miss at Live At Leeds this year. Honeyblood will be hitting the festival with a barrage of infectious spiky hooks after returning last year with second album 'Babes Never Die'. With a live show that'll grab everyone's attention from the first note, their appearance at Live At Leeds will celebrate a band well and truly in full flight, and one that's destined to hit bigger stages from here on out. Equally as ambitious are Aussie trio DMA's, bringing their Britpop inspired singalong anthems to Live At Leeds after a jam-packed appearance at last year's festival. Expect stadium-sized euphoria and a passionate evening of heart on the sleeve tales, as their breakthrough year continues.

Laden with a wall of psychedelic sound, Temples are primed with one of the most anticipated releases of the year – with their new album 'Volcano' set to erupt in March. With a sound that blends generations of innovative rock and an unfaltering passion for experimental edges, expect Temples to be one of the most talked about sets of the day. The squad are back in town as The Hunna return to Live At Leeds, turning things up to '100' with a set crammed full of instantly adored moments as one of the true breakthrough bands of the past 12 months roll into the city. Vying for that crown of loved masses are Clean Cut Kid – shimmering into the year with passionate and lush tales of heartache and bliss with effervescent fun flowing through them. Lead by the distinctive voice of frontman Mike Halls, Clean Cut Kid are guaranteed to bring one of the most life-affirming sets of the day, as Liverpool's finest takeover Live At Leeds.
Sunshine-synth poppers Fickle Friends will be gliding into Live At Leeds with their infectious blend of summer melodies and pop hooks, marking a moment where one of the nation's next big favourites marks their stamp on 2017. Also joining the bill for Live At Leeds 2017, is the wistful charm of Gabrielle Aplin, packed with a catalogue of instantly vibrant and recognisable hits such as 'Please Don't Say You Love Me', 'Home' and her own version of 'The Power Of Love' which are sure to trigger a choir of fans when she takes the stage at Live At Leeds 2017. On the other end of the spectrum, and showcasing the sheer breadth in style and swagger that makes Live At Leeds such a key date in the summer calendar – is The Moonlandingz. The semi-fictional 'ouija psych-pop' supergroup remain one of the most cult-like offerings in modern rock, combining members of the Fat White Family and The Eccentronic Research Council into a live spectacle that is as unmissable as it is unpredictable. Sparks will fly at Live At Leeds when The Moonlandingz come to town.

Across the city, even more rising stars are set to stamp their own legacy on 2017 – combining not only the most talked-about sounds but also the most refreshing, to form a lineup that's bursting at the seams with standout moments. On one side there's the sharp sugar hit of Dream Wife, the savagely raw tones of Chase & Status collaborator Tom Grennan, the vibrant and vital hip-hop of Kojey Radical, the rollicking Weezer-esque highs of Get Inuit, the gritty ramshackle sheens of FISH and HMLTD and the alt-breezing She Drew The Gun. Then on the other, you'll find even more figures destined to become a festival-goer's next favourite act – whether that's the visceral proto-punk of Idles, the Danish electro-pop beat swirls of Off Bloom, the instant kick of Dirty Hit signees King Nun and Pale Waves, spine-chilling melters Ider, the bustling primal waves of Trudy & The Romance, woozing scuzz fanatics Eat Fast or the peerless soul of Jake Isaac, Live At Leeds has it covered with a lineup of incredible new music unrivalled and unmatched in sheer scale and styles.

The fresh new batch of names come along with the announcement of the Live At Leeds: Welcome Party on April 28th, headlined by revered US synth-punk groovers Future Islands at Leeds University Stylus. Tickets for the show are separate from the Live At Leeds Saturday wristband, and are available now – kicking off the weekend in an emphatic style.

These new names, amongst over 75 added today, join a lineup already packed with sensational game-changers and established hitters – including the likes of Slaves, Wild Beasts, White Lies, The Pigeon Detectives, Jagwar Ma, Teleman, JAWS, Black Honey, The Big Moon, Superfood, The Amazons, Let's Eat Grandma, The Magic Gang and many more. Taking over venues across Leeds City Centre, Live At Leeds is once again set to be the definitive live music experience of the year – celebrating a city and culture that thrives on looking forward and embracing the now.
ANNOUNCED TODAY – OVER 75 NEW ACTS

Rag 'N' Bone Man // Nothing But Thieves // DMA's // Honeyblood // The Hunna // Temples // Fickle Friends // Gabrielle Aplin // Clean Cut Kid // The Moonlandingz // Dream Wife // Get Inuit // Tom Grennan // HMLTD // Eat Fast // Kojey Radical // She Drew The Gun // Ider // Fish // Trudy & The Romance // Idles // LIFE // King Nun // Pale Waves // Jake Isaac // Lewis Watson // Aine Cahill // Be Charlotte // Off Bloom // Tender // Artificial Pleasure // Otzeki // Xamvolo // Matt Maltese // Chinah // Plastic Mermaids // Tom Walker // Connie Constance // Adrian Coker // Anna Straker // Atlas Wynd // Bad Nerves // Banfi // Bryde // Club Drive // Easylife // Fazerdaze // Husky Loops // Indigo Husk // Jordan Allen //
Jordan Mackampa // Joy Crookes // Judas // Kovic // Kyko // Laurel // Lea Porcelain // Marthagunn // Paris Youth Foundation // Puma Blues // Rory Wynne // Ten Tonnes // The Orielles // White Kite // Yellow Days // Cerys Selvey // Jade Bird // Chest Pains // Dead Naked Hippies // Faux Pas // Fling // Furr // Heir // The Gallery // The Golden Age Of TV // The Tiny Minds // Treeboy & Arc

PREVIOUSLY ANNOUNCED

Slaves // Wild Beasts // White Lies // Jagwar Ma // The Pigeon Detectives // Teleman // JAWS // Let's Eat Grandma // Black Honey // The Big Moon //
The Amazons // Superfood // The Magic Gang // Bad Sounds // Freak //
Nilufer Yanya // Flamingods // Brian Deady // The Night Cafe // NGOD //
The Bay Rays // Blackwaters // The Pale White // Fangclub // Gurr // Luxury Death // Kllo // Team Picture // Lamia // Clay // The Opera Comic // Marsicans

Editors Notes
Live At Leeds 2017 is set to take place on Saturday 29th April 2017
Full day wristbands provide access to all venues, general admission tickets are £32.50
https://www.facebook.com/liveatleedsofficial
@liveatleedsfest
Instagram: LIVEATLEEDSFEST
#LAL2017