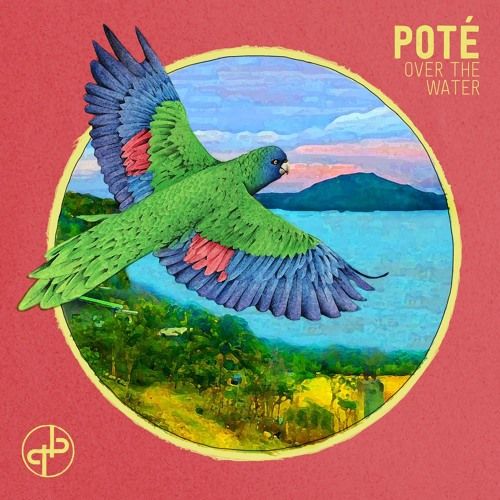 Poté - Over The Water EP
Having already released music across labels like Enchufada and Black Butter, London-bred, St. Lucia born artist Poté has announced eagerly awaited new EP, Over The Water, out now via The Full Hundred.
Filled with his unique, percussion-laced sound, Over The Water marks a shift in focus that relates to numerous aspects of Poté's life and is a testament to his Caribbean-fused sound: "It's going through a period where I felt I was drowning, hence the title Over the Water: I feel like I can breathe now, even though I'm only just over the water." Over The Water also delves into Poté's songwriting capabilities, showcasing a penchant to turn his own poetry into lyrics, to provide vocals for each track.
Kicking off the EP is Fall, featuring vocalist Emma Foster from London trio Arctic Lake, which depicts the idea of being cursed before birth. "The idea that if for you're born gay, black, disabled, poor, trans or even rich for example in some places, there's sometimes a painful, uncomfortable or even ugly pathway set for you to go through, throughout your life" explains Poté. Defined by hazy female vocals soaring over eclectic beats, it serves as a strong and emotive start to the project and was used in Poté's video Prologue for the EP.
Title track Over The Water then features the tender vocals of London producer/singer Flaurese. Poté's sound shines through the deep, darker groove of the track with stylised afro-beat influenced percussions fused with bubbling, electronic synths, while Katz explores a lighter side to Poté's work, as sharp, tribal percussion and warped male vocals firmly nod to his Caribbean roots. Final track Red Moon the signs off with a dark, pulsing bassline and a dusting of reverbed male vocals, scattered throughout.
Perfectly positioned to land as a real statement, Over The Water exhibits both Poté's intuitive songwriting talent and his production work, as well as shining a spotlight on his myriad influences, from the tropical shores of the Caribbean to the bustling streets of London. Having also recently performed a 'Freshmen of 2016' session at the BBC's Maida Vale studios, he is an artist to watch over the remainder of this year.
About Poté
In 2015 Poté's released his Oryx EP to critical acclaim, with plays across Radio 1, 1Xtra and Australian Radio station Triple J. Tastemakers Annie Mac, Toddla T, MistaJam, Phil Taggart and Jamz Supernova all supported tracks off the EP. Hot on the heels of his Pete Tong-approved rework of Seinabo Sey's 'Hard Time,' Poté started 2016 with an official remix of Laura Mvula – Phenomenal Woman and a BBC Maida Vale 'Freshmen of 2016' session under his belt. Katz was praised by Radio 1 with numerous plays from Annie Mac, Huw Stephens, Toddla T, Monki & MistaJam: the track reached #1 in R1's dance chart.
Track list
Fall feat. Arctic Lake
Over The Water feat. Flaurese
Red Moon
Katz (Free Download)