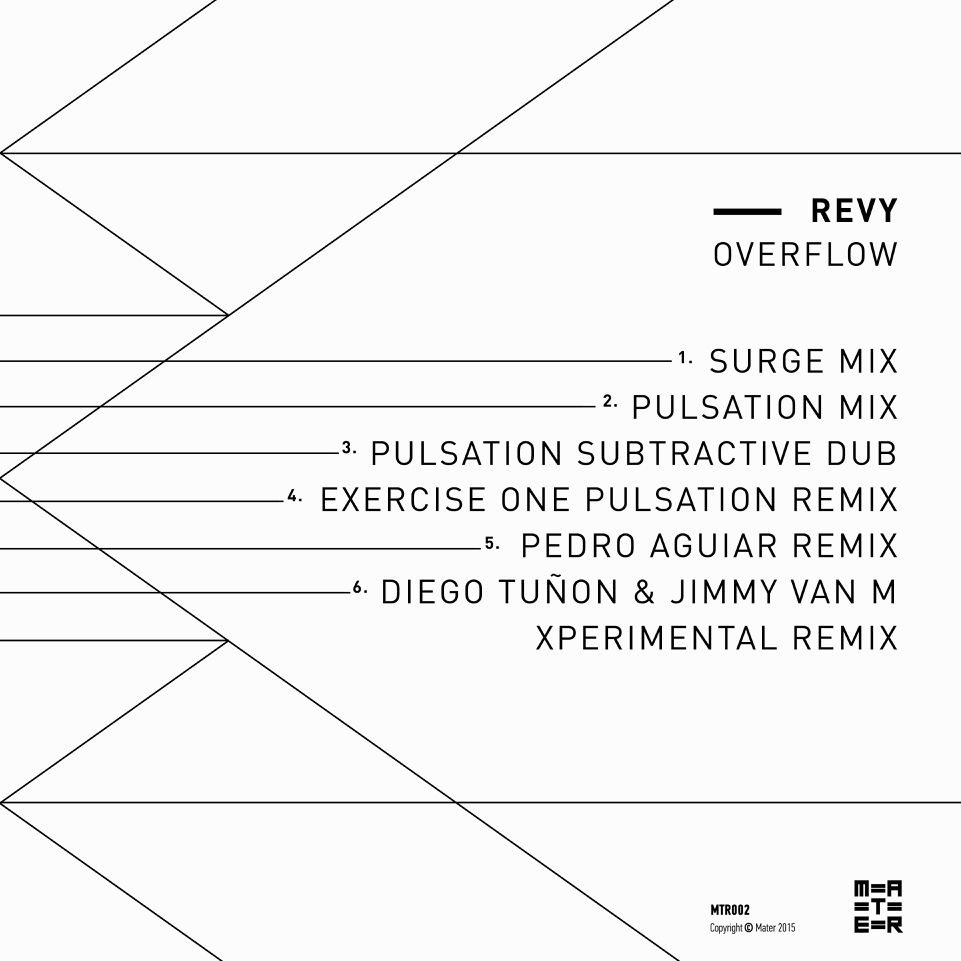 Revy - Overflow
Mater is the first of two distinctive new record labels/music platforms at the heart of an evolving creative concept headed by Diego Tuñón (the Grammy Award winning producer & keyboardist from Argentina's Babasónicos) and Jimmy Van M (renowned global DJ/Producer, electronic music craftsman & creator of the Sasha and John Digweed Delta Heavy Tour, with over 20 years experience), based in Gent, Belgium.
Mater is focused on electronic dance artists from all around the world, whilst Xperimental (launching May 2016) will focus on developing a label roster of exceptional young electronic artists from all over Latin America. A flow of exciting cross-cultural artistic pollination between both music labels will be a key feature.
Mater's recent launch release from Peet ('Watermelon Stories EP' MTR001) is turning heads everywhere, and the 4-track EP's boundless creative freedom leads perfectly into the label's second release from Revy. Many words come to mind when describing Pittsburgh, USA-based Revy's music, but "wonderfully peculiar" tends to best describe his distinctly otherworldly creations.
"Overflow (Surge) was recorded live with an old Casio keyboard from my childhood (CT-636) with heaps of reverb and some gritty time stretched layers blended in after the fact and some minor edits. It definitely has a nostalgic vibe with heavy inspiration from classic cinematic synth (Vangelis, Tangerine Dream etc.) with my own weird stream of consciousness taking the helm. This core sound was easily assimilated into the (Pulsation) version, designed with outdoor exploration in mind. While daydreaming of camping out under a technicolour desert sky, I crafted a dusty and rugged sounding low end and let loose a swarm of swirling space bugs to fill the air with skittering clicks and chirps. The (Subtractive) version reigns in the pad with a more subtle and groove focused dub." – Revy
Berlin's Exercise One (Cocoon, Wagon Repair, Lan Muzic, Exone, Mobilee) stand out against the po-faced uniformity of too much of the Techno scene, through the warmth and mischievous manner of their old school Kreuzberg DIY vibe. In their own words they are "driving a car called Techno off a cliff, into the sea of endless possibilities". Thus, Marco Freivogel and Ingo Gansera are perfectly suited to the experimental ethos of the Mater mothership, and their deeply hypnotic, thrusting, heavy duty remix, takes "Overflow" in a new direction – into the sweaty, darkened realms of the legendary clubs that their home city is famous for.
In distinct contrast, Lisbon native Pedro Aguiar brings a supremely subtle melodic touch to his remix of 'Overflow', balancing ambient sensibilities perfectly to create an ethereal beauty to melt the hardest of hearts. Pedro has been steadily carving his way into the spotlight, with a steady flow of timeless compositions that seem to be resonating all over the globe. His debut album ("Landscapes & Heartbreaks") released last summer, was a perfect indicator of how rich Pedro's musical pallet is. His organic textural sound is becoming a firm favourite, and Mater recognises what exceptional potential he has by letting him loose to create a wonderful interpretation of Revy's original music here.
Finally, fresh from their mind-meltingly delicious 111bpm remix of Peet's 'The Other Side Stand Of The Giant Marble' (MTR001), Diego Tuñon & Jimmy Van M have come together again to create another distinctly original and unforgettable journey into the future with their Xperimental Remix of 'Overflow'. Together, they create uniquely special, timeless music that exhibits to perfection the boundless creative freedom within the Mater ethos. By joining the dots between electronic music's universal, futuristic possibilities and Latin America's pulsating live musical heritage, a fresh and passionate, they are providing glimpses of an exciting musical/cultural mix that is set to develop across the Mater and Xperimental platforms.
Don't touch that dial… Stay tuned in…
mater-music.com | xperimentalmusic.com [A concept by Diego Tuñon and Jimmy Van M]