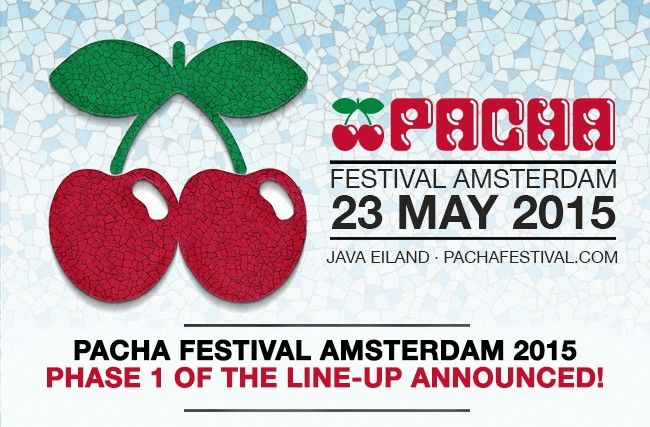 Pacha Festival Announces Huge Phase 1 Line up
On Saturday May 23rd 2015, Pacha Festival will once again open the summer festival season in an unforgettable fashion. The exquisite location, right at the very heart of Amsterdam City, will be revamped into a true mini Balearic paradise. A day filled with the latest dance music accompanied by premium entertainment and like-minded souls, Pacha Festival 2015 will provide for a unique and memorable experience.
Though it's a huge challenge to exceed last year's sold out edition, given the fact that it will be our final time on this unequivocal location, the fourth edition of Pacha Festival is one you wouldn't want missing out on.
Ticket sales:
Tickets to Pacha Festival 2015 can be purchase at pachafestival.com. There is only a limited amount of Early Bird Tickets available at € 47,50. Regular Tickets will be sold at € 52,50. Be sure to obtain a VIP Ticket if you don't want to miss out on exclusive extra's and a phenomenal view overlooking main stage at the VIP deck.
Line-up:
As part of the almost surreal location in the centre of Amsterdam, Pacha Festival will be built containing three stages. The first and foremost being 'Pure Pacha', or main-stage. Secondly, the fourth edition of Pacha Festival will host an 'Insane' tent and a brand new atmospheric open air stage. As we welcome some of the hottest artist in the scene we proudly present the first part of Pacha Festival it's massive line-up:
(in alphabetical order) Amine Edge & Dance, Benny Rodrigues, Cassy b2b Yousef, Cinnaman, Dennis Ferrer, Dosem, Franky Rizardo, Mark Farina, MK, Monika Kruse, Prunk, Riva Starr, Roger Sanchez aka S-man b2b Bontan, Sander Kleinenberg ft audio bullys, Sneak, Technasia b2b Uner
Others to be announced!
Ibiza Hippie Market
Pacha Festival equals Ibiza and as such 'Hippie Market'. Similarly to previous editions, visitors van indulge their hearts at the 'Las Dalias' inspired Hippie Market. The variety and range of stalls has expanded considerably over the course of last year and will offer an even more extensive array of stands, allowing you to purchase your favourite 'White Island' accessories to all your hearts content.
Info:
All updates like line-ups and ticket sales can be found on pachafestival.com and the Pacha Festival Facebook page.
Pacha Festival 2015
Saturday May 23
Java Eiland, Amsterdam
www.pachafestival.com
PHASE ONE LINE UP:
Amine Edge & DANCE
Benny Rodrigues
Cinnaman
Dennis Ferrer
Franky Rizardo
MK
Monika Kruse
Roger Sanchez aka S-man b2b Bontan
Sander Kleinenberg ft Audio Bullys
DJ Sneak
Technasia b2b Uner