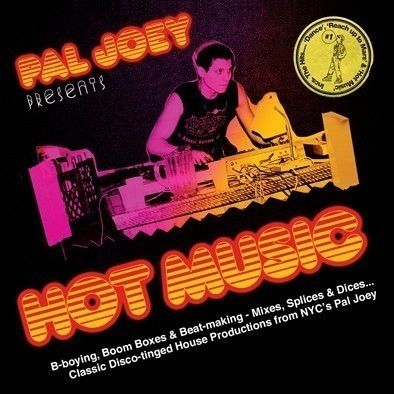 Pal Joey Presents Hot Music
Joey Longo has been a part of the dance music soundscape for those in the know from way back when, his first records surfacing in 1990 under a variety of monikers and on a slew of labels, some (Cabaret, Loop d'Loop, Foot Stompin') his own, others (Underworld, Maxi, Minimal) not, but the label copy always bearing the credit 'produced by Pal Joey'.
Queens, NYC born-and-bred Italian-American Joey took his alias from the Broadway musical of the same name, the titular character of which was memorably played on the big screen by the most famous of Italian-Americans, Frank Sinatra. Joey's father was naturally into Sinatra and junior liked 'the image, the feel and the elegance' that went with the movie and the star. The illustrations on Joey's labels typically featured line drawing figures that look like they had stepped straight out of Pal Joey or any number of New York-based films of the '30s,' 40s and '50s Joey's music had a similar jazziness and urban feel, firmly rooted in the exciting musical culture of NYC through the '80s, when Joey had come up.
He had followed the tried and tested route to music production: partygoer, then DJ, immersed in the discos, the block parties and the radio of the era, inevitably influenced as much by hip-hop as he was by Philly, Salsoul and the kind of records that were known as jazz-funk or boogie in the UK but simply as Loft or Garage tunes in NYC. Making mix cassettes led from the pause button to the razor blade as he learnt the painstaking but rewarding process of splicing tape, and he began to familiarize himself with all aspects of studio production. A day job at Vinyl Mania, one of the key outlets for the diversity of sounds coming through to the city's night people, gave Joey his all the contacts he needed to get himself established as a player in the burgeoning electronic dance music scene ­ among his memories of those days he particularly remembers Larry Levan shopping in his pyjamas!
Joey hit paydirt early on, as one of his earliest records, 'Dance' (as Earth People), hit big in dance music terms. If you were raving in the early '90s chance are you will be getting flashbacks from 'Dance', as it was played across a number of scenes and was licensed several times. It's a bone-fide classic, an early example of the disco-house cut-up but with a raw energy that would not often be duplicated when disco-house became a formula. One of countless tunes built around Carl Bean's 'I Was Born This Way', it's heard here in its minimalist 'Beats' version.
If Carl Bean was a quintessential underground club record, the likes of Roy Ayers and Dexter Wansel were well known to audiences on both sides of the atlantic, though disco itself was relatively unfashionable at the time. Nesting such iconic sample material amongst fizzing drums struck a chord with dancers alienated by the harder, bleepier direction much of house had gone in at the time, and with 'Hot Music' (as Soho) Joey 'crossed over' to the acid-jazz scene on both sides of the atlantic. Records like 'Hot Music' and 'Drum Major Instinct' were entirely studio-based, and, too raw to qualify as acid-jazz proper, but their stuttering off-kilter rhythms made them stand out from the house/garage mainstream. Joey was clearly a producer with an idiosyncratic vision.
Tracks like 'Party Time' and 'Raw Love' were low-slung house masterpieces, from a deep musical tradition, with phat, swingy beats that only a few contemporaries would match (Masters at Work would achieve the greatest commercial success with this looser sound). If anyone wants to know what deep house is, play them 'Spend The Night', it belongs with work by some of Joey's contemporaries such as Bobby Konders, Fred Jorio, Wayne Gardiner and the Burrell Brothers, as the very deepest of the deep.
At this time, Joey had a residency at Nell's, the club that had revived the Sinatra-era supper club tradition after the excesses of the disco era, and he made a name for himself with his selection of contemporary dance music, party classics, hip-hop and even reggae, all cut and mixed with the skills of a hip-hop DJ. The club's chic elitism made it popular with the most fashionable and with some of the hipper movers and shakers of the music industry.
One such was KRS-1 of Boogie Down Productions, one of hip-hop's legends even then, who was taken enough with Joey's blunted beats to hire him for a series of remixes and production duties. Joey remembers 'in the early 90s it wasn't cool for the hip-hop kids to dance', so the props from BDP clearly marked Joey as a man straddling a distinctive space of his own.
This album gives an overview of Joey's long career, bringing us up to date with some of the more recent tracks on his still extant Loop d'Loop label. Although a radically different sound to the contemporary era of disco edits and techy 'minimalism' Joey's philosophy is also 'less is more, keep it simple' and the tracks here highlight that principle to perfection.
Tracklisting
1. Loop-D-Loop #24 – Perfectionist
2. Loop-D-Loop #19 – Just The Way You Are
3. Loop-D-Loop #18 – Show Me
4. Loop-D-Loop #20 – Toi Et Moi featuring Papa Stomp
5. Loop-D-Loop #18 – Happy
6. Contrasts – I Sing
7. Loop-D-Loop #2 – Partytime
8. Earth People ­ Dance (Beats Mix)
9. DreamHouse – Jump And Prance (Dream Mix)
10. Loop-D-Loop #2 – Raw Love
11. Loop-D-Loop #23 – Spend The Night (Fredo Revisited)
12. Earth People – Reach Up To Mars (808 Bonus Mix)
13. Loop-D-Loop #23 – Do What You Want To
14. Los Dos – Tomorrow
15. Loop-D-Loop #19 – Playtime
16. Soho – Hot Music
17. Loop-D-Loop #24 ­ Free
A BBE release available on CD & Digital version + special downloads
BBE – real music for real people
http://www.bbemusic.com
http://www.facebook.com/bbemusic
http://www.myspace.com/bbemusic
http://www.paljoeymusic.com
https://soundcloud.com/pal-joey