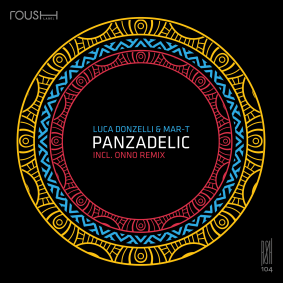 Luca Donzelli & Mar-T - Panzadelic
Amnesia royalty Mar-T partners up with Italian Luca Donzelli once again as the duo deliver their 'Panzadelic' EP on Roush, accompanied by a remix from Amsterdam's Onno.
A resident at Amnesia since 1999, and the venues creative director, Wow! Recordings boss Mar-T has been a central figure within the islands ever increasing scene for over 20 years. With releases on the likes of Hot Creations, Cocoon and Moon Harbour to name just a few, the Barcelona born producer is undeniably one of the most influential names in the game, leading to many advocating him as one of the last 'real DJs' of Ibiza. Luca Donzelli is another artist with a rich history within the White Isle's Amnesia venue, with regular appearances across the past three seasons whilst also gracing the decks at Ministry Of Sound (London), Space (Ibiza) and Razzmatazz (Barcelona). As regular collaborators, the duo have released material on the likes of Sanity, 8Bit, Mindshake and Do Not Sleep, and September will see them add Roush to this impressive and ever-growing list.
Donzelli and Mar-T's title track 'Panzadelic' kicks things off and keeps the focus firmly on organic percussion elements whilst also working in funky guitar licks and male vocal hooks to great effect, before 'Funkadisturb' sees spiraling atmospherics and infectious vocals go to work amongst a mix of groove-driven drum licks and slick metallic percussion arrangements. Last up, Amsterdam's Onno provides his interpretation of 'Funkadisturb', reinforcing the original productions snaking drum work with a series of hefty kicks, driving sub bass and skipping hats to punctuate the package.
Luca Donzelli & Mar-T 'Panzadelic' is out on Roush on 14th September 2018.
Tracklist
1. Panzadelic
2. Funkadisturb
3. Funkadisturb (Onno Remix)
4. Funkadisturb (Censored Mix)