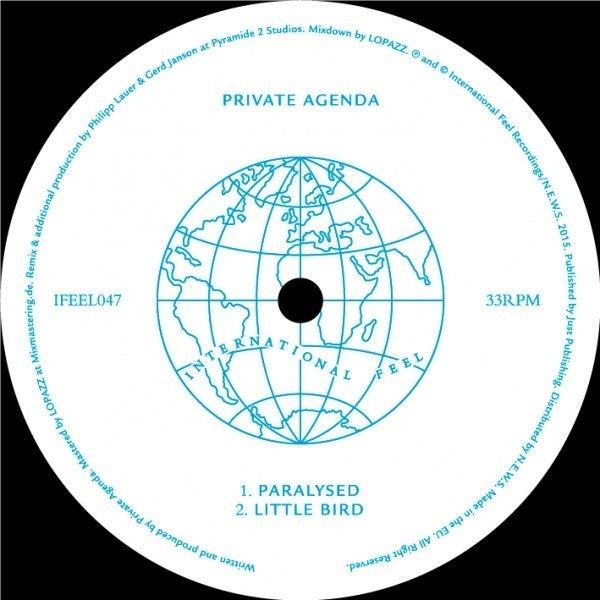 Private Agenda - Paralysed / Little Bird
Having garnered considerable acclaim and support for 'Déjà Vu', Private Agenda could have been forgiven for repeating the formula; that clearly isn't in their nature however, nor in the spirit of International Feel. If 'Déjà vu' was their 'coming-of-age' record; understated in its beauty, yet tentative, then 'Paralysed' is their 'coming-out' record, oozing in confidence and direction.

Paying homage to piano-led Italo house by way of French boogie grooves, there's plenty packed into five minutes here: amidst the bright, staccato piano stabs and tongue-in-cheek vocal lines, you'll hear funk guitar sifting between delicately layered Afro-Cuban percussion. Tuff City Kids hop on board too and their remix of 'Paralysed' propels it further into new cosmic, trippy & hedonistic dimensions.

'Little Bird' sees Private Agenda slip into a different gear, providing an epic soundtrack to summer sunsets the world over. If you like your Balearic Beat breezy and carefree, then there's plenty to love here (plus a euphoric sax moment to boot).

Mixmag recently called Private Agenda's output, "the antithesis of paint-by-numbers dance music"; 'Paralysed' and 'Little Bird' are only helping to cement that burgeoning reputation.

Private Agenda are Martin, Sean & Nick. They released their debut single, 'Déjà Vu' on International Feel in March 2015. Following previews on BBC Radio 1Xtra, the releases' two tracks garnered a 9/10 review in Mixmag (UK) and becoming Disco Single of the Month in Mixmag (Germany).
A1. Paralysed
A2. Little Bird
B1. Paralysed (Tuff City Kids Remix)